This post may contain affiliate links. Please read my disclosure.
This decadent Chocolate Ganache Tart is a rich, fudgy, and delicious dessert for all occasions. Dark chocolate, hints of coffee flavors, cocoa, and fresh whipping cream create an almost sinfully delicious ganache inside the incredible tart crust.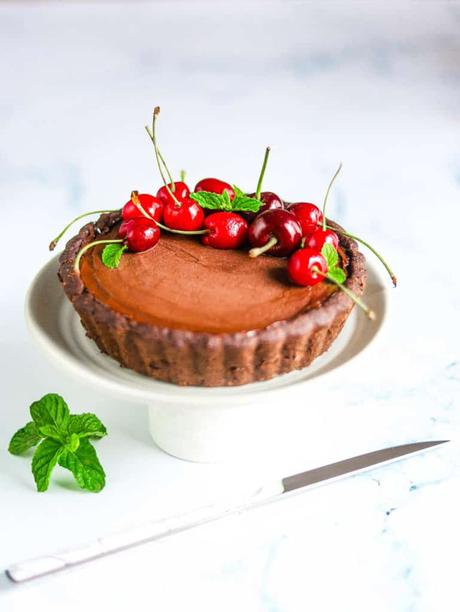 Anyone who knows me well knows that I have a giant sweet tooth. Especially when it comes to anything chocolate! Chocolate tarts are a favorite, and I love making them because they are super simple to make but look super fancy - and everyone loves them.
This chocolate ganache tart is insanely good. If you've been hunting for a dessert to serve to your family and friends that will impress them, this is it. It's hard to resist the way it tastes, and you want to keep going back for more. And as an added benefit, it's both eggless and gluten free!
I can't wait for you to take that first divine bite of this amazing goodness.
Tools and Equipment You'll Need
Recipe Ingredients and Notes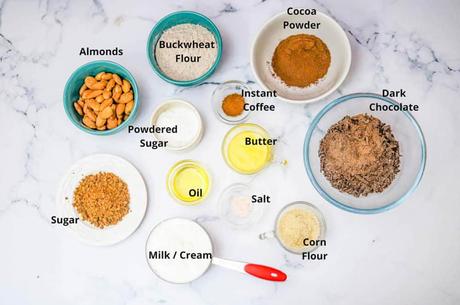 Flours: To make this gluten-free, I used a combination of buckwheat flour, corn flour and ground almonds. These three made the perfect texture for the tart's crust.
Sugar: I used lower glycemic coconut sugar to keep this on the healthier side
Dark Chocolate: I went for 88% dark chocolate to get some of those antioxidant benefits!
Cocoa Powder: Make sure to get unsweetened cocoa powder and not powdered chocolate.
Step by Step Instructions
For The Base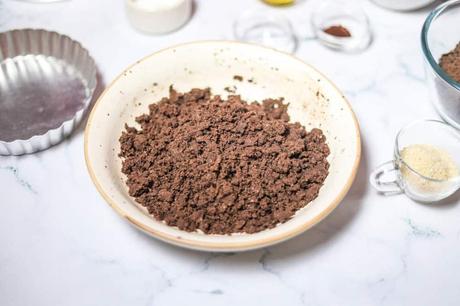 Step 1: Place the Buckwheat flour and almonds in a mixer jar and process it to form a fine powder. Put the mixture into a bowl, and add all of the remaining ingredients tart base ingredients. Mix it together with your hands or a spatula until everything is well combined.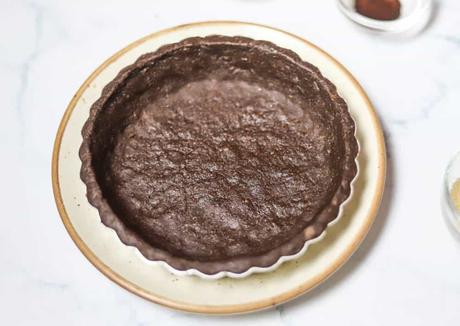 Step 2: Place this mixture on a tart tin and spread it evenly. Press it tightly with a spoon or your fingers. Bake the tart base in a pre-heated oven at 350 degrees F for 10-15 minutes.
For The Filling
Step 3: Add the cream, chopped chocolate, coffee, cocoa powder and sugar to a sauce pan. Place it over low heat and stir until all the chocolate melts.
Step 4: Dissolve the corn flour in milk and add it to the sauce pan. Cook it for 5 minutes until the filling mixture starts to thicken.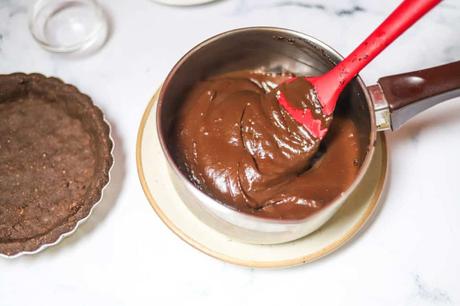 Step 5: Now take the pan off heat and stir in the salt, olive oil and vanilla extract and mix thoroughly.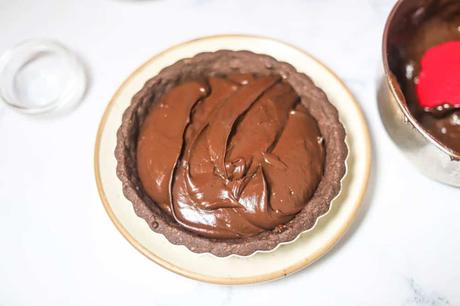 Step 6: Let it cool for 10-15 minutes and pour this filling into the baked tart base. Spread the filling evenly and chill it in the fridge for 3-4 hours.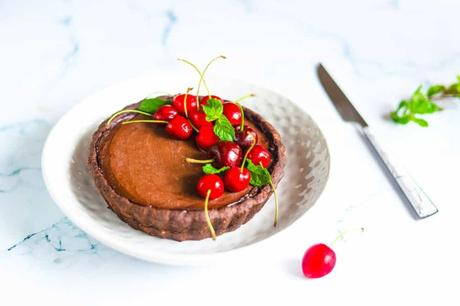 Step 7: Serve it with some fresh fruit (optional).
What Makes This Chocolate Ganache Tart Healthy?
Vitamins and Minerals: The dark chocolate, buckwheat flour and almonds are all excellent sources of both fiber and magnesium - which help with heart health and digestion. You may be surprised to find that calcium, potassium, vitamin E, riboflavin, and iron can also be found in each serving.
Antioxidants: I know it is surprising, but coffee and dark chocolate are both a fantastic source of antioxidants. So next time you are drinking some or adding it to a recipe, know that you are getting more than just a boost of energy from the caffeine.
Lower Sugar: Each slice of this tart has only about 8 grams of sugar, about half as much as a traditional chocolate tart recipe.
While dessert in general wouldn't be considered the healthiest option, this chocolate ganache tart is healthier than most for a few reasons:
Will Kids Enjoy This Recipe?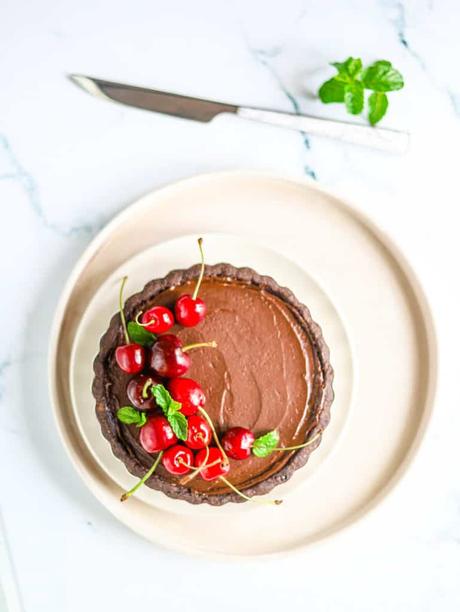 Rest assured, any kid that loves sweets and chocolate will be thrilled to munch on this chocolate tart. Since it is sweet and super rich, give them just a small piece and watch them devour every last crumb.
How Do You Store This Chocolate Ganache Tart?
Recipe FAQs
Why Did My Chocolate Tart Not Set?
Keep the chocolate tart covered with either plastic wrap or a piece or two of aluminum foil. It can sit at room temperature or be refrigerated depending on your preferences. It lasts 2-3 days either way. I think it tastes way better when it's been chilled, but that is just my preference.
If you run into a chocolate ganache tart that doesn't set up, it's probably because it didn't bake long enough. First, check your oven temperature to make sure it's heating to the proper temperature. If it's not, then you may need to adjust it to ensure you are cooking the tart at the right temp. Then you might need to let the tart cook a little bit longer. Everyone's ovens vary a little bit, and sometimes this happens, and it needs to bake a little longer.
Add some fun toppings like chopped nuts, candies, chocolate chips, or dried fruits on top of the tart.
Swap out the pure vanilla extract for some almond extract. It's an incredible flavor with the almonds in the tart base and the chocolate.
Add some bits of caramel or caramel sauce on top of the tart to give it even more sweetness.
Recipe Variations
Bake the tart base before adding the filling. This will ensure that it cooks properly, and you don't overbake it.
Don't skip chilling the chocolate tart before serving because it needs that time to set up all the way.
Make sure to use a high quality dark chocolate with at least 70% cacao, and you can go all the way up to 88%.
Remove the tart from the fridge about 15 minutes before serving
To cut the tart, dip a knife in hot water before slicing. Wipe off the knife and dip it again in hot water between each slice.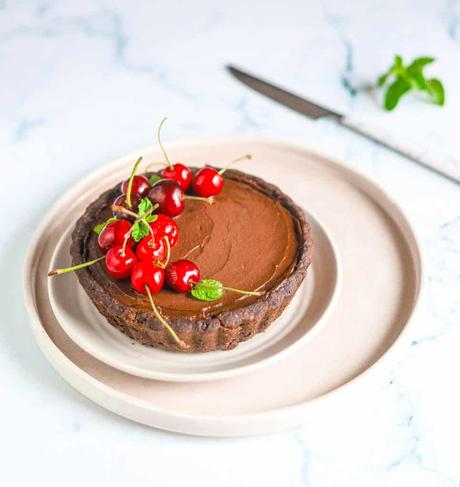 If you have tried this Chocolate Ganache Tart recipe or any other recipe on my blog, then please rate it and let me know how it turned out in the comments below! You can also FOLLOW ME on
FACEBOOK
,
TWITTER
, INSTAGRAM and
PINTEREST
to see more delicious, healthy, family friendly food!
Top Tips for Making This Chocolate Ganache Tart
Check Out These Other Drool-Worthy Chocolate Recipes!
Chocolate Ganache Tart