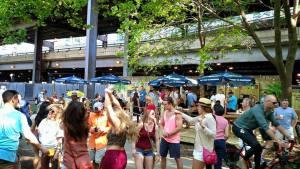 The city is going all out for summer and the Riverwalk is taking center stage. On Saturday, May 20, the Chicago Riverwalk is hosting an all-day preview of events that will be held throughout the season. From 9am – 9pm, experience boat tours, parades, fishing, live music, spectacular displays, and more.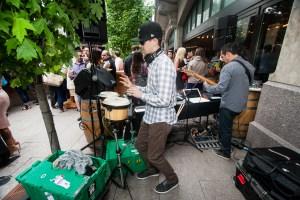 Presented by the City of Chicago and Chicago Department of Cultural Affairs and Special Events, this all-day event is a continuation of the city's efforts to showcase the Riverwalk as a premier yearlong destination. With 2017 dubbed as the Year of Public Art in Chicago, this newly completed attraction will participate as a place to enjoy music, fine art, performances, and more that local creatives have to offer.
"We invite Chicagoans and visitors to escape the everyday and embrace Chicago from a new vantage point." says Mark Kelly, Commissioner of the Chicago Department of Cultural Affairs and Special Events.
See the complete schedule for the Chicago Riverwalk Summer Kick-Off Celebration below.
Schedule of Events:
9am: Chicago Architecture Foundation River Cruise aboard Chicago's First Lady
A free cruise to celebrate the Riverwalk's grand opening, passengers board at 112 East Riverwalk South.
10:15am: Mercury's Canine Cruise
Dogs and owners are invited to a 90-minute river and lake cruise. Tickets are $35 for adults and free for kids and dogs. Passengers board at 112 E Wacker Drive.
10:15am, 12:15pm, 2:15pm, 4:15pm, 6:15pm: Mercury's Urban Adventure Cruise
Enjoy a 90-minute river and lake cruise with narrated stories of Chicago history. Tickets are $35 for adults and free for kids free. Board at 112 East Wacker Drive.
10am, 1pm, 3pm: Chicago Architecture Foundation Riverwalk West Walking Tours
Free hour-long walk along the Riverwalk from Lake Michigan to Lake Street. Meet at Vietnam War Memorial at State and Wabash.
10am – 3pm: Riverwalk Paddle
Kayak through Chicago's river canyon, free for kids and parents. Meet at Urban Kayaks at Columbus Drive and Lake Shore Drive bridges.
11am – 1pm: Dance of the Bridges and Boats
Watch the annual bridge lifts and parade of boats under Chicago bridges from Lake Street to Lake Shore Drive.
11am – 9pm: Downtown Docks
Enjoy discounted transient dockage for the Chicago Riverwalk during a kick-off event at 27 West Riverwalk South.
Noon, 2pm: March of the Fish
Watch or join The Art Side Out Studio and Mask Shop's Parade Club march along Riverwalk with large fish puppets and spectacle pieces, joined by King College Prep Marching Band. Noon parade goes from Columbus Drive to Lake Street, 2pm parade goes from Lake Street to Columbus Drive.
Noon – 3pm: Bridge Lift Viewings at McCormick Bridgehouse and Chicago River Museum
Watch the Michigan Ave bridge lift from inside the tower at 99 East Riverwalk.
Noon – 4pm: Chicago Park District Fishing at the Jetty
Chicago's Fish N' Kids will teach kids to fish for free, including supplies and instruction, at Franklin and Wells on the Riverwalk.
Noon – 4pm: Classic Boat Rendezvous at The Water Plaza
View a fleet of classic and antique boats by the Chicago Yachting Association with live folk music by Old Lazarus' Harp, between Wells and LaSalle.
Noon – 8pm: Music at Island Party Hut Tiki Bar
Listen to island beats at the Island Party Hut at 355 East Riverwalk South.
Noon – 8pm: Frost Gelato
Celebrate the Riverwalk opening with discounted gelato at 27 West Riverwalk South.
Noon – 8pm: City Winery Riverwalk
Enjoy live music by Lucky Dutch and DJ Jevon Jackson at 11 Riverwalk.
1pm, 2pm: Members of the Chicago Symphony Orchestra
Listen to a chamber ensemble at 1pm between Lake and Franklin or at 2pm by the Vietnam Veterans Memorial.
2pm – 5pm: O'Brien's Riverwalk Cafe
Listen to jigs and ballads by Shannon Rovers Irish Pipe Band at 45 East Riverwalk South.
5pm – 6pm: Dragon Boat Exhibition Race
Watch a historic Chinese tradition along the Riverwalk.
6:30pm – 8pm: Traveling Music Cruise
Watch Beats y Bateria, a Chicago world music band, travel on Island Party Hut's tiki boat with a final stop at the River Theatre.
8pm: Pyrotechnic Water Display
Enjoy a one-minute grand finale display of pyrotechnic waterfalls after the Traveling Music Cruise reaches the River Theatre.