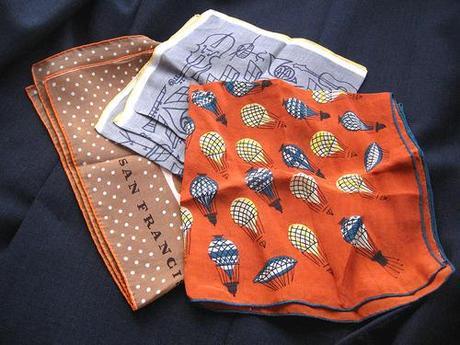 I'm not much for the overly cute or quaint, but I find a lot of charm in the work of Tammis Keefe. Keefe was a textile designer in the 20th century, born in Los Angeles in 1913. She worked for a time as a colorist and print designer for the famous Dorothy Liebes, which is where she first became known for her creative illustration style and sharp sense of color. Much of this early work was for architects and interior designers. That is, textiles that would be used in homes and commercial settings.
Sometime in the '40s, however, Keefe designed a silk scarf for a friend as a birthday gift. It had "Happy Birthday" written in bold circus letters, and candelabras in purple, blue, and chartreuse. The friend liked it so much that she showed it to Lord & Taylor's handkerchief buyer, who then showed it to the scarf manufacturer Kimball, who in turn commissioned six designs – each orientated to appeal to a certain type of personality (the antique collector, the musician, the sports fan, etc). The pieces sold out immediately, and happy clients continued to promote her work and commission new art. Between 1944 and 1960, Keefe created hundreds of handkerchief designs, with each one featuring her signature at the corner (a rare thing for textile designers at the time, and even rarer today). 
You can still find Keefe's work if you search secondhand goods stores. I used to find them all the time in thrift shops, when I visited as a youth to rummage for home furnishings. Now that we have the Internet, you can browse for them more easily on eBay and Etsy. Just search for the name Tammis Keefe or Peg Thomas (Peg being the shortening of Tammis' birth name, Margaret, and Thomas being her middle name). The Peg Thomas line was just something Keefe created for Kimball, who then sold them to stores who couldn't market Keefe's name for business reasons. 
The squares are admittedly on the small side (usually 14" or 15"), and the fabrics are nothing luxurious. They are, however, silkscreened – which is increasingly rare nowadays – and the edges are typically handrolled. More than anything, you're getting one of Tammis Keefe's designs, which are always charming and unique. Above are my three hanks: one was inspired by Chinatown, San Francisco; another by jazz music; and the last features hot air balloons. You can also see Keefe's squares being worn by the always well-dressed Voxsartoria, and check out many of her designs at www.tammiskeefe.com (where the photos below were taken from). In a world where good pocket squares are increasingly approaching the 100 dollar mark, it's nice that you can get something this fun – and with this much provenance – for about 30 bucks.