Do you what a 'charleston chew' is?  Well, it's a candy bar invented in about 1922 when 'The Charleston'~~as in the dance~~was popular!The company was purchased in 1957 by Nathan Sloane and later sold to Nabisco in 1980.  Pop culture even knows this candy bar as it's mentioned by Bart in The Simpsons episode "Lisa the Drama Queen".
This creation was for a contest~~yep, the chocolate adventure one~~Scharffen chocolates!  While it didn't win, it won big with my taste testers because it hit on all those things that make for a great dessert~~chewy, nutty, salty, crunchy~~with three layers of goodness, there was a lot packed inot these booze bars of boholiciousness!
Thank goodness for cooking contests because they make me turn on that magic lava lamp in my head and start combining ingredients hoping for that big winner that will shoot into the stars!  For now, this one stays on the landing pad~~trust that I'll keep taking these challenges because you just never know what will happen~~and, isn't that what life's all about?  That next adventure, right around the corner! xoxo ~~ally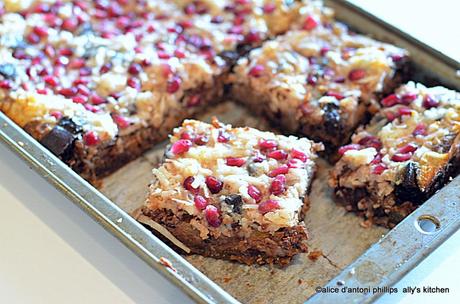 Makes: 1 (8×12) pan
Preheat Oven to 350
What you Need & What you Do:
Layer 1~~
1/3 cup oat flour
1/3 cup packed dark brown sugar
1 ½ cups ground graham crackers
6 tbl salted butter cut into pieces
3 tbl extra virgin olive oil
½ cup Scharffen 62% chocolate chip chunks
In a mixing bowl, combine the flour, sugar, graham crackers, and butter.  With your hands work the butter into the dry ingredients making a crumbly mixture.  Add the olive oil and blend in with your hands.  Toss in the chocolate chips.
Place into the bottom of the baking pan and press down.  Bake in a preheated 350 oven for 5 minutes.  Remove and set aside.
Layer 2~~
¼ cup bourbon
1 cup chopped nuts (pecans)
½ cup Scharffen  62% chocolate chip chunks
¼ cup Scharffen cacao nibs
3 tsp unsweetened Scharaffen unsweetened cacao powder
1/8 tsp sea salt
Combine all of the ingredients into a mixing bowl, toss and blend,  Spread on top of the crust (layer 1).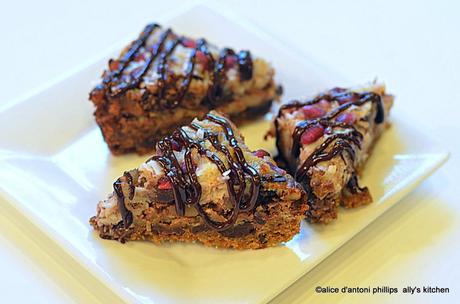 Layer 3~~
½ cup coconut milk
¾ cup sweetened condensed milk
3 beaten eggs
1 cup coconut
1 cup pomegranate seeds (can substitute another dried fruit or nothing at all!)
Combine the coconut milk, sweetened condensed milk, eggs and coconut in a bowl and blend.  Pour on top of layer 2 in the baking pan.  Sprinkle on top the pomegranate seeds.
Bake in a preheated 350 oven oven for 20-24 minutes.  Remove and let cool on a rack for about 30 minutes then cover with foil and place in the refrigerator for several hours to cool completely.
Layer 4~~(finishing drizzle)
6 ounces of Scharffen Bittersweet 70% Dark Chocolate
4 ounces of Scharffen Semi-Sweet 62% Chocolate chunks
¾ to 1 cup of heavy cream
1 tsp extra virgin olive oil
Finishing Sea Salt
Put the chocolate in a glass bowl that can be put on a double boiler.  Put the glass bowl into the microwave for 3 minutes.  Remove and place on the double boiler over medium high heat.  Whisk in the heavy cream to make a smooth mixture.  Add the olive oil and blend.  Let it cool somewhat then pour the mixture into a squeeze bottle.
Drizzle atop the cooled baked bars. Sprinkle on finishing sea salt.  Cut the bars into about 2×2 squares.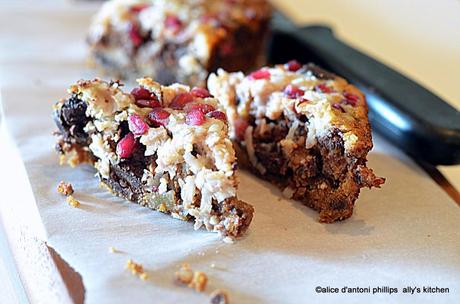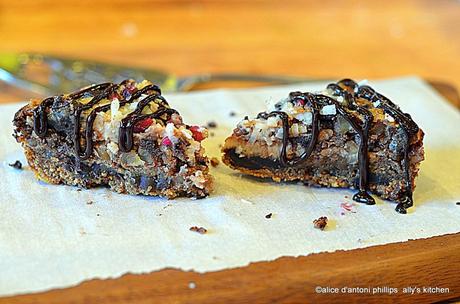 Comments
comments