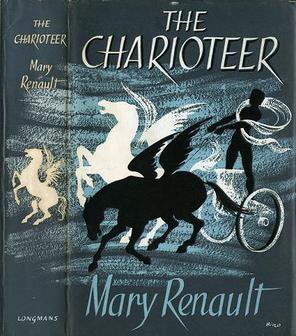 First edition jacket
Book review by Alice C: The book has lain unread on my bookshelves for several years, so during lockdown I decided to shake it out and open it up.
I haven't read any books by Mary Renault so The Charioteer was my first. I expected it would be all sandals and togas and Greek gods. But no, this book is set during WW2, when the war was at its height and bonds between young people, men in particular, where being formed and broken by intense relationships forged in war.
Published in Britain in 1953, it quickly became a best seller, especially within the gay community. Publication was delayed in the States due to its controversial themes. Not only are gay people presented positively but with the possibility of living a good life, with high moral values. Several of the characters are presented as thoughtful, altruistic and kind. This must have flown in the face of a lot of negative stereotypes of the time.
Depictions of characters who conform more closely to negative caricatures and of a gay party, for example, described as ' a semi-brothel and a lonely-hearts club' are also treated sympathetically by Renault; exposing how relationships, emotions, and sexual expression, forced underground by oppressive laws and social attitudes, contorts and distorts their natural expression and people's personalities.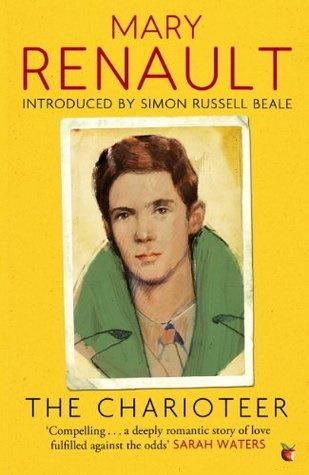 The Virago edition
The Charioteer was republished by Virago Modern Classics in 2013, with an introduction by actor Simon Russell Beale.  He liked it: "an explosive and courageous book". So did novelist Sarah Waters, quoted on the book's jacket cover: "compelling both as a snapshot of a particular cultural moment, and as a deeply romantic story of love fulfilled against the odds".
The book was originally published in 1953 at a time when prosecutions of gay men were on the increase after the relative liberality during the war. For example, a few weeks after publication John Gielgud was prosecuted for importuning and although he received a small fine, his reputational damage was much greater. Such cases fueled the cause campaigning for change of the laws on homosexuality which eventually were relaxed in 1967.
I don't pretend to know anything about The Classics but I've spent a pleasant few hours Wiki-ing references about the Stoics and the Epicureans, and doing a virtual tour of statues of ancient Greek men pulling chariots. So, if a pub quiz question comes up – I am ready. What has all this to do with my latest Reading Group book? Well, there were lots of classical references in The Charioteer (and a lot of untranslated French thrown in for good measure).
I now know Plato's Phaedrus describes the 'divine madness' of love and the two opposing drives of the soul's journey towards enlightenment, pulled in opposite directions by two horses. One horse drives for passion and worldly pleasures, the other for altruism and simple virtues. This is Plato's 'charioteer allegory' and the uniting theme of Mary Renault's The Charioteer.
Laurie Odell is rescued off the beach at Dunkirk by a naval vessel skippered by his old school friend, Ralph. Both have serious injuries which will affect them for life. The book explores the past relationship between these two men. Ralph as School Captain was venerated by the younger boys. But when Ralph was expelled after an incident with another boy, Laurie alone was prepared to take on the school in support of Ralph. His loyalty seemed naïve but Laurie felt something of an outsider himself. Although well off, his mother was a single parent, his own world fractured when his alcoholic father left and Laurie never saw him again.
After Dunkirk, Laurie is sent to a rural hospital to recover from his serious leg wound where he renews his friendship with Ralph but also falls in love with Andrew, an innocent but principled conscientious objector, who is working as a hospital orderly. It is through the burgeoning relationship between himself and Andrew that Laurie comes to understand the nature of the two drives he must eventually reconcile, unite or chose between. With Ralph, who is more experienced and worldly wise, he will find passion and sexual satisfaction. Or he can hide his sexuality and silently love Andrew, who doesn't know Laurie is gay and whose own sexual orientation is not yet clear.
Andrew and Laurie both wrestle with moral dilemmas: Andrew questions if he is a pacifist merely because he is afraid to fight; Laurie questions if it is right for him to 'take advantage' of Andrew's innocence or rather let him find his own way to discover his sexual identity as Ralph had done for him, at school,  several years before.
Renault describes the growing relationship between Laurie and Andrew as they meet in private in the garden of an elderly woman, Mrs Chivers. She wants to do her bit for 'Our Boys' recuperating at the hospital nearby by letting them use her beautiful garden. The two men talk about their childhoods and at cross purposes about what their relationship means to them both. Renault renders the scenes dripping in flowers, sun and sensuality but then just as in Eden, they share an apple and we all know what happens next. Leaving the garden one sunny afternoon, Mrs Chivers asks Andrew why he's not in khaki. Andrew candidly replies he's a CO and a Quaker. She is outraged; worried that Laurie is exposing himself to malign corrupting influences like Andrew. She throws them both out of the garden, banishes Laurie if he dares to return with Beelzebub (Andrew).
While the reviews of this book quite rightly focus on its positive portrayal of gay people, I think it is a sympathetic portrayal of conscientious objectors, giving voice to their principles and doubts in wartime, highlighting how their stance too requires courage and endurance. As Renault worked as a nurse in hospitals during the war, it is possible there were COs working there too. That she drew on her own medical expertise and experience in The Charioteer is of no doubt, given her detailed, gory descriptions of the wounded at Laurie's hospital.
I really enjoyed this book. I often want a book to finish about 40 pages from the end, but The Charioteer kept me gripped right to the last page. Poetic, lyrical, full of insights into human nature, our grandness and our warts and all. And the characters – they were so real to me that the day after I'd finished reading it, I want to go back into the life of the book to see how they were all getting on. Maybe lockdown is finally getting to me.