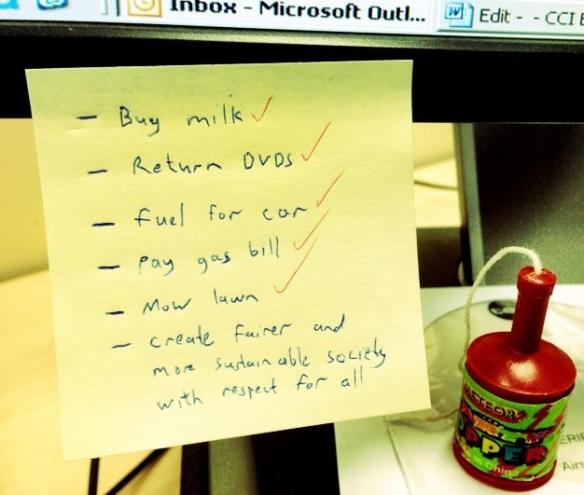 British comedienne Tracey Ullman has a sketch where she plays Harry Potter author JK Rowling going through customs at an American airport.
The customs officer recognises her and asks for advice on becoming a writer. She tells him to quit his job, go on the dole, head to a cafe and write all day,  everyday.
When told he would prefer to keep his job and possibly do some writing at night, Rowling/Ullman brutally replies "That might work, but probably not". Australians are under a similar delusion when it comes to their attitudes on big corporations like banks, supermarkets and petrol suppliers.
Everyone knows what horrible bastards the big banks are and we are totally going leave and change our account to one of the smaller credit unions if not tomorrow then definitely next week.
It's just that it will take so long to do all the paperwork and anyway, it's not like we are doing nothing. I mean, only yesterday we retweeted a particularly witty barb made by Wil Anderson.
We also know how heartless supermarkets are with their thoughtless undercutting of prices to those battling Aussie farmers.
And we definitely want to start shopping at that locally owned butcher around the corner but unfortunately our sister-in-law and her brood are coming for dinner and Coles has chicken fillets on sale.
But don't worry, one day (possibly even this year) we will rise up, support small business by buying local and really show those corporations how powerful the 99 per cent are.
The Australian public has forgotten the advice of Ernest Hemmingway and mistaken motion for action. We are good at moaning and head-nodding and letter-to-the-editing but less than competent at the actual follow through.
Unfortunately, it will take much more than furiously agreeing with a Sunrise poll on petrol price to affect real change in society.
Take changing your account from a heartless big bank to a warm and fuzzy credit union.
Yes filling out paperwork is a chore and yes, it rankles that it will now cost you $2 to withdraw cash because your new institution doesn't have its own network of ATMS.
But think of the money you will save with the lower interest rate and bank fees.
And more importantly, you will have sent a message to the banks that you no longer accept their prices rises and executive bonuses.
Supporting small business will be equally as difficult. Instead of the convenience and low, low prices of a supermarket, you will have to spend more time and money as you buy your fruit and vegetables from the grocer, your meat from the butcher and your bread from the baker.
In effect we will be paying for a thriving local business sector with our free time which,  judging by the amount of whinging about supermarkets on talk back radio, is something we have a lot of,
Of course, I could be wrong about all this. Maybe Gandhi was wasting his time when he marched 320km to avoid paying British taxes on salt.
Perhaps all we need to change the world is to make a half-arsed effort.
That might work, but probably not.