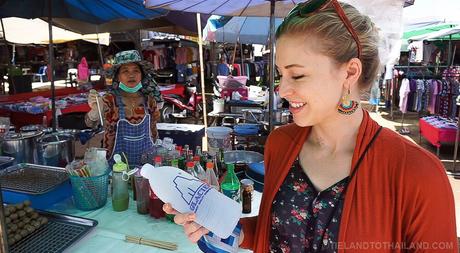 Moving to a new country doesn't come without challenges and Thailand is no exception. Although we pride ourselves in adjusting to life's curveballs and successfully building a life here, we've had our fair share of ups and downs when it comes to staying healthy in the country we now call home.
We thought to write a post about our experience because we were recently interviewed by Aetna International. We talk about how we maintain a healthy lifestyle abroad, both mentally and physically, as well as our experiences with Thailand's health care system.
Writing that article really got us thinking about our physical and mental health and what we do as expats to stay healthy in Thailand. Below, we've addressed our biggest challenges to date and how we stay on top of them. We touch on adjusting to the climate, eating a healthy diet, exercising, integrating into the expat community, and getting medical treatment. Hopefully, by shedding some light on our experiences, you can gain a better understanding of what life can be like abroad, the good and the bad.
Adapting to a hotter, smoggier climate
One of the reasons why we chose to move to Thailand was its year-round tropical climate. If you've ever been to the Mid-Atlantic in America and experienced the bleak, damp days of fall and the frigid, miserably dark and wet days of winters, you'll understand why.
In hindsight, we thought we were prepared for Thailand's heat and humidity. Chris spent half his life abroad, which included summers in Bahrain's hot deserts and Sicily's scorching beaches. I grew up with Maryland's uncomfortably muggy summers, which my grandfather matter-of-factly described the air like "breathing a bowl of pea soup."
But Thailand maintains a disturbingly high level of heat and humidity that we took forever to get used to. Just after we moved, we felt zapped of our energy and enthusiasm and rarely wanted to be outside. And this was even during non-peak hours when the sun wasn't blazing. With time, and we're talking a few years, we've acclimated to Thailand's climate that's far different than the 20°C temperature of our old offices!
One of the best bits of advice we tell newbie expats is to never use the air conditioning like you did before you moved to Thailand. Not only will you never want to step foot outside due to the 10+°C degree temperature swing, but your electric bill will be outrageous. Although Chris and I still fight over the thermostat levels (he likes it at 25°C while I like it at 27°C), our bodies have definitely adjusted to Thailand's warmer climate. We are much more comfortable at open-air restaurants, parks, markets, and other areas with outdoor gatherings than when we first moved here.
On a more serious matter, we had no idea prior to moving to Thailand that harmful smog blankets the entire northern half of the country for nearly half the year. Beginning as early as late November and stretching into May (with the absolute worst in March and April), yellow smoke-filled skies are the norm. This is Thailand's smoky season.
Many expats and Thai authorities dismiss the smoke from vehicles and burning farmlands as merely a visual inconvenience. Uninformed locals call it fog! However, the microscopic smog particles (size PM 2.5 and smaller) are extremely unhealthy. These teeny tiny particles have been known to negatively affect the cardiovascular and respiratory systems.
With growing frustration, we watched and smelled the burning season start earlier and last longer, year after year. We wore N95 face masks whenever we went outside. We placed filters in our AC units and bought an air purifier with a HEPA filter.
Even so, breathing in Chiang Mai's polluted air hurt us. With PM levels going into the "very unhealthy" 200s (and possibly higher), we experienced several side effects. They extended far beyond an inconvenient runny nose or an itchy cough. They were debilitating at times and had us really concerned, too. Let's not forget, we got cabin fever because we were stuck inside our house for months at a time, too!
Eating a healthy diet
One of the reasons we chose Thailand over other countries to move to is that we really like the taste of Thai food. We love that it's full of herbs and spices, raw salads, grilled meats, and a wide range of fresh, tropical fruit and vegetables. Years back, when we were deciding on which country we wanted to live abroad in, it was important to us that we liked the local cuisine. A huge part of what makes us happy is eating out and experiencing new foods as well as sharing good food and drink with friends.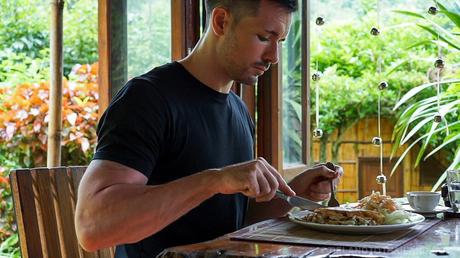 What we weren't prepared for after we moved to Thailand was the rampant use of syrups and salty bouillion in drinks, sauces, and broths. To top it off, many Thai locals are guilty of cringe-worthy food preparation, handling, and storage practices. Although it's possible to stay safe eating street food in Thailand, we lost our appetite after experiencing upset stomachs time and time again.
We personally make a conscious effort to eat a diet high in protein, fiber, "good" fats (nuts, avocados, fish), and fresh vegetables. When we eat Thai food, we are frustrated with the meager protein portions and low fiber content in the average Thai stir-fry or curry soup. The only way we get enough protein is if we buy whole grilled fish or chicken or slabs of pork neck and supplement them with a vegetable dish. We're fed up with the outrageous amount of refined carbohydrates (rice! sugar! corn starch!) and salt, the latter causes us to experience puffy faces and achy joints. And the few glugs of palm oil added to every dish? No thank you.
After our first year eating almost exclusively Thai food, the excitement of dining on 30- to 60-baht meals from food stalls and our neighborhood Thai restaurants wore off. We re-evaluated our eating habits after gaining weight and feeling constantly sluggish.
We wanted to feel more healthy in Thailand. So, now we cook the majority of our meals at home. Ever since our second year abroad, we
buy organic produce from the Royal Project Foundation
make our own sauces from scratch with no preservatives or artificial flavors and colors
minimize our sugar and salt intake
cook with olive oil and coconut oil (no soybean oil, palm oil, ormargarine)
eliminate food-borne illnesses by practicing safe food-handling procedures
We buy nearly two-thirds of our groceries from our local Thai market. This includes fresh fruit, vegetables, herbs, spices, nuts, eggs, and meat (chicken, shrimp, fish, and the occasional pork or buffalo). In expat-friendly towns, we can easily supplement our local groceries with items bought at international grocery stores such as Rimping, Tops, and Villa Market. We buy non-tropical produce, whole grains, beans, legumes, and quality cuts of imported meat there. We also buy supplements, herbal teas, and protein powder online, which has been a great addition.
When we do eat out, we are happy to see a growth of restaurants offering menus with sustainably grown, vegan, vegetarian, organic, raw, and whole foods. Although this wasn't like that in Chiang Mai when we first moved there in 2013, the number of health-conscious businesses have grown in response to customers' demands. We've also seen them or heard about them in other major expat-friendly towns such as Phuket, Bangkok, and Pattaya.
Exercising
Back in the US, we were adamant gymgoers. We regularly, if not religiously, tackled free weight, machines, and the occasional intense group class. It was a way to release energy after sitting at our office desks all day.
When we moved to Chiang Mai, all of that changed. After spending a lot of time trying to find gyms (back in 2013 when only a few were listed in English and the rest were in Thai), we were sorely disappointed. The gyms' decade's old machines were in desperate need of repair or reupholstering. Oftentimes, the machine selection was impractical and had us wondering why there were three ab machines but no leg press or squat rack. The free weights were often rusty and grimy.
Additionally, half the gyms we looked had no AC, were dimly lit, and mildewy. When we signed up for week-long trials, gym members lacked the gym etiquette we were used to. They almost never re-racked the weights and regularly monopolized equipment while talking on the phone. It was rather eye-opening.
In the past year or two, gyms have really popped up in part to foreigners' demands. It's been an incredible transformation in Chiang Mai, although we're sure that cities like Phuket, Bangkok, and Pattaya are already years ahead of the game. Now, there are several high-end gym options complete with classes and good quality machines and weights. We joined two different gyms over the span of four years and we've been fairly happy with them in terms of Thai standards.
In between gym memberships, we started doing more outdoor activities. Chiang Mai has an impressive selection of things to do. Over the years, we've played badminton, did yoga, walked, ran, swam, rock climbed, and hiked. We also had friends who did tai chi, self-defense, as well as danced, played hockey, bicycled, and kayaked, among other activities.
Unfortunately, Thailand's smoky season put a damper on our new exercise routine. We knew we were compromising our health if we did any outdoor activities between February and May. What we didn't know until early 2018 was that the PM 2.5 levels indoors are nearly as high as those that are outdoors!
Since you can't escape the smog inside a closed gym, working out is futile. Unless the gym's windows and doors are properly sealed and the room is equipped with air purifiers (which is highly unlikely - we've not once seen or heard of a gym with one), you're harming your heart and lungs with the exact pollutants you're trying to avoid.
How can we possibly stay healthy in Thailand when it's smoggy half the year? When will the dangers of the smoky season be taken seriously by city, province, or country officials? We're tired of waiting, that's for sure. The only way to avoid it is to live in Thailand's southern half.
Being part of a community
The effects of living far away from home, in a country whose culture is starkly different from where we grew up, are two-fold. Even though culture shock is often explained as a short-lived phenomenon that causes or intensifies depression, anxiety, and other forms of mental disorders, the oddness and disassociated feelings when living abroad never really go away.
In the beginning, we were giddy with the prospect of living abroad. We were distracted by the newness of everyday experiences and the anticipation of making new friends. Although it took several years, we began to miss our families and friends. Yes, we go back to the US roughly once a year. We make it a point to keep in with friends and family over email, Facebook, and the occasional phone call. But it's nothing like sharing holiday parties, summer barbeques, and celebrating milestones like weddings and birthdays in person.
Simultaneously, we found it difficult to fit into Chiang Mai's expat communities. Major groups include retirees, teachers, non-teaching workers, digital nomads, spouses of Thai citizens, missionaries, brick-and-mortar business owners, and a few others. Unfortunately, we never really fit well into any group. Chiang Mai is also a very transient city, and many people don't stay for more than a year or two. Without going into specifics (we'll save that for another post), it's been difficult to make and retain friends
Secondly, we will forever be outsiders - farang - in Thailand. We will always be strangers in a foreign land. We have had our fair share of experiences with blatant rudeness, racism, scams, extortion, danger, and lies over the years. Although they are few and far between, they still leave a bad taste in our mouth and make us wary. The Thai community will never fully accept us and will always treat us differently.
Getting medical treatment
We love that Thailand provides medical treatment for a fraction of what it used to cost us back home. There are loads of stories online where people have flown to Thailand, had surgeries, stayed a week, and flew back for less than the price of what's they'd pay in their home country. For us Americans, Thailand's prices are between 15% and 25% of US prices! Here's a little comparison chart.
Another thing we like about Thailand is that we don't have to have a prescription for some items. For example, we can buy Retin A from the pharmacy and contact lenses from the optometrist without a prescription in hand.
Signing up for health insurance is a personal decision. However, Thailand's medical prices are fantastic for people who prefer paying out of pocket. If you do choose to have health insurance, there are many local and international companies to choose from. You can also use traveler's insurance to cover you during the first few months of settling into your new home.
However, not all medical treatments are available in Thailand. There are life-saving or life-changing medications, namely narcotics and psychotropic drugs, that are strictly regulated or downright forbidden in Thailand. We've been fortunate that we do not depend on these drugs, but others are not so fortunate. Just last month we had a reader email us about her struggle to find Low Dose Naltrexone (LDN) and T3, a thyroid medication.
We found that there is a large wellness community practicing and receiving alternative medicine. We learned about options such as crystal healing, reiki, acupuncture, vegan and raw diets, applications of essential oils, yoga, meditation, and Ayurveda, among others. However, we approached this with caution and did our research. There are a lot of self-proclaimed gurus in Chiang Mai!
For a more comprehensive wellness overview, check Aetna International's Wellness Survey 2018. It interviews more than 30 families from across the globe and provides a broader perspective outside of living in Thailand. It's interesting to read about others' experiences. At the end of the day, there seems to be a general consensus about wellness, regardless of where you choose to live.
Disclosure: This post is brought to you by Aetna International. We shared an honest recap of our challenges so that you can make an informed decision about living in Thailand as an expat.