'Rite of Passage' definition:
a ceremony or event marking an important stage in someone's life, especially birth, puberty, marriage, and death.
As young women growing up in Pakistan our "rite of passage" at boarding school was getting into high school and being able to go to the 'Chai Shop'.
The chai shop stood across from the front gates of the school. It was small and dark inside with a couple of wooden tables, rickety chairs and an old stove.
What did this 'rite of passage' entail? It meant that at morning break and lunch time you had the freedom to go a few yards across the street and sit with friends, talking, laughing, drinking chai. Not the fake chai, branded by corporate money-makers and changed into an expensive, frothy "I'll take a chai latte." Instead it was real chai – made by boiling a million tea leaves in an old tin kettle, adding sugar, and topping it off with rich, full-cream buffalo milk.
It was a delight.
The chai shop was rickety steps and blackened walls, old tables and wood smoke. It was chipped china cups and grungy floors. It was an old stove and an owner who welcomed us. The chai shop was the smell of frying ghee and boiled milk, spicy omelettes and sweet, semi-stale rolls. It was comfort and belonging all wrapped up in a package right outside our doors.
I've heard that our boarding school now has tall walls around it with armed men standing guard, security measures after a terrorist attack that took the lives of a couple of people and caused trauma in many others. Times have changed and we all know that. It is not the same Pakistan where many of us grew up.
And neither are we the same people. We are now adults with a lot of history behind us. Life is far more complicated and has held its share of joys and sorrows. Some of our relationships have remained strong, and when we see each other we pick up where we left off. Other relationships are gone forever, into the faded photographs in albums and year books, and the rare smiles that memories evoke.
I've written before that there can be strength in remembering. And the chai shop is a memory that gives strength. It leaves no bitter after taste, no sad longing. Instead the memory remains just as it should – a rite of passage for a group of motley third culture kids, who had not yet found their way in the wider world, but were growing into adults that would soon face a new rite of passage. A rite of passage that would take all the strength and fortitude that a good cup of chai and a solid upbringing can give — that of entry into the countries identified on the covers of those legal documents that supposedly confirmed our identity, otherwise known as our passports. 
Rumor has it that the building that housed the chai shop has been torn down – one more brick taken out of our wall of memories. Perhaps writing helps keep some of the bricks intact, because memories are precious and if used properly give strength for the present.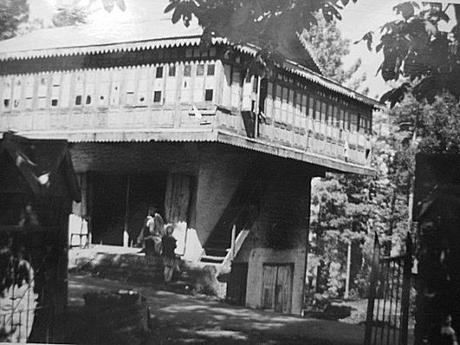 Top photo courtesy of Jason Philbrick; Chai shop photo courtesy of Tina Wiley