It's the only question I could honestly ask myself after they blew a 20 pt half time lead and barely got out of the Boston Garden alive.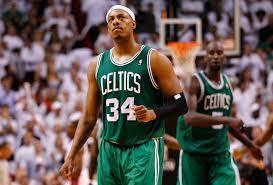 How far can KG and The Truth take the C's?
It's easy to root for them but it has become so hard to watch them on a nightly basis.  For stretches during games they will look outstanding with everyone moving the ball on offense and the Celtics playing their typical hard nose defense.  But on the flip side of that is a team that at times cannot make a shot and look old and run down.  That's why it's so hard to predict what this team is going to do in their next game, next season or next five years.  I mean I don't even know if KG can make it through this series, never mind another season or two with the C's.  Paul Pierce can NOT go for 25 a night anymore and we still don't know if Rondo will be around next season.
Do I think they can make a series out of this thing?  Honestly, I didn't think they'd win game 4.  I almost relished the idea of them getting a little extra rest this off season in an attempt to make one last run next year.  So, no I don't think it comes back to Boston, which is a terrible thing to say, but it's the truth.  I just don't think they can out score teams right now and they're not playing the type of Celtics defense that wins championships.
Deep down I still think they could challenge the Heat but I don't know if they ever get there.