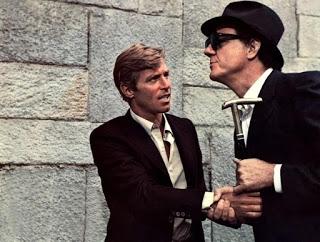 Dario Argento all but disowned his second feature, The Cat O'Nine Tails (1970). More detective story than horror flick, it's a sloppy show that's entertaining for all its shortcomings.
Mysterious doings plague Terzi Institute, from a bizarre break-in to the death of Dr. Calabresi (Carlo Alighiero). Blind detective Franco Arno (Karl Malden) overheard a conversation which makes him think Calabresi's death wasn't accidental. Arno and reporter Carlo Giordani (James Franciscus) initiate a convoluted investigation, finding the Terzi Institute swimming with suspicious characters and mysterious genetic research. Then the killer kidnaps Arno's granddaughter (Cinzia De Carolis), making things even more personal.
The Cat O'Nine Tails is a whodunit puzzle with too many pieces. Argento deluges audiences with odd characters and red herrings. When the narrative slackens we're treated to car chases, gay bars, insult contests, a barber (Pino Patti) unnerving Carlo with murder talk and a chatty cop babbling about spaghetti sauce. Besides our protagonists, Casoni's fiancée (Rada Rassimov) conducts her own investigation in a long subplot. There's so much nonsense that the mystery becomes an afterthought.
Argento's direction evinces unusual restraint. He includes shock cuts of train-mangled corpses and gargling tongues, and the film's favorite image, inserts of the killer's eye in close-up, yet the killings aren't especially bloody. He's also fond of garish art direction (the DayGlo photo lounge!) and long POV shots of the killer at work; there's a long, tense sequence in a victim's crypt, a rooftop fight and a Suspicion homage with a character menaced by milk. Ennio Morricone's moody, wailing score ratchets up the tension.
Unlike most Argento flicks, Cat O'Nine Tails boasts respectable acting. Karl Malden performs his quirky role with conviction and humor; Arno's another Argento protagonist with an imperfect memory of murder. James Franciscus is likeably intense, a resourceful investigator who beats the villain with a knife stuck in his hest. Catherine Spaak plays a leggy femme fatale; Rada Rassimov (The Good, the Bad and the Ugly), an ill-fated amateur sleuth. Spaghetti Western star Horst Frank (The Grand Duel) plays a gay professor.
It's understandable why The Cat O'Nine Tails doesn't command the respect of, say, Deep Red or Tenebre. It's a multi-faceted mess, a thin story engorged with elaborate sidetracks. It's still entertaining in a convoluted way, much better than Argento's awful later work.