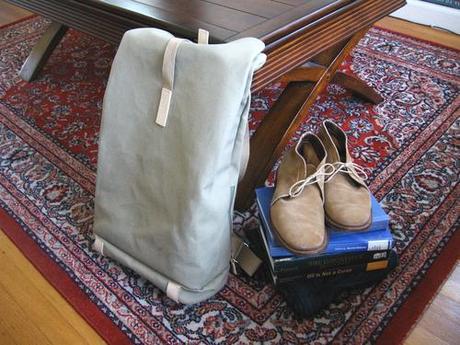 Although I mostly rely on my Lotuff & Clegg briefcase, Ralph Lauren fishing bag, and Filson 256 for my everyday carry, I've been getting a remarkable amount of use out of this Brooks England backpack. I picked it up last December after attending an in-store event with Brooks England and Grant Petersen (who was there giving a talk about his book Just Ride). The showcase of Brooks products included, of course, those beautiful bicycle saddles for which they're most known, as well as a small collection of their somewhat newly acquired PeDALED line - a Japanese label that makes stylish, practical clothing that looks good both on and off a bike.
Brooks' bags are similar in that they're designed with a bicyclist in mind, but not necessarily limited to just bicycle use. This Pickwick model, for example, is made from a water-resistant canvas and has leather trim detailing, metal slide-in buckles, and a tidy-roll up closure. There are two smartly placed, well-hidden pockets - one at the back and one at the bottom - that allow for convenient stowage for things such as documents, bike locks, and other necessities. Water-resistant zippers are used for added weather-protection.
I really like the design for its simple, streamlined form and reliance on quality materials rather than over-detailing. The canvas is somewhat rigid and helps keep's the bag's shape reasonably well. The generously sized main compartment has two interior pockets for organizational ease, but is otherwise free of any dividers. This gives me enough room to carry a bunch of miscellaneous things (such as the eBay packages one might need to ship in order to pay for such an expensive bag) when my briefcases prove too small. For practical use in the city with very causal clothing, it's pretty ideal. 
I only have two complaints. One is that there's no interior pocket for a laptop, which is surprising given how forward thinking Brooks England and the bag's designer Andre Klausser seem to be. Not having a separate pocket means my laptop slides to the front of the bag when there's not much else is inside, thus making it slightly harder to carry. The second complaint is that Jon Moy over at Four Pins says it looks "like a giant lunch bag" … which, it admittedly kind of does.