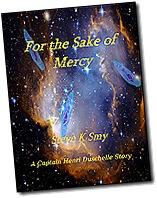 Captain Henri Duschelle, hero of To Sail The Dark Sea, has returned in a new tale.  This one, For the Sake of Mercy, is a novelette.  To quote the blurb:
Captain Henri Duschelle must lead his loyal crew on a seemingly impossible mission: to deliver a vital organ to one of the crew's son, across the longest part of the colonised worlds – to an insane deadline. He is convinced that only his ship, the stunningly beautiful "Persephone" can make such a journey. But problems lie in wait…
Now for the significant part of this news!  I have been known to be less than admiring of Amazon and their business tactics, as far as self-publishing is concerned.  Well, I like to think that I am fair, so I have opted to publish this novelette through Amazon!  It is available for the Kindle machines in various countries, at the bargain price I've detailed against the links (price quoted is approximate).  This is very much an experiment!  I'll be interested to see how things go.  Note that I did not opt to participate in the Kindle Select program as I dislike the restrictions that it imposes.  If you purchase and read the ebook, I would very much appreciate your feedback on Amazon!
Purchase links:
Amazon.com : $0.99
Amazon UK: £0.77
Amazon Germany: €0.89
Amazon France: €0.89
Amazon Spain: €0.89
Amazon Italy: €0.89
Amazon Japan: ¥99
Amazon Brazil: R$1.99
Amazon Canada: $1.01
Other countries: Please contact me.  I will email you the Kindle version on receipt of payment via PayPal.
Coming tomorrow!
"The Forever Saga: Flash" by Sean C Sousa – A Review
52.057772
1.143786