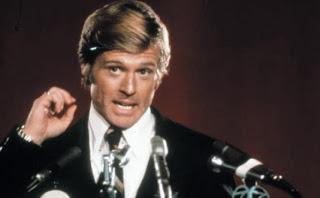 "Vote once, vote twice for Bill McKay, you middle-class honkies!"
Michael Ritchie's
The Candidate
(1972) provides a cynical twist on a familiar story. A New Politics morality tale, it explores politicians selling out principles for victory. Sharp writing and a solid cast sell what could be a pat storyline.
Democratic operative Marvin Lucas (Peter Boyle) recruits Bill McKay (Robert Redford), activist son of an ex-California Governor (Melvyn Douglas), to run for the Senate against incumbent Crocker Jarmon (Don Porter). Expecting a blowout, Lucas recruits McKay on condition that the latter can say what he wants. McKay's liberal platform engages minority and youth voters, but Lucas encourages McKay to moderate his message. McKay's poll numbers go up as he dials down his rhetoric, leaving him the unexpected frontrunner.
The Candidate
is very much of its time. Screenwriter Jeremy Larner worked on Eugene McCarthy's presidential bid in 1968, well-versed in the perils of insurgent politics. McKay seems modeled on Jerry Brown, California's eccentric governor and son of Old Politics Governor Pat Brown. There's also the casting of Melvyn Douglas, husband of Richard Nixon's rival Helen Gahagan Douglas. There are even cameos by presidential aspirants Hubert Humphrey and George McGovern.
The Candidate
's message wasn't new even in 1972, but Larner's witty, Oscar-winning script make the drama work. McKay starts as a legal aide worker helping Mexican immigrants, and feels more at ease rapping with teenagers and visiting ghettos than hobnobbing with Democratic bigwigs. He's fine until Lucas grows convinced he can win: he modulates "radical" stances on abortion and school busing. Jarmon's Reaganesque homilies are boilerplate, yet sincere. But Jarmon's mastered image-making, scooping McKay by arriving at a forest fire with the press in tow.
The depressing message, of course, is that politics is all about image. McKay cuts his hair, learns to speak in bland generalities, making peace with his dad and bests Jarmon in a television interview. Depressed at selling out, McKay expresses his disgust in a stream-of-consciousness rant where he mangles a stump speech about "giving home to the foodless." He's left wondering if his ultimate victory was worth the effort.
Robert Redford is perfect casting. Coupling Kennedyesque virility and McGovern idealism, he's a very '70s liberal, painfully aware of his limitations, wincing at compromise. Melvyn Douglas's crusty Governor makes a nice counterpoint, disturbingly happy to drag his son into the muck ("
Now
you're a politician!"). Peter Boyle scores with dry wit and amoral flexibility. Alan Garfield and Michael Lerner play other advisors, Kenneth Tobey a Teamsters president; Natalie Wood appears as herself.
In large part,
The Candidate
is an updated version of
The Best Man
and other dramas showing idealists corrupted by ambition. ABC journalist Howard K. Smith even pronounces the moral to ensure viewers get it. Nonetheless, it raises an issue American liberals still wrestle with: how do you tailor a progressive message to a center-right electorate? Bill McKay can't answer that anymore than his real-life counterparts.