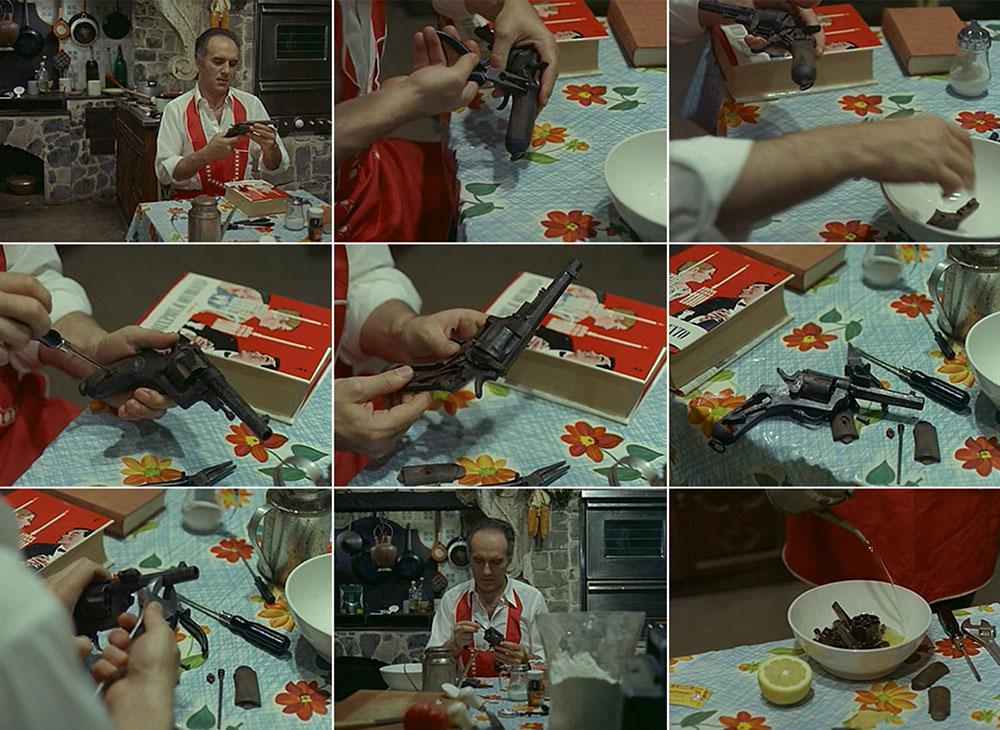 Glauco (Michel Piccoli), an industrial designer, goes through the process of disassembling and re-assembling a gun with all the patience and care. In his talk How To Kill People, George Nelson presents the gun as a tool for "killing, not murder. There is a difference, because murder is of no interest for the designer."

G. Smalley notices that "the observations [transcribed below] that the young worker makes to Glauco in the prologue [of the film] are all paraphrases from philosopher Herbert Marcuse's essay One-Dimensional Man, a critique of then-contemporary consumerism, mass media and industrialism":
Isolation in a chamber where external communication is impossible because the atmosphere is deadly, in a chamber where it is necessary to wear a mask to survive, is very reminiscent of the living conditions of modern man [...]. One can't reflect on this mythical one dimensional man without, unfortunately, analyzing all the characteristics of our industrial society. But an effective metaphor could be very attractive, clarifying extreme consequences which are not explicitly mentioned; which remain implicit.
For example, doesn't the fact of being forced to wear a mask create a sense of anguish? The introjection of these obsessive, hallucinatory needs does not produce an adaption to reality, but mimesis, standardization: the cancellation of individuality.
The individual transfers the outside world inside. There is an immediate identification of individuals in society as a single entity. The needs of physical survival are met by industrial production, which now proposes as very necessary, the need to relax, to enjoy oneself, to behave and consume according to advertising models, which precisely illustrate the desires everyone can experience.
The cinema, radio, television, press, advertising and any other good service of industrial production, is no longer directed towards different destinations [...].
In these conditions of uniformity, the old alienation becomes impossible. When individuals identify with an imposed life-style and experience self gratification and satisfaction, anyone subject to alienation gets swallowed up by his existence.