So its been some time since the last time, but you all know how much a sabbatical helps at times. 
Here, I am, back and with more new places, food and a travelogue added here and there. 
After hearing so much from others about the Blue Door Cafe, I decided to walk in and taste what they has to offer.
Do not expect a very fancy ambiance, it is simply decorated in the lines of modern, chic and there is nothing deep and nostalgic about it, but you know, do not judge a book by their cover. Their dishes are pretty pocket friendly, unlike some of the others in Khan market.
The first time I stepped in, I was weirdly craving breakfast do, like I often do, and ordered their French toast slam which came with scrambled eggs, sausages and bacon. The eggs were a little soggy and watery but they were okay, I couldn't call it outstanding but definitely comforting. Plus, I can eat bacon everyday and still not be satisfied, so that made me really happy. I also ordered their mont blanc, wait there, it's not some sexy kind of champagne, only a vanilla shake!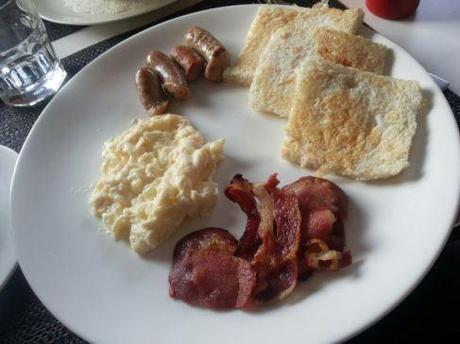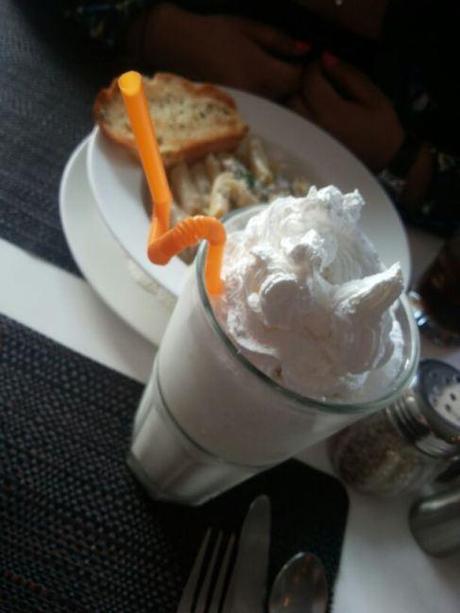 My friend ordered here favorite, Alfredo penne with mushrooms, she hates exploring and is quite happy with eating whatever she already knows of. I thought the pasta had a little too much garlic but Aashna was satisfied, so who am I complain?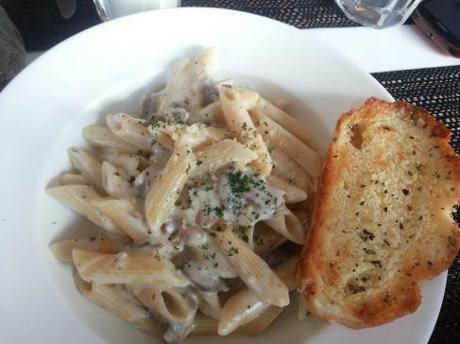 Fast forward a week, it was one of my really low days where everything failed to impress me. Therefore, I decided to head off and treat myself to a quaint dinner and unfailingly, I walked up through the blue door and flickering through the pages of my book, I ordered their, spaghetti con gamberetti al peperoncino- seafood pasta with lemon, cheese and other condiments.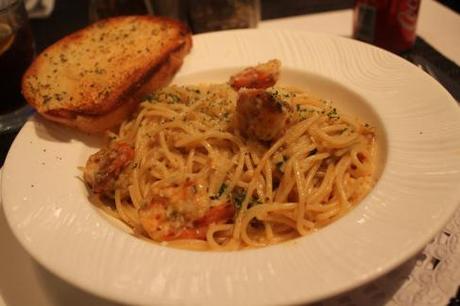 Now, here's what happened next- I devoured every bite, being  a Bengali and growing up loving shrimps, it really was a gastronomical fantasy come true. The spaghetti was perfect, seasoning perfect, again a little too much garlic but I could always go home and brush. I paid my check like a happy customer, walked out, found myself an auto and headed for home. 
5 minutes later, I unusually started to scratch myself, it was like 40 mosquitoes biting me at the same time all over my body. My worried auto driver dashed me to a medical store where I picked up an anti allergy tablet, swallowed it and finally the scratching stopped. The funny thing, I never knew I had an allergy to shrimps, or maybe it was something else, the weather, some particular kind of shrimp, I have absolutely no idea. Maybe, next time, you go out and eat somewhere, it is exetremely important to be aware of your food allergies, needless to say my life as a food blogger is over!

However, if you want a nice simple continental meal, without a hole in your pocket, go to Khan market, find the Blue Door Cafe in the middle lane, walk up and eat all you can, because it sure wouldn't disappoint you.