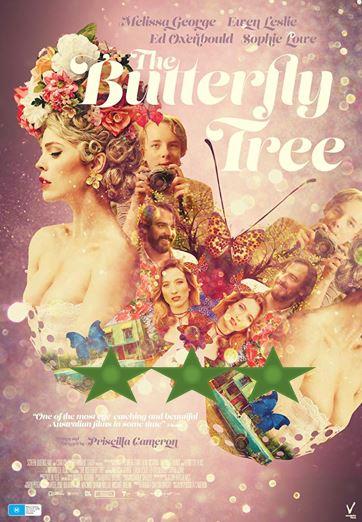 Director: Priscilla Cameron
Writer: Priscilla Cameron (Screenplay)
Starring: Melissa George, Ewen Leslie, Ed Oxenbould, Sophie Lowe, Ella Jaz Macrokanis, Lauren Dillon, Paula Nazarski
Plot: Evelyn, an ex-burlesque queen, bewitches single dad Al and his teenage son Fin with her zest for life. When father and son discover they are competing for the affections of the same woman, it reopens old wounds over the death of Fin's mother.
Runtime: 1 Hour 37 Minutes
There may be spoilers in the rest of the review
Verdict: Standard Life Drama
Story: The Butterfly Tree starts with a widow Al (Leslie) and his son Fin (Oxenbould) having a difficult time about the death of their loved one, Al has started a fling with a student Shelley (Lowe), while Fin has become obsessed with a shrine he has made for his mother.
The pair both meet Evelyn (George) a flower shop owner with a colourful past, Fin gets to meet somebody to whom he can share his love of nature with and Al is looking at the perfect woman, but when the two find out they are trying to seduce the same woman, their lives get complicated.
Thoughts on The Butterfly Tree
Characters – Evelyn is a former burlesque queen who has retired to own a small flower shop getting back to the nature she once loved, she befriends two people in the small town, one is a new love interest, the second is his son that is fascinated with nature the same way she is, she has a secret which will rock both the men. Al is a widowed man that has turned to his college student for his latest love, he meets Evelyn which sees him want to turn a corner, but his past will come back to haunt him. Fin is the teenage son of Al, she has been struggling with the loss of his mother and has created a shrine for her which works with his love of nature. He becomes friends with Evelyn believing there is more to their friendship with his crush like behavior becoming dangerous. Shelley is the student that Al has been sleeping with, she starts by wanting to keep it a secret, but soon gets put into a position where she isn't getting what she wants.
Performances – Melissa George does bring the colourful character to life, while managing to show the darker feelings her character is conflicted with. Ewen Leslie is strong in his role which sees him needing to balance strength and broken nature, which is shown in Ed Oxenbould's performance too because as a young star he must deal with these troubles too.

Story – The story here follows a father and son that both fall in love with the same woman after losing their wife and mother, they are both broken and need to find something new in their life to put their own relationship back together again. The story here does tackle important family themes, we see how difficult life can become for anybody who has lost a loved one and how communication can become difficult too. We see how they could search for a replacement in unusual positions too. Where this story does start to fall short is in the unanswered questions, was Al always sleeping with his student? Was Fin always this isolated in his personal life? Evelyn might have come to this village, but we don't learn enough about what she is moving away from, how bad her ex-husband truly was etc. we have a lot of aspects of the story missing here, which does leave certain scenes feeling disconnected.
Settings – The film is set in a small town, which shows how the lives of the people there can easily be interconnected, it can be a place to escape from the busy life and it does have the beautiful backdrop when needed.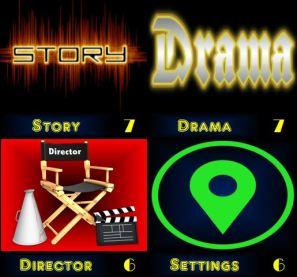 Scene of the Movie – Breaking point.
That Moment That Annoyed Me – The unnecessary CGI.
Final Thoughts – This is a strong drama with important life messages, even if it does have a couple of plot points that get overlooked through the film.
Overall: Simply drama.
Rating