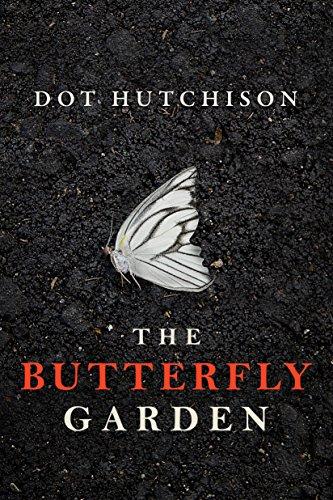 TITLE & AUTHOR: The Butterfly Garden by Dot HutchisonWHAT'S IT'S ABOUT
PUBLISHER: Thomas & MercerEDITION: KindleOPENING
WHAT I THOUGHT
PUBLISHED: 26 April 2016

PAGES: 288Source: Kindle Owner's Lending Library
Near an isolated mansion lies a beautiful garden.
In this garden grow luscious flowers, shady trees...and a collection of precious "butterflies"-young women who have been kidnapped and intricately tattooed to resemble their namesakes. Overseeing it all is the Gardener, a brutal, twisted man obsessed with capturing and preserving his lovely specimens.
When the garden is discovered, a survivor is brought in for questioning. FBI agents Victor Hanoverian and Brandon Eddison are tasked with piecing together one of the most stomach-churning cases of their careers. But the girl, known only as Maya, proves to be a puzzle herself.
As her story twists and turns, slowly shedding light on life in the Butterfly Garden, Maya reveals old grudges, new saviours, and horrific tales of a man who'd go to any length to hold beauty captive. But the more she shares, the more the agents have to wonder what she's still hiding...
The techs told him the girl on the other side of the glass hasn't said a word since they brought her in. It doesn't surprise him at first, not with the traumas she's been through, but watching her now from behind the one-way mirror, he starts to question that assessment. She sits slumped in the hard metal chair, chin resting on one bandaged hand as the other traces nonsense symbols onto the surface of the stainless steel table. Her eyes are half-closed, deep shadows bruising skin beneath, and her black hair is dull and unwashed, scraped back into a messy knot. She's exhausted, clearly.
The Butterfly Garden has left me feeling drained - emotionally and mentally. I need a hot bath filled with suds that smells of lavender. I also need some chocolate or ice cream and maybe a lot of hugs - anything really that will bring comfort. This book will haunt me for a long time. The Butterfly Garden enthralled me, terrified me, stunned me and completely unsettled me. There is something so sinister and flesh crawling about the Gardener, his sons and his collection of Butterflies. The Butterfly Garden is one of the most original crime novels I've ever read. I read a lot of Crime fiction so thought nothing could surprise me - this novel proved me wrong. I was absorbed from page one and literally couldn't stop reading. I liked the way the novel is structured with Maya telling the FBI about the garden and the Butterflies woven in between scenes of life in the Garden. This will be one of my top books of 2016. The Butterfly Garden is highly recommended.