The Brooklyn Brewery Corporation has filed 7 separate UDRP's this year the most recent one was filed yesterday.
The company owns and operate its website under the domain name BrooklynBrewery.com
The company has a Federally Registered Trademark for the term "Brooklyn Brewery"
Mark BROOKLYN BREWERY
Goods and Services IC 032. US 045 046 048. G & S: Brewed malt-based alcoholic beverage in the nature of a beer. FIRST USE: 19871120. FIRST USE IN COMMERCE: 19880616
Standard Characters Claimed
Mark Drawing Code (4) STANDARD CHARACTER MARK
Serial Number 78778456
Filing Date December 21, 2005
Current Basis 1A
Original Filing Basis 1A
Published for Opposition October 3, 2006
Registration Number 3186503
Registration Date December 19, 2006
Owner (REGISTRANT) The Brooklyn Brewery Corporation CORPORATION NEW YORK 79 North 11th Street Brooklyn NEW YORK 11211
Attorney of Record Paulette R. Carey
Disclaimer NO CLAIM IS MADE TO THE EXCLUSIVE RIGHT TO USE "brewery" APART FROM THE MARK AS SHOWN
Type of Mark TRADEMARK
Register PRINCIPAL-2(F)
Affidavit Text SECT 15. SECT 8 (6-YR).
Live/Dead Indicator LIVE
I searched the USPTO and did not find any trademark for the term Brooklyn Beer:
Here are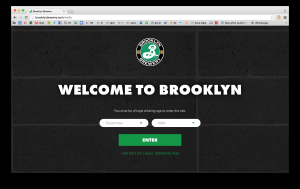 5 pending domain names on which The Brooklyn Brewery Corporation has filed UDRP on:
BrooklynBeer.com
BrooklynBeers.com
BrooklynAle.com
BrooklynBrew.com
BrooklynBrews.com
The Brooklyn Brewery Corporation filed two other UDRP but the owners of both of those domain have transferred the domain names to company and the UDRP's were dropped:
BrooklynPilsner.com
BrooklynLager.com
The domain name BrooklynBrewery.com has an original creation date of 1996 and has been owned by the company since at least 2001.
It should be interesting to see how and we will keep our eye on all of these cases.