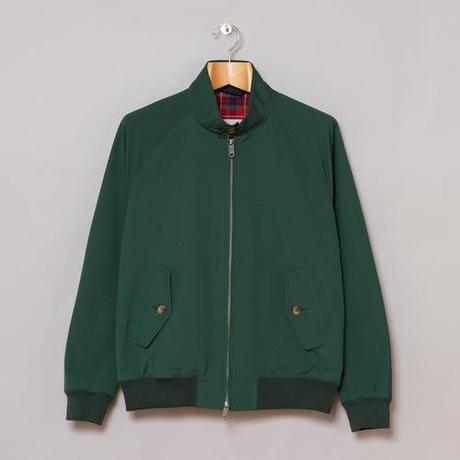 Oi Polloi just came out with a new color for Baracuta's classic Harrington G9 – British racing green, that superbly handsome shade that's been long associated with fast cars and British coolness. I've wanted a Harrington jacket for a long time, but have always suspected I wouldn't wear one enough to warrant the cost. The beige version seems to stodgy to me, despite all the efforts of marketers armed with pictures of Steve McQueen, and the blue version seems to difficult to wear with blue jeans. Baracuta stocks an olive green in their regular line-up, but it doesn't speak to me like this new color.
Baracuta, as some may know, was recently bought out by WP Lavori, an Italian company with worldwide licenses for various heritage brands (Woolrich, Avon Celli, etc). They're also the Italian distributors for Barbour and were instrumental to getting the Barbour x Tokito project going. My suspicion is that their new directorship will mean much more interesting designs and marketing campaigns for Baracuta. They've already set aside a high-end "Blue Label" line, for example, which is designed by the former creative director for Beams+. The current collection feels rather tepid, but perhaps 2014 will be promising.
In any case, this new color might be the best Harrington I've seen to date, at least in cotton versions, and might be one of the few rare jackets that's ideal for Spring. Lightweight, simple, and casual, it seems like a great piece to wear with chinos and Shetland sweaters, or even just white t-shirts and blue jeans.