It has been a few weeks since I last wrote about growing the flowers for my daughter's wedding and the wedding date is now romping towards me at great speed.  So this is the last write up I will do before the big day in October.  I have never grown flowers for a specific reason previously, never mind to a specific date, so it is both exciting and terrifying in equal measures.
So how are things doing?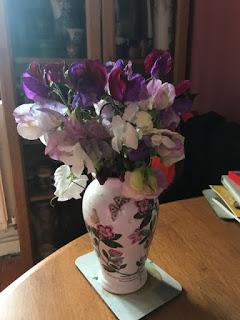 The sweetpeas have been good and productive.  I have had lots to pick for the house and the scent has been wonderful.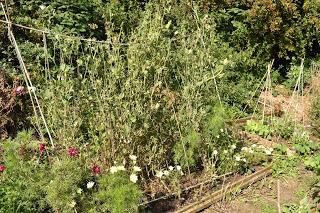 I am however looking anxiously at them now, hoping they will keep going for just a few more weeks.  I would love to be include some in the flowers.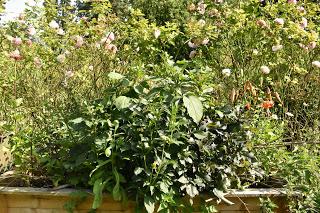 The Forest Deep Root Planter is home to some of the more precious dahlias and the tiger lilies.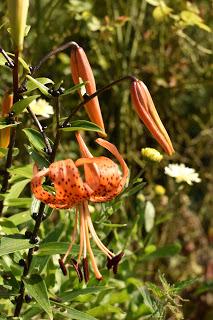 The Tiger Lilies are peaking too soon.  I do not think they will last long enough now.  So I took advice from the florists of Twitter and I have taken some drastic action.  I have dug up some of the lilies and moved them into pots.  One is in the shade and cool part of the Courtyard and another has been bought into the cold part of the outside loo.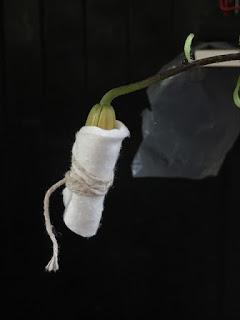 Some have been bound to restrict them from opening.  I have never carried out plant cruelty like this before and I feel a bit guilty about it, but needs must.  I am deadheading the flowers quickly too when they do manage to open.  This may all be to no avail, but at least I have tried.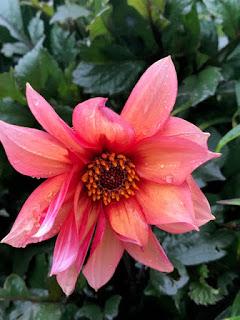 Dahlia Waltzing Mathilda has started to flower and is producing lots of buds.  I am fairly hopeful it will still be flowering when I need it to be.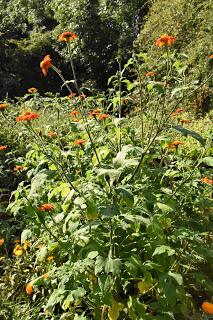 The vegetable beds are a riot of colour, mainly orange from Tithonia in this bed.  They are loving the manure-enriched soil.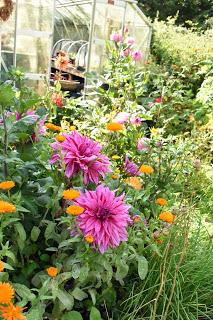 This border is currently more pink and also has lots of marigolds flowering well.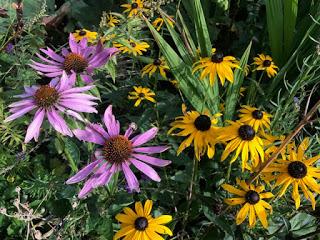 There are also many other flowers currently in the garden.  Of course currently is not really a lot of use if they are just a memory in a few weeks time.  So dear reader there is rigorous deadheading.  So much deadheading, whatever the equivalent of the Chelsea Chop is in late summer is happening now.  I am being careful not to cut back everything just in case they do not bounce back in time, but I am hopeful I should have enough.  I also have my eye on all sorts of foliage material that I can use.  I am trying to make sure I have flowers that mean something to the brides as well as, quite frankly, what I have growing that will be in flower.  This is why certain dahlias and tiger lilies are causing me so much angst. This project is making me appreciate, evaluate and think creatively in ways I never have before. It has been really interesting to realize this, one of those learning moments when the outcome of what I have started will be much more than the flowers grown.
I am also buying the supplies I need to make up the buttonholes and bouquets so I can practice ahead of the day.  I only (only!!) have to make up ten buttonholes and the brides' bouquets so that is not a huge list and should be doable.
Next time I update you will be after the day - wish me luck!
Bridal Flowers 1
Bridal Flowers 2
Bridal Flowers 3