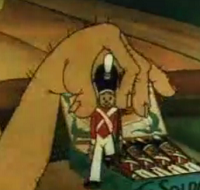 A musical rendition of the Hans Christian Anderson Fairy Tale where a brave tin soldier with only one leg and a toy ballerina find happiness.
There were once five and twenty tin soldiers, all brothers, for they were the offspring of the same old tin spoon. Each man shouldered his gun, kept his eyes well to the front, and wore the smartest red and blue uniform imaginable. The first thing they heard in their new world, when the lid was taken off the box, was a little boy clapping his hands and crying, "Soldiers, soldiers!" It was his birthday, and they had just been given to him; so he lost no time in setting them up on the table ...
The original story from H. C. Andersen.
Click "Read more ..." to see video.
Read more...