The Bramble is a gin-based cocktail that has apparently disappeared from the radar of many bartenders and home cocktail afficionados alike, which is a shame because it's a fabulous drink when blackberries are in season. The slight herbaceousness of the gin combined with tart lemon and blackberries, softened and sweetened a bit with simple syrup and Crème de Cassis is something you should really try; it's not your mothers' Gin and Tonic, that's for sure!
Original recipes call for the blackberry flavored liqueur Crème de Mûre and apparently cocktail purists would have my head for suggesting that the much easier to find Creme de Cassis (black currant) is suitable. Ignore them…heck, put it in a martini glass and REALLY ignore them. That being said, I would love to find some Crème de Mûre one day but was not interested in a day long excursion to myriad shops for this one ingredient. I decided to punt and the end result was wonderful!

More important is the quality of gin you use; lesser quality ones will result in a harsh end result. I was lucky to have been provided with a bottle of
Brockmans Gin
from England. Brockmans Gin is made from 100% English grain, quadruple distilled and flavored with 10 botanicals and is unique from the more common London Dry Gin. It uses Bulgarian coriander, blueberries and blackberries to create an aromatic smooth taste that can be consumed neat or over ice. It definitely has a fruitier taste than most gins which are often highly herbaceous and with a cocktail like this it was the perfect choice. We thought the Brockmans to have an intensely smooth, beautiful taste that. Try it, you'll
like
love it!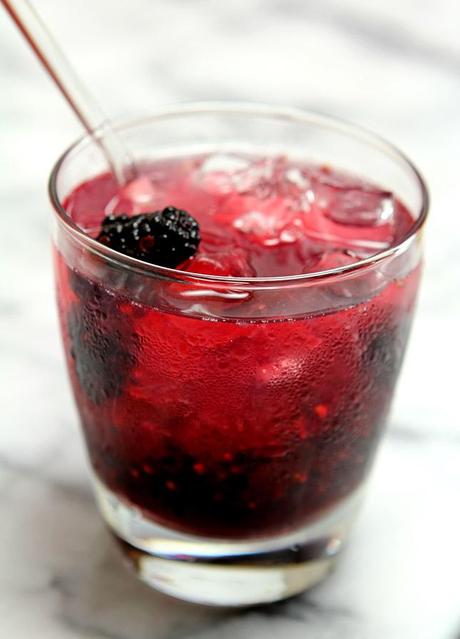 I'm making a pitcher of these on Monday. Who's coming over?


The Bramble Cocktail – Gin, Blackberry and Lemon
Prep Time: 5 minutes
Yield: One cocktail
Ingredients
3/4 ounce freshly squeezed lemon juice
6 large blackberries
1/2 ounce crème de cassis
1/2 ounce simple syrup (heat equal amounts sugar and water until sugar is melted; cool before using)
1 1/2 ounces Gin
Blackberries for garnish
Preparation
Combine the lemon juice and blackberries in a rocks glass and muddle until the berries are broken up. Fill the glass with ice.
Combine Crème de Cassis, simple syrup and gin in a cocktail shaker and stir to combine.
Add to the berry/lemon mixture, stir and garnish with additional blackberries.
2.4
http://www.creative-culinary.com/the-bramble-cocktail-gin-blackberry-and-lemon/
This recipe brought to you by Creative Culinary | A Food and Cocktail Blog | Website: www.creative-culinary.com
I was provided with a bottle of Brockmans Gin however all commentary is my own.