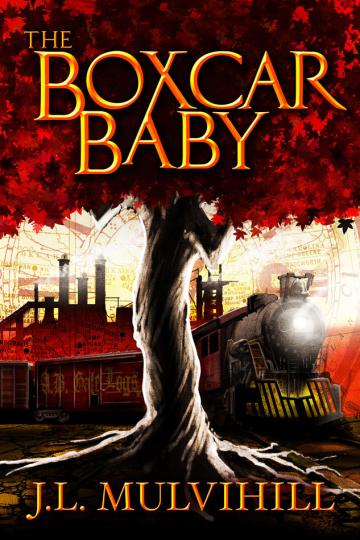 The Box Car Baby introduces the character of AB'Gale Steel who was born in a boxcar on a train bound for Georgia, according to what her papa told her. Bishop Steel, a mechanical engineer for the Southern Railroad, found his adopted daughter snuggled in a basket of cotton on an otherwise empty boxcar in the train yard. When no one came around to claim the baby, Bishop Steel, rather than relinquish the child to the State only to end up at the Workhouse someday, smuggled her home to raise as his own. The name on the boxcar he found her in read, A B Gale Logs, and so he named the baby AB'Gale.
But if the mystery of who her real parents are isn't enough for fifteen-year -old AB'Gale, Papa Bishop goes missing. Worried for her family and afraid of having to spend her life at the Workhouse, AB'Gale goes into town to see if anyone's seen her papa, only to find a deeper mystery. At the train station no one seems to know who her papa is even though he's worked for the Southern Railroad for thirty years.
An encounter with a strange Hobo-man, who claims to know her father, results in the acquisition of a leather eye-glass tube that he says belongs to her papa. Before AB'Gale can question him further the man runs away. When she gets home, she finds the Crushers taking her grandma off to the Oldies-home, so she hides until they are gone.
AB'Gale finds that the leather tube contains a map of the United States, with markers made by various towns across the country. By each marker is a word or a name written in her papa's handwriting.
Alone, and with only the clues of the map to go by, AB'Gale has no choice but to set out on her own to find her Papa.
[I have always loved the sound of the train whistle, especially when I hear it from far away; the moaning echo across the valley gives it a sorrowful sound like a Piper bird calling for its mate]
(Seventh Star Press, LLC, 12 July 2013, ebook, 274 pages, copy via Tomorrow Comes Media and voluntarily reviewed, blog tour 12 August, posted late due to a mix-up with dates)
***
***
This is my first time reading the author.
I thought The Boxcar Baby was a great read. I didn't realise at first that the book is classed as Steampunk. I thought it was alternative history or something similar. I don't read a lot of Steampunk. I thought the world-building was great. AB'Gale's life and the world she lives in come vividly to life. I liked being inside AB'Gale's head throughout the course of the book. I really liked her as a character. She's feisty and tough yet vulnerable as well. She's the kind of heroine I can easily root for. The book takes a strange fantasy turn at the end when trolls put in an appearance. This came out of nowhere as nothing in the book even hinted events were leading in this direction. Still, this is really well done and I definitely want to read the second book.