news , information,business,investment,helth
news,business,politics
news and information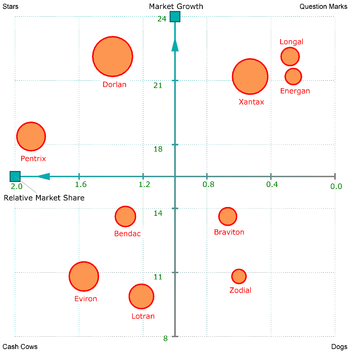 English: Folio plot of a BCG Matrix Analysis using an example data set. The folio plot visualizes the relative market share of a portfolio (hence the name) of products versus the growth of their market. The measurements are visualized as squares. The objects are visualized with circles that differ in size by their sales volume. The PNG was created with Foliomap. (Photo credit: Wikipedia)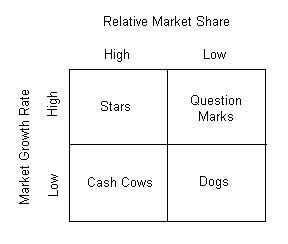 Boston Consulting Group (Photo credit: Wikipedia)
Industry attractiveness and business strength scores are used to generate a Boston Consulting Group Matrix. Industry attractiveness or industry growth rate is plotted on the vertical axis and competitive strength or relative market share on the horizontal axis. four-cell matrix emerges. The locations of the business units on the attractiveness-competitive strength can provide guidance in deploying corporate resources for a diversified company. the size of each bubble in the diagram is scaled to the percentage of revenues generated by each business unit.
The growth–share matrix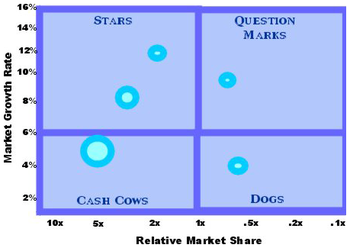 BCG Matrix Example (Photo credit: Wikipedia)
was created by Bruce D. Henderson for the Boston Consulting Group in 1970 to help corporations to analyze their business units and their product lines. plot a scatter graph to rank the business units (or products) on the basis of their relative market shares and growth rates.
Cash cows: the company has high market share in a slow-growing industry. "They generate substantial cash surpluses over what is generally needed to fund their operations."
Dogs are units with low market share in a mature, slow-growing industry.
Question marks (also known as problem children) are business operating in a high market growth, but have a low market share.
Stars are units with a high market share in a fast-growing industry.
"As a particular industry matures and its growth slows, all business units become either cash cows or dogs. The natural cycle for most business units is that they start as question marks, then turn into stars. Eventually the market stops growing thus the business unit becomes a cash cow. At the end of the cycle the cash cow turns into a dog."
As BCG stated in 1970:
Only a diversified company with a balanced portfolio can use its strengths to truly capitalize on its growth opportunities.

The balanced portfolio has stars whose high share and high growth assure the future.

1. To compute relative market share divide the leader's share by #2 if you are the leader

2. To determine the industry growth rate use the industry reports in the Library databases.

Viewing a diversified group of businesses as a collection of cash flows and cash requirements helps managers understand the ramifications of resource allocation and cash flow. The company needs adequate financial strength to fund its various businesses to achieve financial targets.

Here's my Pinterest Board:

http://www.pinterest.com/socialmediaevie/boston-consulting-group-matrix/