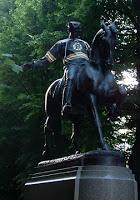 *June 7, 2011 in Boston's North End
(image courtesy of AMHL Photographer)
The new NHL season is upon us and the Bruins will raise the championship banner tomorrow. So, let's rewind—one last time—the 2010–11 season.
My Top Twelve Highlights:
1. The Odyssey Begins in Belfast: Sean Thornton and Patty Cleary return to their roots.
2. Big Zed's Hat Trick: First career three-goal game as Bruins beat Hurricanes, 7–0.
3. Hello
Chris Kelly
, Rich Peverley, and Tomas Kaberle: Farewell Blake Wheeler and Mark Stuart (both a plus-8 with the B's in 2010–2011).
4.
6–0 Road Trip
: Including a win over the Canucks, the six-game sweep is B's first since 1971–72.
Commercial Time Out, this recap brought to you by Puckbite
Da Hawks – Da Habs: Fast skating, precision passes short and long, sustained focus and passion and an uncanny reading of the play. That's what I admire most in hockey. There was lots of it on April 5, 2011, at Montreal's Centre Bell, when the Hawks faced the Habs. Both teams embody these qualities when they bring their A game and they were all in that night. Skillful, disciplined play. No head shots, no cheap shots. No trash talk, taunting, posturing or whining. Montreal took 10 minutes in penalties and Chicago 8. Each one 2 minutes. Crawford and Price were solid in the nets. 43 shots for the Hawks, 35 for the Habs. Beautiful wristers from Cammalleri and Kane in the second. With Subban's peremptory one-timer in OT, the Canadiens took it 1-2 and clinched a spot in the finals. If only the NHL could be like this every night. Perhaps we have to thank Scotty Bowman's big influence on both these teams and others, like the Penguins and Red Wings, over the years.
5.
Michael Ryder's Glove Save
: The B's forward reprised his role as Bonavista (NL) ball hockey goalie as the Bruins beat the Habs in Game Five.
6. Timmy Thomas, Game Two against the Flyers: Fifty-two saves in a
History-Will-be-Made
victory.
7. Andrew Ference to David Krejci to Nathan Horton:
The Hockey Goddesses
, at least one of them, are rooting for the Bruins.
8. *Stanley Cup Finals, A day before Game Four: Boston's revered Paul shouts, "The British Columbians are coming; the British Columbians are coming." (
He didn't really say that
.)
9. Game Seven, Patrice Bergeron: Patty Cleary scores the game-winner and then a shortie to complete the Bruins' odyssey.
10. Vancouver Fans Applaud Tim Thomas.
11. The Bruins Locker Room: Zdeno Chara holding Claude Julien's five-year-old daughter, Katryna. (Dear Reader: If you've got a picture of it, please send to me.)
12. Katryna and the Cup, for the little kid in all of us: "Best of all, I like winning it."