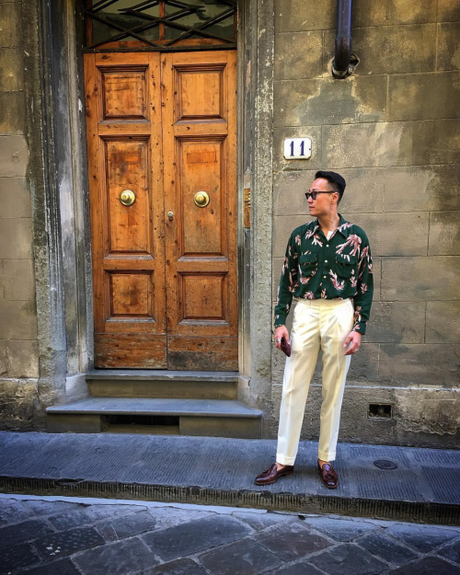 Charvet has something like a million shirtings in their workshop. Bolts of fine cottons and breezy linens, stacked shoulder-high from wall-to-wall. It's the kind of inventory you could get lost in – figuratively and literally – but if you're willing to venture through it, you'll come out with the perfect shade of blue. 
I've always wanted to commission a Charvet shirt for just that reason, but truthfully, my dress shirt needs are pretty easily satisfied. Like most men, I find blue is blue, white is white. You can mix-in some stripes, and turn to a variety of different weaves, but at the end of the day, a shirt is just a background for your tie. 
Lately, however, I've been venturing into slightly bolder, vintage-inspired designs (including Alohas, which I'll write about another time). For that kind of shirt, you'd have to go to some other place than Charvet – they mostly specialize in the kind of things you'd wear to the office. A better first stop, I think, is Bryceland's in Japan.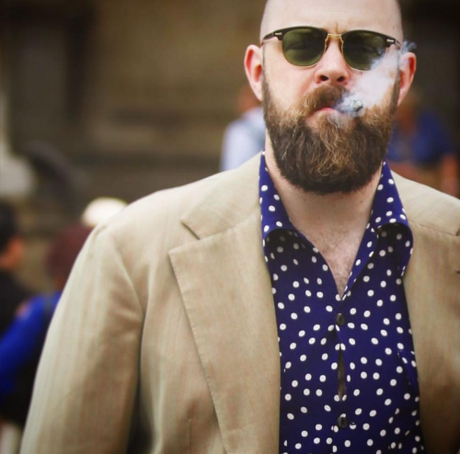 Ethan Newton, the co-founder of the store, tells me he has this idea of an American tourist in Italy during the 1950s. "So, a cotton or rayon shirt that's a bit sharp, but still very 1950s, and paired with higher-waisted trousers," he says. Basically a shirt that looks like it was taken from mid-century American leisure culture, but worn with the kind of soft shouldered suits found in Southern Italy. 
Bryceland's shirts are made from both vintage and modern materials. They have OCBDs, for example, in deadstock American shirtings, as well as some new fabrics from Western Europe. "The priority is finding something coarse and sturdy," Ethan tells me. "Particularly for summer shirts, when we want them to take some sweat and grime without looking like a soggy tissue at the end of the day." At the shop, you'll also see true-blue vintage shirts, which Ethan and his business partner Kenji find along their travels, but then have modified when they get home to Tokyo. 
The thing I like most about Bryceland's shirts is the thoughtfulness they put into the cut. Of the few vintage-styled shirts you can find these days, most come in modern, skinny-fitting silhouettes. Bryceland's, on the other hand, are a little fuller, slouchier, and more comfortable. "I like a cut that has some elegance in its drape, and for the fit to be slightly idiosyncratic," says Ethan. "Collar points should have a little more length to match the fullness of the sleeves and body; pockets should be slightly oversized and have big flaps. Overall, it should feel like something from a less body-conscious era."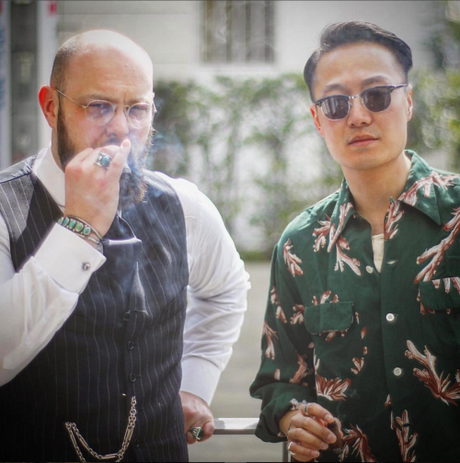 As for how to wear such shirts: pair them with casual linen or cotton suits, tropical wool sport coats, and high-waisted trousers. Mark Cho of The Armoury has this interesting shirt from Ascot Chang, which he uses to spruce up a brown sport coat with gray trousers combination. I also really like the looks from Ethan below – a vintage-styled shirt with a beat-up leather jacket or just worn on its own with raw denim. They're bolder than your usual broadcloths, to be sure, but tremendously fun to wear and lend a little personality. 
Bryceland's mostly works as a retailer for men in Tokyo, so to buy a shirt, you'll have to stop by the store. However, for those outside of Tokyo, Ethan says he may be able to work out a mail order. Just email him at [email protected] 
(photos via Ethan Newton, Kenji Cheung, and Bryceland's)