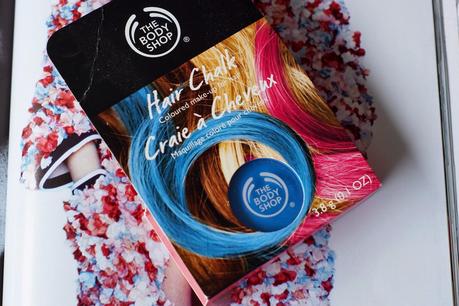 I'm a big fan of experimenting with my hair; you just have to look back my old photos to see the styles I opted for through sixth form and indeed, through uni to see that. I decided to ombré my hair back in November (post here) and since then I've been toying with the idea of adding different colours to my dip dye, just for fun. Today I'm talking about just one of the ways to add a pop of color to your hair and you don't necessarily need to dye it to give it a go!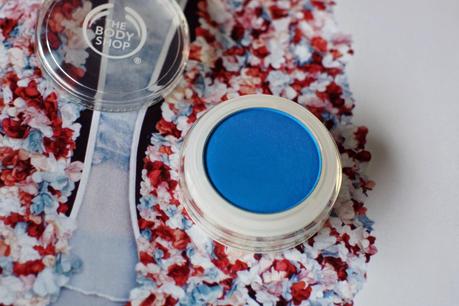 Hair Chalks - The Body Shop £5
The Hair Chalks from The Body Shop are pretty new releases. Available in blue and pink (I've got the blue one, as my Boyfriend's Mam gave me it to try out) these wash out shades are great to add a pop of color to your hair in a really quick, easy way.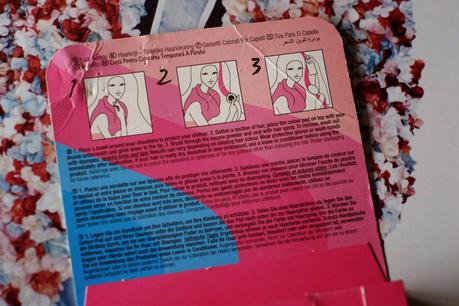 To apply I held the chalk in one hand against my hair and a circular cotton pad on the other side to avoid it getting on my clothes (and giving me blue hands) The process was really quick and depending how hard you press the chalk against your hair as you move it down the section, you'll get varying strengths of color. To set, spray some hairspray on the chalked hair and you're good to go. If you'd like to distribute the color more evenly, you could comb through when you're finished but I was pretty happy with the way it looked.

In terms of washing it out, it was really easy and just one shampoo and I was back to blonde. Just make sure you rinse the shower/bath afterwards or you might have a little bit of a blue tinged white!

I didn't find I had too much fall out on my clothes, but I was wearing a dark shirt just in case. To be safe, I would suggest putting an old towel under your hair and you could even wear gloves if you didn't want to get chalky hands or use the cotton pads. 

I really like how bright the blue is, obviously the intensity of it will depend on your hair colour, but if you've got dip dyed hair, it's definitely worth trying out. I'd even like to try mixing the blue and pink together, possibly creating some lilac shade? It's been a while since I last mixed paint so my color predictions might be a bit off...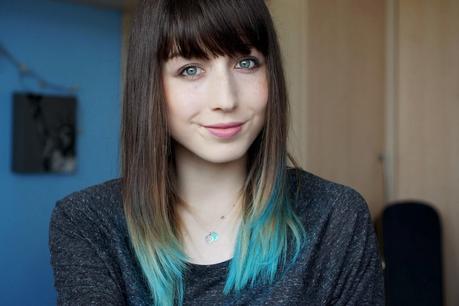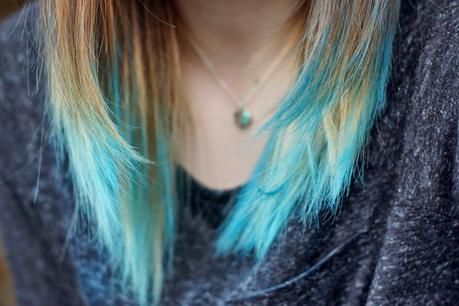 Have you tried any hair chalks? What did you think?
You can follow me on 
Bloglovin
 | 
Twitter
 |
 Facebook
 |
 Instagram | YouTube