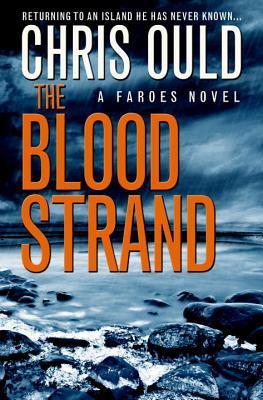 The Blood Strand by Chris Ould
Published by Titan Books
Ebook
Published 16 February 2016
352 pages
Review copy
Connect with the author
I was given a copy by the publisher and voluntarily reviewed it.
WHAT'S IT'S ABOUT
Having left the Faroes as a child, Jan Reyna is now a British police detective, and the islands are foreign to him. But he is drawn back when his estranged father is found unconscious with a shotgun by his side and someone else's blood at the scene. Then a man's body is washed up on an isolated beach. Is Reyna's father responsible?
Looking for answers, Reyna falls in with local detective Hjalti Hentze. But as the stakes get higher and Reyna learns more about his family and the truth behind his mother's flight from the Faroes, he must decide whether to stay, or to forsake the strange, windswept islands for good.
OPENING
BY THE TIME HERI KALSO HAD PAID FOR HIS COFFEE, ANNIKA Mortensen was already outside, leaning on the wing of the patrol car to smoke a cigarette.
WHAT I THOUGHT
I found The Blood Strand hugely enjoyable. The setting reminds me of the books of one of my favourite crime writers, Camilla Lackberg. There are also echoes of Anne Cleaves. For me, the setting is one thing which makes the novel unique and brings it to life. I wouldn't have enjoyed it half as much if it was set somewhere else like a big city. The Blood Strand is the kind of crime novel I love, full of shades of light and dark with plot twists and turns I never see coming. I love books that force my brain cells to do some work. The characters all come across as real and made of flesh and blood which is always a good thing. I thought the revelation of who the murderer was and their motive was clumsy and not executed as well as it could have been. Overall, The Blood Strand is hugely enjoyable. I'd recommend it.

I'm thirty-five years old and live in Glasgow in the UK with my partner of ten years. I work in a support team for a call centre. I like reading especially Joyce Carol Oates and Stephen King. I write fiction and poetry. I enjoy watching TV (Grimm, Torchwood, Doctor Who, Lip Service, The L Word etc). I like to play video games and am a fan of survival horror especially the Silent Hill franchise. I like to watch movies especially horror and anything where someone dies. View all posts by pamelascott30