From the ridiculous to the sublime... 
After the torture that was The London Dungeon (see previous post!), I needed a lift, so hurrah for this fabulous show in a fabulous location.
Inspired by Montmatre's cabaret underworld, The Black Cat Cabaret is on every Friday at the Café De Paris. It's an engaging few hours of singing, dancing, feats of agility and strength, fire breathing and more. Proper cabaret entertainment. I loved it.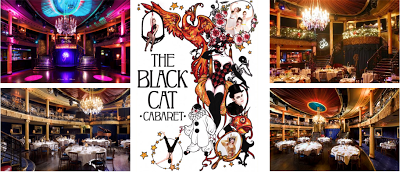 The gorgeous venue with its sweeping staircase and pillared gallery is modelled on the ballroom of the Titanic. It gives the feel of much older than it is but was actually opened in 1924. It reminds me of those supper clubs you see on old movies when people used to really dress up to go out and be entertained by crooners and showgirls. Enjoy the show whilst enjoying a meal on the ground (dance) floor or sipping drinks from the upper level.
And then, after the show has finished, the dining tables are cleared, the dance floor exposed and the place is totally transformed into a nightclub.
A really cool venue.


(My good reviews are always so much shorter than the bad ones!)