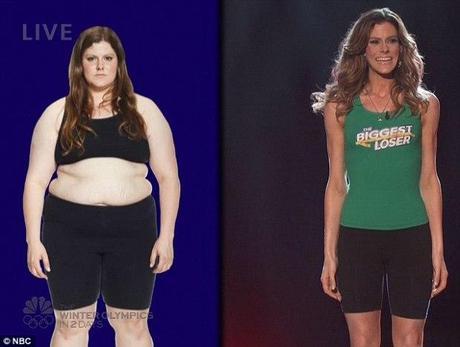 #Winning
Via AOL: Yep, 24-year-old Rachel lost an amazing 155 lbs. since starting the show. That's almost 60 percent of her body weight: she went from 260 lbs. to 105. But she gained $250,000 in prize money.
The 'Today' show blog notes Rachel's win was record-breaking — she lost a higher percentage of weight than any other contestant in the history of the show.
And while fans were excited for her big win — some bloggers were concerned that Rachel dropped too much weight. EW said she looked "skinny-skinny," even by Hollywood standards.
BuddyTV was concerned, too: "Rachel has been such an inspiration and athlete all season. As soon as she is revealed, I can't help but think she looks way too thin, right? I don't know … she just seems to have taken her competitive nature way too far."
And E! found that at 5'4″, Rachel was underweight. According to Weight Watchers, the healthy weight range for Rachel's height is between 117 lbs. and 146.
This is almost too perfect in my opinion.  For years, people have applauded The Biggest Loser for helping people lose weight, keeping people glued to the television and "inspiring people at home."  Bullshit, absolute bullshit.  People are so damn cynical and it makes me so happy.  There is nothing better than people trashing someone for doing exactly what she was expected to do on the show.  People trashing her for what hundreds of people before her have done. Just because she all HAM on the show and broke records and got herself fit as a fiddle, now people want to blast her for losing too much weight.
Get over it people.  You just hate it because you haven't worked off those holiday pounds and this chick just faced the shit out of you.  Rachel Frederickson 1 – Haters 0
P.S. I don't know a lot about a lot, but in that pic above she looks like she hates life on the left and like she owns life on the right.  All I need to see.\