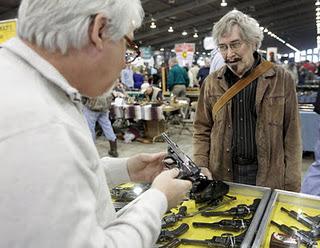 "They love to come here early to find the bargains," show manager Joe Wanenmacher said.
Wanenmacher said recent attendance has been in the 35,000 to 40,000 range for the biannual event, which traces its roots to 1955.
Wanenmacher said when he took over the show in 1968 there were about 200 exhibitor tables. On Saturday, there were more than 4,100 tables featuring exhibitors from all over the world displaying firearms and other items.
Wanenmacher said a study about four years ago revealed the spring and fall editions of the show pump a total of about $16 million into the local economy. He said 83 percent of the spectators come from places other than Tulsa.
I'm not sure, but that customer with the weird facial hair looks an awful lot like an investigative reporter I've seen hanging out with the MAIG. Right before the picture was snapped he said, "So, you don't require no background check do ya, cause I don't think I can pass one?" The seller responded in terse Tulsa style, "No sirree, 'round here, we don't care 'bout that bullshit."
What do you think?  Is the Tulsa Arms Show just good clean fun for gun collectors or is it the kind of place the unfit and unqualified and bad-intentioned can come to get what they want?
Please leave a comment.