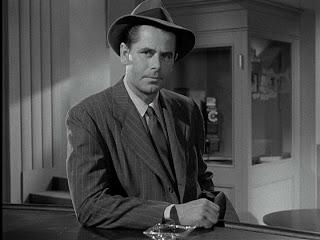 "You can't set yourself against the world and get away with it."
Fritz Lang's
The Big Heat
(1953) might be that auteur's best Hollywood film. Based on William McGivern's novel, it's a well-constructed thriller whose moral coarseness prefigures later crime dramas.
Detective Sergeant Dave Bannion (Glenn Ford) investigates the suicide of a colleague, Tom Duncan. Duncan's death leads Bannion to a conspiracy involving gangster Mike Lagana (Alexander Scourby), whose minions control the police department. Lagana murders Bannion's wife (Jocelyn Brando) with a bomb, putting him on the warpath. Bannion surrenders his badge, targeting Lagana's syndicate for revenge.
The Big Heat
moves in a noir milieu, but at heart it's a melodrama. Lang and scenarist Sydney Boehm set Bannion's work against his home life. He and his wife banter over steak and muse over his becoming commissioner between investigations. Unfortunately, Bannion's corrupt bosses stymy him even before the triggering murder. With his moral anchors (work and family) obliterated, Bannion becomes a vengeance-minded monster, equating violence with justice and destroying unwitting bystanders in the process.
Lang's film becomes more familiar contrasting Bannion's bankrupt morality with Lagana's profitable corruption. Where Bannion moves in dingy station houses and dank bars, Lagana lives it up in posh clubs and an expansive home, feted by crooked officials. Their worlds collide through Vince Stone (Lee Marvin), a slick thug with a violent streak. Lacking his boss's prudent calculation, Vince tortures women, intimidates cops and carelessly ups the body count.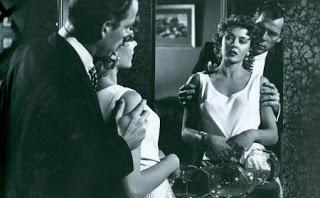 Where most noirs feature women as seductive honeypots,
Heat
casts its females as victims, revengers or both. Bannion loses his wife and threatens Duncan's widow (Jeanette Nolan), who isn't so innocent as she seems. Vince burns a woman with a cigarette and scalds his girlfriend Debby (Gloria Grahame) with coffee. Debby becomes compelling in her own right: unable to escape her seamy life, she's also consumed by vengeance after suffering disfigurement. She confronts Mrs. Duncan, telling the scheming hausfrau that they're "sisters under the mink."
Lang slowly ratchets up his direction: stiff, procedural blocking in early scenes gives way to a tighter, gnarled look. Blending noir visuals with his own Expressionism, Lang and photographer Charles Lang shoot intense close-ups framed by shadows and smoke, making the violence intensely personal. Buried beneath the fights, shootouts and clipped dialog lies a familiar Lang theme, condemning vengeance as an empty pursuit.
Glenn Ford discards his usual charm, opting instead for amoral ferocity. His terse, clipped delivery and uncompromising toughness anticipate a later generation of screen antiheroes. Gloria Grahame is heart-wrenching as a good-time girl humbled, then driven mad by violence. Jeanette Nolan is equally compelling, gradually unmasking her grief as cold calculation. Lee Marvin gets a choice early role, his coarse charisma already fully formed.
By any yardstick,
The Big Heat
is a classic. Fritz Lang was a natural fit for crime dramas, but rarely married his preoccupations to the genre better than here.