With a focus on helping find a cure for autism, Earnie Els balances family, golf and a wine business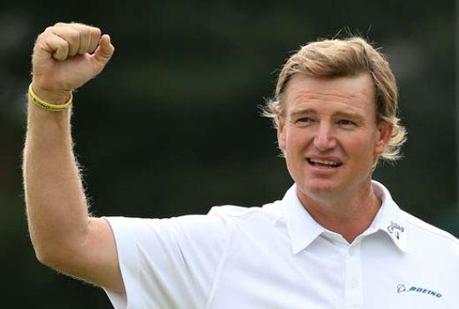 When Ernie Els lifted the Claret Jug into the grey skies above Royal Lytham in July, 10 years of major championship frustration, nearly two years of bad putting and a continual shadow of doubt about his ability were shoved aside.  That British Open victory, the fourth major of his career, said one thing very loudly to his fans, to his doubters and to himself: I'm back.  It was more than an hour after he sunk a 20 foot birdie putt on the 18th hole before Els could be declared champion   In all likelihood he would have to settle for second place, settle for the satisfaction that he could perform in a major again.  The tournament was in the hands of Adam Scott, a good friend.  But then Scott bogied the final four holes, handing Els the silver jug.  The world of the Big Easy suddenly became much brighter.
At the victory ceremony, Els spoke out to his fans and those who might have thought that his Hall of Fame career had come to a dead end at age 42.  "I had a lot of support this week, but you guys have to ask yourselves, were you being nice to me or did you believe I could win?" Els said.  Rousing applause told him they still had hope, a hope that even Els himself had found lacking during a completely lackluster 2011 season that was winless and mediocre, and combined with a so-so start to 2012 left him - crushingly - without an invitation to the Masters for the first time since 1994.
"I went through all the lows of the game last year," Els, sitting easy in a hotel suite on Long Island in August. "In a long career you are going to have lows, but nothing like the feeling I felt on the greens because I had been such a good putter.  When I felt like I couldn't make a two or three footer, it's not fun.  I had visions of me walking into the sunset and saying 'Cheers.' And come back to win, wow, it was special."
It was special, too, because of what Els and wife Liezl had been dealing with since the birth of their son Ben in October of 2002, three months after Els had won the British Open at Muirfield.  They had long thought that Ben just wasn't developing normally but it wasn't until 2008 that their son finally was diagnosed with autism.  After a period of dismay and grieving, Ernie and Liezl stepped forward to make Ben's affliction public and autism their cause.  The bright world of golf and famly would become ever so much more complicated, but in a way, Ben helped his father through his tough times.
"My family, my kids, my wife Liezl are really my backbone," he says.  "Though I was down it didn't affect their lives.  I was the one who was down in the dumps.  They tried to pick me up and they did.  I wouldn't say Ben knew what I went through.  But definitely he is very sensitive in the way he can react to moods.  He knows when I'm down.  He can see it in my face.  I don't have to say anything.
"The thing with Ben, what I've learned from Ben during my struggle, is how unbelievable he is with his routine.  With Ben, with autistic kids, the older they get the more they stick with their routine.  When I started working at the start of the year, selfishly I was watching my son and it was helping me with my golf game, helping me get a routine."
He needed something.  He needed to find a way to be who he was, a worldwide winner of 65 events, 19 on the PGA Tour.  And in a sports world rife with disconnect between super athletes and the fans who adore them, Els needed something that validated a connection that he alsways took seriously.
"The worst thing for a professional player is to play and then look around and your fans are almost embarrassed," he says bending forward in his chair with a passionate sincerity.  "I could see their expressions on their faces like they are looking at a guy who is a shadow of himself.  That's the thing that really pulled me down, that people actually lost faith in me.  "This is my passion as a person, this is my love, it's what I do.  Playing golf, this is what I felt I was put on the planet to do.  It's something I love so much."
From the time he was a teenager in South Africa, from the time he decided that golf was his game and his father put a practice green in the back yard, Els has had an absolute commitment to being a world class player.
To read more about Ernies golf journey, pick up the December issue of cigar aficionado magazine.