A round of applause for guest blogger, J.P. "Puckbite" Plouffe...
Yes, you can have your donut and play hockey too in New York City. One of the best combos can be found in Chelsea. The Doughnut Plant serves an eye-popping, tongue-wowing assortment of round (and square) delights, for instance: the crème brûlée yeast donut or the vanilla bean glaze with blackberry jelly.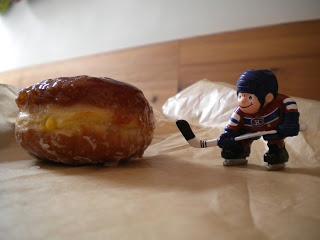 Its new venue, next to Hotel Chelsea – where, among other artists, Bob Dylan, Janis Joplin and Patti Smith enjoyed lengthy stays – is just up the street from the Sky Rink at Chelsea Piers, which offers all sorts of adult and youth hockey programs, even regular adult pick-up games.
Hotel Chelsea is closed for renovations until next year, but there's plenty of spots to stay and eat in this thriving, historic neighborhood. You'll want to check out the grub at Chelsea Market and maybe take some with you for a picnic on the High Line, a new park built on an old freight rail line elevated above the streets.