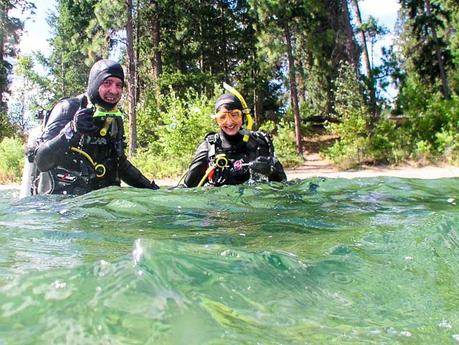 All photos courtesy of Sheldon Boyd of Serpent Aquatics in West Kelowna.
Although my husband and I both have our own dive equipment, we borrowed equipment from Serpent Aquatics, since we were only doing one dive. We were both immediately impressed with the quality and the newness of the equipment – no skimping here, something we highly appreciated.
As I stepped in the water, I expected to be cold as the previous lake dives I had done were. In addition, I was wearing a wetsuit, and not a dry suit.  I was grateful that it was much warmer than I had anticipated. In fact, it wasn't until I was down ~18 meters, that I felt a cold stream, but it still wasn't that cold. Incredibly, I was warm the entire dive – a first on a lake dive!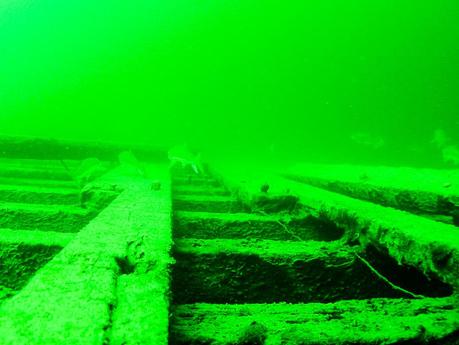 The Barge @ Fintry Park is ~ is a scenic 45minute drive from Serpent Aquatics in West Kelowna, along the banks of Okanagan Lake. The barge was used to transport goods between communities along Okanagan Lake long before goods were transported by roads. It was sunk in 1945 and has been surveyed by the
Archaeological Underwater Society of British Columbia
, who have also placed a plague on the barge. It's classified as an easy dive and is 25 – 60 feet deep and just steps from the shoreline and is easy to find, if you know where you're going.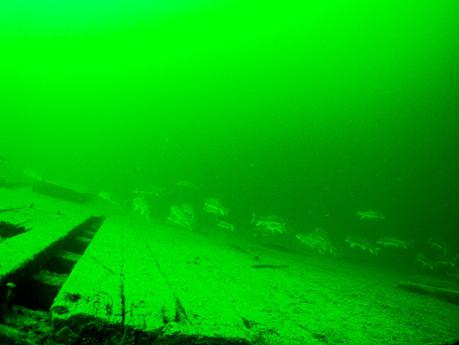 The barge is mainly intact, and you can either swim up and down it several times as we did. Certified wreck divers can enter the barge.  Unlike other lake dives that I have done where I only saw a few fish on the entire dive, we saw several large schools of fish.  Sheldon said that was typical for this dive, and one of the reasons that it was his top dive recommendation in Okanagan Lake.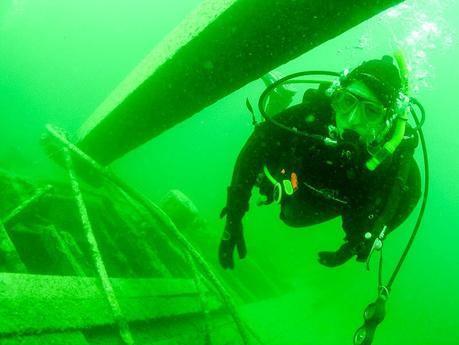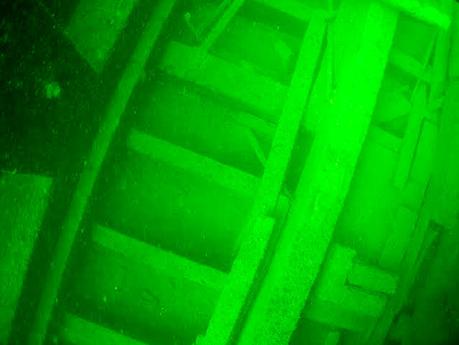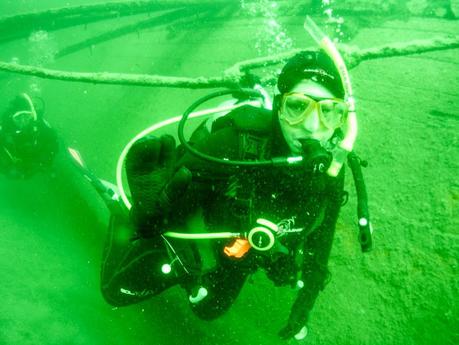 Both my husband and I enjoyed diving The Barge @Fintry Park in Okanagan Lake.  It's a unique opportunity to dive a Canadian Pacific railway barge that was an important part of the Okanagan's history. Plus, it's an easy dive with lots of fish – something you often don't see a lot of on lake dives!
Know Before You Dive in Okanagan Lake
While it is possible to dive on your own in Okanagan Lake, I recommend going with Serpent Aquatics, as there can be a lot of boat traffic and Sheldon and his team are highly experienced and professional.
One dive, including scuba gear costs $75, or $90 for 2 dives. You can read more about The Barge @Fintry Park, here.
A list of Okanagan Lake diving sites can be found on Tourism Kelowna's website.
According to Sheldon, the best visibility for diving is in the winter months, but of course it is colder then.
The best time of year to see fish is between August and October. That's when Kokanee salmon are spawning, and that attracts other fish as well! I would love to come back and dive Okanagan Lake at this time!
Disclosure:  Many thanks to Tourism Kelowna and Serpent Aquatics for making our dive in Okanagan Lake possible. As always, all opinions are my own.