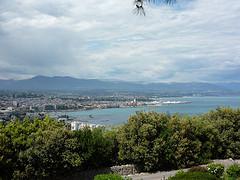 Antibes (Photo credit: cruz_fr)
And who says that English is the only language best learned abroad? You see, aside from knowing that you can actually choose to study English abroad, there are also other languages that you can choose to learn abroad as well. So much of the various learning methods modernization is introducing to us. If you're the type of person who loves to go out for an adventure and travel and don't want to get stuck up in your computer the whole day, choose to learn French abroad.
When we choose to travel for the sake of language learning, you don't just give credit to your own personal advantages. With your knowledge of French specifically learned in the place where it is widely spoken, you can actually make a career out of it. Call it a simple career or whatsoever, but such knowledge can actually be imparted, particularly when you choose to teach French in the near future.
Besides, the experience in going to a different place is endless! Would you choose to just sit down and do the routine activities of clicking and reading your lessons in French learning rather than living it for real? Not that I discriminate online learning, but you wouldn't want to exchange unlimited adventure that only traveling abroad can offer. You can go from place to place in your French language learning—far, far more than what travel websites have described to you.
And with the language school you will be enrolling to when choosing to learn French language, no problem with your accommodation. Part of your package is your place to stay: from dormitories, to apartments, to hostel, or even a hotel if you like. Believe me; even the simplest coffee shop in these places can become very appreciative to you. At the same time, such simple living is a great contributor to get fully soaked with your French language learning.
So what are you waiting for? Don't hesitate to choose French learning abroad. It's the best choice—so far.