The content available on Netflix differs from one country to another due to licensing rights, so it is normal to be able to find some of the most popular television series in other streaming services instead of Netflix. Anyone who lives in a country where Netflix content is limited and wants to access the same American programs, for example, will necessarily have to have a VPN.
As we have explained several times, a VPN (virtual private network) changes your IP address to make the service "think" that your residence is based in the United States or in any other country that you choose. In this way, you can ignore the content restrictions imposed in your area and access multiple movies and television series. Of course, the best VPN connections are not free, but the monthly fee is not even too high.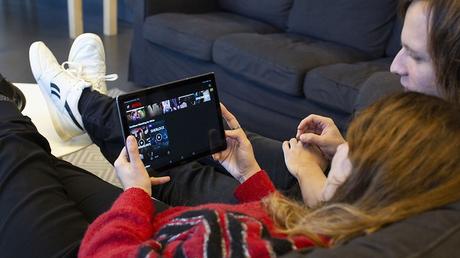 Before browsing our list it is important to know that Netflix does not like this practice and that it has already blocked several VPNs, but not all! In fact, there are still many available with which you can access without problems. Here are the best VPNs to unlock Netflix content.
Best VPNs to unlock Netflix content
Surfshark
Surfshark has a wide selection of available servers that can be used for Netflix streaming. There are more than 800 of them belonging to more than 50 countries, of which about 200 are in the United States alone. The service allows you to use an unlimited number of devices at the same time and offers a free 30-day trial.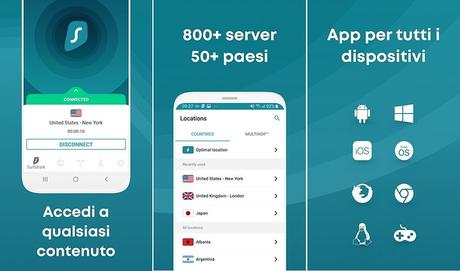 Surfshark does not monitor, track or store your online activities and has a whitelist feature that allows you to select applications and specific websites where you do not want to use VPN. Surfshark is also one of the cheapest VPNs, especially if you sign up for the two-year plan (€ 1.79 a month with the SHARKSPECIAL coupon). If you opt for a monthly subscription, you will have to pay 9.89 euros per month.
Surfshark is available for the following platforms: Chrome, Firefox, Android, iOS, MacOS, Windows, Linux and Amazon Fire TV. For all the features offered by the service, please visit the official website.
CyberGhost
CyberGhost is another of the best VPNs to take advantage of Netflix content from other countries. It offers access to 3,600 servers in more than 60 countries, more than 600 of which belong to the United States, many of which are optimized for Netflix streaming.
The service also allows you to use up to seven devices at the same time and does not register any type of online activity. Cyberghost offers unlimited bandwidth and traffic with all subscription plans and you will enjoy 14 or 45 days of money back guarantee depending on the plan you choose. A free 24-hour trial is also available.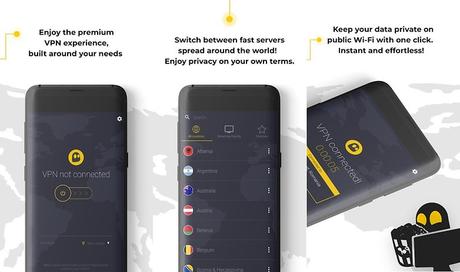 The monthly subscription costs € 11.99 per month, € 5.29 per month per year, € 3.29 per month per biennium and € 2.45 per month for three years. Cyberghost also offers users the possibility of obtaining a dedicated IP in the US, UK, France, Germany or Canada for an additional 5 euros per month.
The service is available for the following platforms: Windows, MacOS, iOS, Android, Chrome, Firefox, Amazon Fire Stick and Fire TV, Linux and Android TV.
ExpressVPN
ExpressVPN has 160 servers in 94 countries and offers an easy to use service, totally dedicated to privacy. In fact, ExpressVPN does not register your IP address, browsing history, traffic destination and other data. It is available for a variety of platforms, including Android, iOS, Windows, MacOS, Linux, Amazon Fire, BlackBerry and Chromebook, and can connect up to three devices simultaneously.
ExpressVPN costs $ 12.95 per month and, of course, there are discounts if you choose to subscribe to the six-month plan ($ 9.99 per month) or the annual plan ($ 8.32 per month). The platform offers a 30-day money back guarantee.
NordVPN
NordVPN has exactly over 5100 servers in 59 different countries, most of which are in the United States. Here there is also a strict privacy policy: nobody will have access to your browsing history, IP address, etc.
With NordVPN you can protect up to six devices simultaneously and very simply thanks to the application available for almost all major platforms, including Android, Windows, Mac OS, iOS, Android TV, Linux, Firefox and Chrome. Very interesting the DoubleVPN function that hides the online activity behind two servers instead of one for better protection.
The price depends as always on the duration of the subscription. A monthly plan costs 10.50 euros, an annual 6.14 euros per month, biennial 3.50 euros per month and, finally, the three-year plan always offers the best price, or 2.62 euros per month. Unfortunately, there is no free trial available, since NordVPN offers a 30-day money back guarantee, but only if you subscribe to the three-year plan.
StrongVPN
An easy-to-use VPN for Netflix streaming with an affordable monthly price and a range of available features. StrongVPN has more than 650 servers in more than 20 countries, allows 12 simultaneous connections and promises total anonymity in your online activities.
StrongVPN has a feature called Best Available Location that automatically selects a server for you based on proximity to your location and speed. In addition, the application is available for Android, iOS, Windows, MacOS, Kodi and Amazon Fire TV Stick.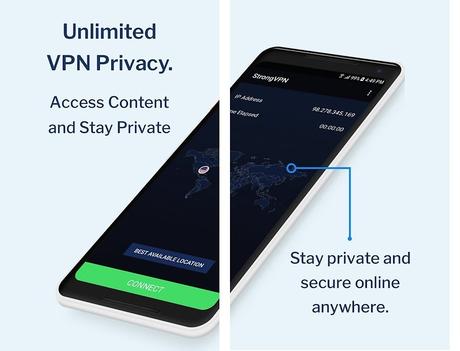 You can subscribe to StrongVPN in two ways: monthly at the price of $ 10 per month and annually at $ 5.83 per month. Again, there is no free trial, but you will get a 30-day money back guarantee with any type of subscription plan.
PrivateVPN
The last provider on our list is PrivateVPN, which offers access to more than 100 servers in 60 countries, offering Netflix content from other countries completely anonymously. You can use the service on several devices, including Android and Windows, and you can connect up to six devices simultaneously.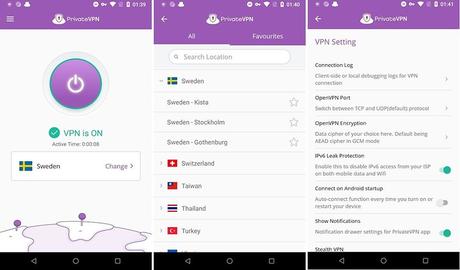 There is no free trial available, but PrivateVPN offers a 30-day money back guarantee if you are not satisfied with the service. Subscribing to PrivateVPN costs $ 7.67 per month, but you can save money by subscribing to a quarterly plan of $ 4.88 per month or annually (with an additional month as a gift) for $ 3.82 per month.
These are the best VPNs that can currently be used to unlock Netflix content from other countries, but keep in mind that things can change at any time, which means that these VPNs may not be compatible, since the streaming service is working hard to block as many of them as possible.