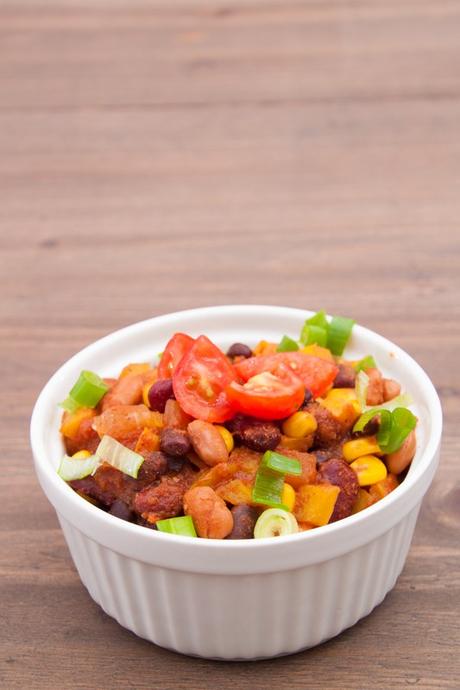 My husband has always been a bit skeptical of vegetarian chilis.
The classic response from him when I make a vegetarian chili recipe is: *taste* *pause* "this is pretty good. but it's not chili."
My theory is that he responds this way because he used to eat meat (he turned vegetarian at age 15) and probably never got used to the non-meat flavor in veggie chili. I think most veggie chilis don't have that smoky, thick, meaty consistency, which also makes it hard for chili-lovers to get on board.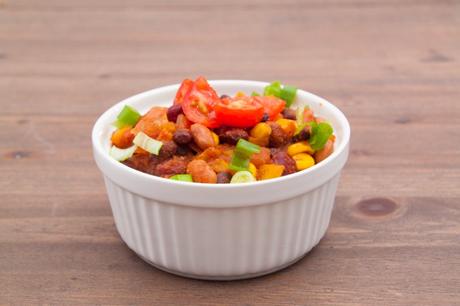 BUT: This recipe blew my husband, the veggie-chili-skeptic, away. He no longer responded with "this isn't chili," but instead said "this is really good!" He even went back for seconds. It's got the deep flavor of traditional meat chilis, but is much healthier and vegetarian friendly.
The smokiness in this dish came from a recipe I found on Kath Eats. The secret is adding a bit of unsweetened cocoa powder to the recipe, and honestly it makes a big difference. I made quite a few modifications to Kath's recipe, and added a few other ingredients to enhance the smokiness (like smoked paprika - so good!)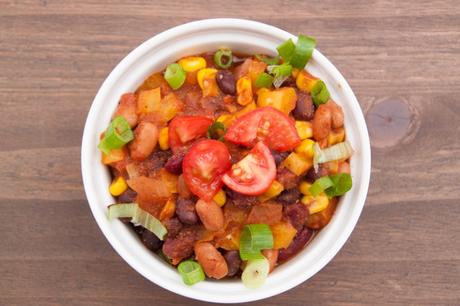 I also served my chili with fun toppings like Greek Yogurt (tastes just like sour cream!), shredded cheese, green onions, diced tomatoes, and crushed tortilla chips.
Oh and did I mention, this is SUPER kid friendly too? Layla gobbles up this dish every time I make it, and she will be happy eating it for dinner for literally four days in a row. This recipe freezes really well too - so sometimes I'll make a double batch and freeze half for an easy weeknight dinner when I'm in a rush!
The Ingredients
(1) 15oz can Kidney beans, drained and rinsed (if you like a chunkier chili, use 2 cans here)
(1) 15oz can Black beans, drained and rinsed
(1) 15oz can Pinto beans, drained and rinsed
1 cup frozen corn
1 red bell pepper, diced
1 green bell pepper, diced
1 red onion, diced
1 28oz can crushed tomatoes
1 cup vegetable broth
5 garlic cloves, minced
1 heaping tbsp chili powder
1 tsp cumin
1 tsp coriander
1 tsp Ghirardelli cocoa powder (unsweetened)
1/2 tsp garlic powder
1/4 tsp (or a bit less) cayenne pepper
A couple splashes of soy sauce
1/2 tsp salt
1/2 tsp smoked paprika
1/2 tsp regular paprika
Optional toppings: shredded cheddar cheese, green onions, diced tomatoes, o% Greek Yogurt (or Low Fat/Fat Free Sour Cream), tortilla chips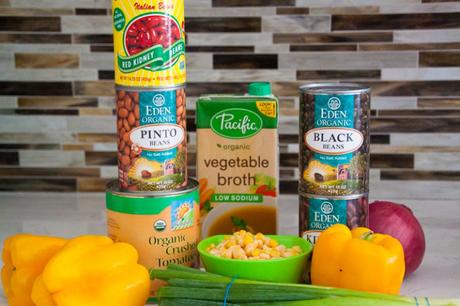 The Directions
Step 1: Chop the garlic, onion, and bell peppers. Saute lightly over medium high heat in 1-2 tsp olive oil. Meanwhile, wash the beans until all of the canning liquid is gone.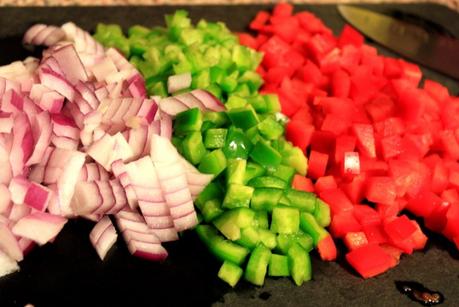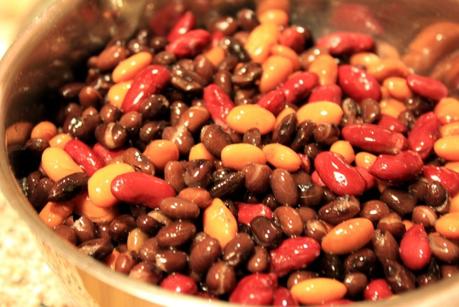 Step 2: Once the veggies have sauteed for about 5 minutes, add everything else into the pot (tomatoes, beans, spices, etc.). Bring to a boil. Reduce heat and simmer for 30 min or longer as needed.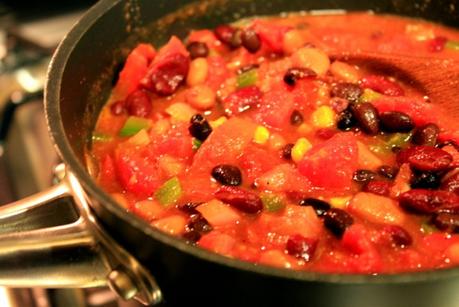 Step 3: Once the chili is done cooking, you can top it with anything you like: 1 Tbsp cheese, fat free sour cream or 0% greek yogurt, or tortilla chips.
The nutritional info for this chili is pretty great. This recipe makes 12 ladles of soup, and each ladle has ~150 calories, 9g protein and 10g fiber. So you could go back for seconds and even thirds, completely guilt-free! And I promise, you will feel totally full and satisfied after (the meat eaters will love it too!)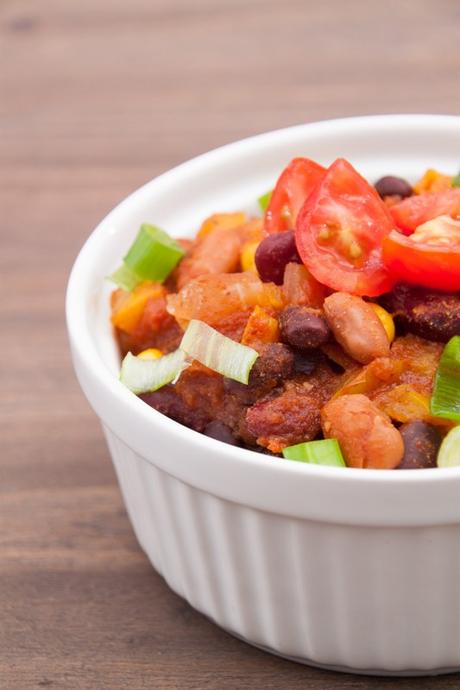 Related
TAGS: entrees, gluten-free, kid friendly recipes, mexican recipes, quick meals, soups, vegan, vegetarian