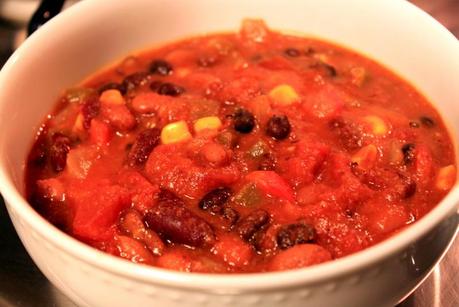 My husband has always been a bit skeptical of vegetarian chilis.
The classic response from him when I make a vegetarian chili recipe is: *taste* *pause* "this is pretty good. but it's not chili."
My theory is that he responds this way because he used to eat meat (he turned vegetarian at age 15) and probably never got used to the non-meat flavor in veggie chili. (I could probably ask him why he didn't like it but it's more fun for me to speculate in this post, and I'm pretty sure that's the reason

).
Since the Super Bowl is only days away, I thought I'd get into the mood by posting some of my favorite, healthy, game-day recipes. Even though my Niners lost (sniff!), I'll still be watching the game with friends on Sunday, eating – what else? – game day food, and my vegetarian chili.
This recipe blew my husband away. He no longer responded with "this isn't chili," but instead said "this is really good!" He even went back for seconds. It's got the smokiness of traditional meat chilis, but is much healthier and vegetarian friendly. The smokiness in this recipe came from one of my favorite bloggers, Kath Eats. Her secret is adding a bit of unsweetened cocoa powder to the recipe, and honestly it make all the difference. I made quite a few modifications to Kath's recipe and I served my chili with cornbread, but I have to say thank you to Kath for the inspiration!
The Ingredients
1 can Kidney beans, drained and rinsed
1 can Black beans, drained and rinsed
1 can Pinto beans, drained and rinsed
1 cup frozen corn
1 red bell pepper, diced
1 green bell pepper, diced
1 red onion, diced
1 28 oz can crushed tomatoes
1 cup vegetable broth
5 garlic cloves, minced
1 heaping tbsp chili powder
1 tsp cumin
1 tsp coriander
1 tsp Ghirardelli cocoa powder (unsweetened)
1/2 tsp garlic powder
1/4 tsp (or a bit less) cayenne pepper
A couple splashes of soy sauce
1/2 tsp salt
Black pepper and paprika to taste
The Directions
Step 1: Chop the garlic, onion, and bell peppers. Saute lightly over medium high heat in 1-2 tsp olive oil. Meanwhile, wash the beans until all of the canning liquid is gone.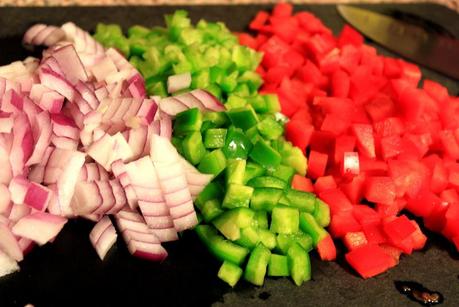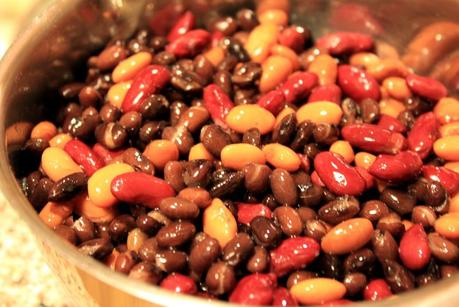 Step 2: Once the veggies have sauteed for about 5 minutes, add everything else into the pot (tomatoes, beans, spices, etc.). Bring to a boil. Reduce heat and simmer for 30 min or longer as needed.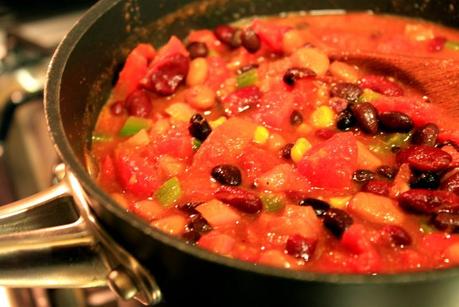 Note: I added cornbread to this recipe, because what's chili without cornbread? While cornbread isn't exactly healthy, I just served the pieces in smaller portions for a tiny bit of indulgence. I used this mix from Trader Joe's, which makes the most delicious cornbread I've ever had (and all of the ingredients are all-natural, no weird preservatives included!)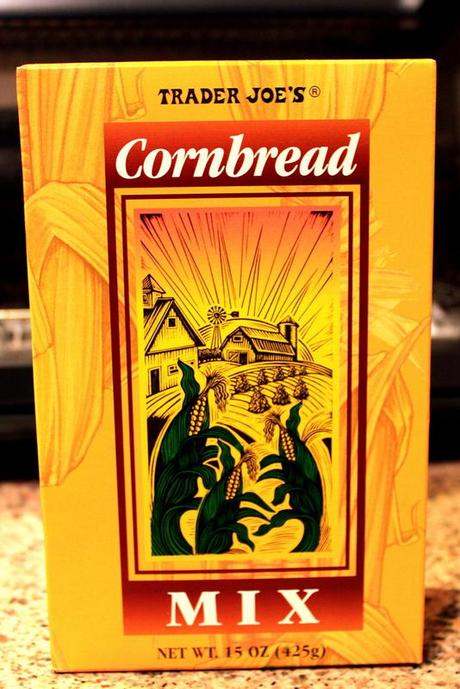 While the chili was cooking, I baked the cornbread.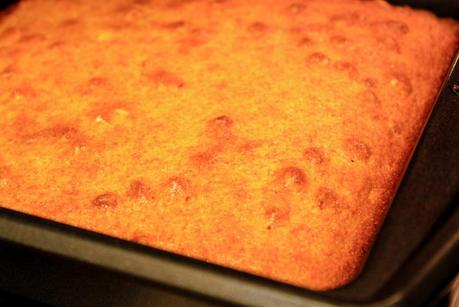 I love how this mix includes real corn kernels – it makes the recipe taste just like it's home made!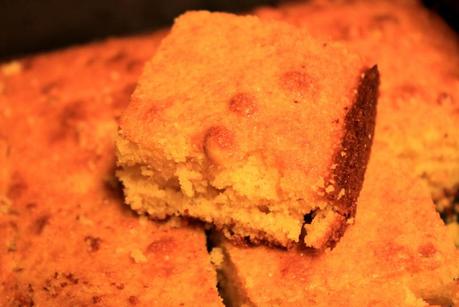 Step 3: Once the chili is done cooking, you can top it with anything you like: 1 Tbsp cheese, fat free sour cream or 0% greek yogurt, or tortilla chips. I served mine with a piece of cornbread (of course)!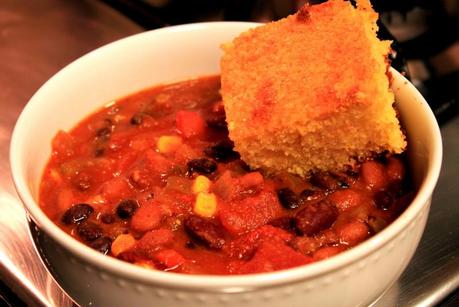 The nutritionals on this chili are pretty great. This recipe makes 12 ladles of soup, and each ladle has ~135 calories, 8g protein and 8g fiber. Each bowl I served had probably 2 ladles of chili (270 calories) + 1 piece cornbread (150 calories). The husband wanted his chili with cornbread and a bit of cheese (so his dinner had only about 50 calories more than mine did). Even with the toppings, it's still a really healthy and hearty dinner!