By 
Meet Karina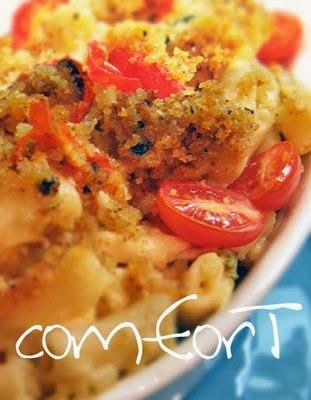 The Best Vegan Baked Mac
 & Cheese Recipe 
Some folks do it up fancy for V-day. Lobster. Steak. Chocolate-dipped strawberries. Not us. This morning when I asked my husband what he wanted me to make for our Valentine's Day meal, he didn't hesitate.
Mac and cheese. You? he asked.Mac and cheese, I answered.True love is groovin' on the same wave length. The comfort food wave length. And yes, there are already several gluten-free versions of mac 'n cheese on this blog (I can't ever stop tweaking; it's in my nature, let's face it) and hell yeah, they are all, each and every one of 'em, darn tasty recipes.
There's a super creamy-cheesy Kicked Up Baked Mac and Cheese with jalapenos, and an alternative non-dairy cheese based Mac + Cheese recipe.
So like, uh, are you bored with me yet?Being the kinda girl I am I just couldn't keep the latest vegan version of our favorite comfort food a secret. It's too creamy-uncheesy good not to share. So Dear Dairy-free and Vegan Readers, aren't you glad I like to tweak? If you're gluten-free and avoiding dairy too, this is the recipe that just might make you- or your GF/CF angel- smile. BIG.
The Best Vegan Baked Mac and Cheese Recipe
Don't mourn for Kraft-y macaroni goodness, Babycakes. I've got something tastier (and healthier!). This homemade cheesy uncheese sauce is creamy and delicious. And it's corn and soy-free, too.
For the casserole:
10 to 12 oz. dry penne or macaroni pasta, partially pre-cooked* - see below; we like Tinkyada Brown Rice Penne Pasta with Rice Bran but you could use Tinkyada Brown Rice Elbows with Rice Bran as well.
Ingredients:
4 tablespoons light olive oil
4 tablespoons sweet rice flour
2 1/2 cups plain hemp, rice or nut milk
1 rounded tablespoon sesame tahini or almond butter
2 heaping tablespoons nutritional yeast
1/2 teaspoon Dijon mustard
1-2 teaspoons golden balsamic or rice vinegar, or lemon juice, to taste
1/2 teaspoon sea salt, to taste
A dash or two of Simply Organic Garlic Powder
A dash or two of Simply Organic Minced Onion
1/4 teaspoon freshly grated nutmeg
3 tablespoons white wine- Frey Organic wine is vegan and egg-free
Optional: 1/2 teaspoon turmeric for yellow, or paprika for orange color
For the topping:
1 cup Crunchy Gluten-Free "Bread" Crumbs (these crumbs have herbs and olive oil)
10-12 grape tomatoes, halved
A sprinkle of dried basil and parsley
Instructions:
*To pre-cook the pasta:
Bring a large pot of salted water to a rolling boil and pre-cook the penne just until it is slightly tender but firm to the bite. Drain the pasta in a colander and rinse it quickly under cold water. Set aside.
Meanwhile, in a medium saucepan, heat the olive oil over medium heat, and stir in the sweet rice flour (I like to use a whisk to do this). Cook and stir the flour for about 10 seconds, then slowly add in the hemp milk, whisking to blend the flour paste (called a roux) and hemp milk.
Bring the mixture to a bubble (it will thicken as it heats) then reduce the heat to low.
Add the toasted sesame tahini, nutritional yeast, Dijon mustard, golden balsamic vinegar, sea salt, a dash or two of Simply Organic Garlic Powder and Simply Organic Minced Onion, nutmeg and white wine. Add turmeric or paprika for color, if desired. Mix well with a whisk.
Remove from heat and set aside.
Preheat the oven to 350ºF.
Pour the cooked penne into a 6-cup baking dish. Pour the cheesy uncheese sauce over the penne and gently combine. Sprinkle the top of the casserole with the gluten-free bread crumbs and halved grape tomatoes. Sprinkle with dried basil. (For the sensory sensitive, omit the tomatoes, crumbs and basil.)
For individual gratin dishes, combine the pasta with the cheese sauce first; then spoon it into the gratin dishes. Top with crumbs and tomatoes and sprinkle with dried basil.
Bake for 25 minutes, until heated through and bubbling.
Serves 4.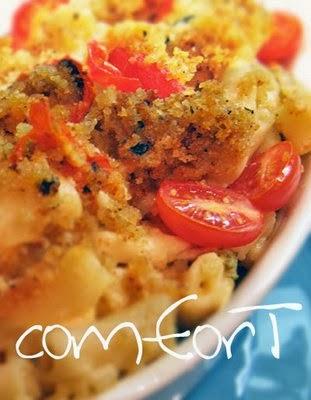 The Best Vegan Baked Mac & Cheese Recipe 
Karina's Notes:
For those cooking gluten-free, the trick with baking gluten-free pasta in a casserole is: do not over-boil it. Keep it 

al dente

 because it continues to cook in the sauce when you bake it. For quick and easy stove-top cookery, cook the pasta until done and add it to the hot cooked sauce; stir gently to combine. Serve.