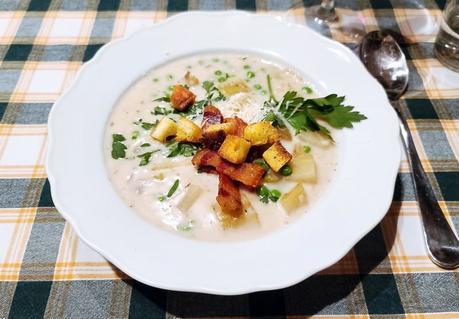 When in Tuscany in the Fall, make the best creamy Tuscan potato soup. And, with a group of folks, this soup gets rave reviews! Pray for leftovers!
Homemade Potato Soup
Nothing's more sumptuous than a homemade potato soup. Especially, when you're eating this hearty rustic bowl sitting at the table with dear friends and family and in the heart of Tuscany!
But, of course, I'm a potato lover, and enjoy making so many different recipes w/taters like this recipe which is also perfect for holiday meals, Parmesan and Peas Mashed Potatoes
And, if you've not tasted my Harissa Potatoes, oh, lawsy, you're missing bites of the Middle East in this simple recipe!
Easy Potato Soup
Potato soup is an easy meal to make. And, believe me, it's a meal.
When making this soup, use only buttery Yukon potatoes. Nothing else works better for the best potato soup.
And, since I was trying to use up most all of our ingredients here in the villa in Tuscany, I knew that with temperatures falling and that cool crisp feel of Fall in the air, my peeps would enjoy this belly-warming peasant soup.
Easy Potato Soup Recipe
Now this is an easy potato soup recipe. With just a few ingredients, none of which are beyond 'normal', you can make it.
And, to make it creamy, well, that's your choice. It's just a matter of making a cream/milk slurry near the end of the cooking to thicken the broth.
If you prefer a brothier consistency, then don't use the slurry. Of course, the hue of the soup will be more brothy brown than creamy white.
Creamy Tuscan Soup
Creamy Tuscan soup, and in this case, potato soup, is just a matter of a few steps. Nothing complicated. Everything's done in your big pot.
This recipe easily feeds six with leftovers. And, speaking of leftovers, like a pot roast, stew, chili and some other dishes, well, it's beter on day two.
To warm the soup, simple put it back on the stovetop (I don't use the microwave for this warming), add some water and chicken stock/broth to thin the thickened soup, and slow warm, stirring occasionally.
Tuscan Soup with Kale
Another thing you can do with this recipe is to add greens. Yes, you can chop up kale or chard would work beautifully. Of course, I've even thrown in baby arugula and baby spinach is another idea. Adding this feature of green, plus more nutrition, is just an easy step.
Probably one of my most popular potato recipes that actually is award-winning from Chef's Roll are my Easy Cheesy Cuban Mojo Potatoes. Don't be on a diet when you prepare this side dish because it's full of cheesy goodness!
Soup with Potatoes
Being the potato lover I am, I oftentimes, put them in general soups. With holiday turkey meals and lots of leftover turkey, what's better than Homemade Turkey Soup!
What makes this turkey soup unique? Well, it's the fact that you're going to use the entire turkey carcass to make your broth. Don't throw it out.
And, if you make this Farmers Market Chicken Soup, you're going to use a deli rotisserie chicken! Those chickens are perfect for several meals.
Potato Soup Recipe Easy
There are just a few steps to this potato soup.
Fry your thick cut bacon. Reserve the the drippings. Put the bacon aside, crumble and we'll use for garnish.
Saute your garlic and onions in the bacon drippings.
Add your diced potatoes and water and cook the potatoes until tender.
Add your sliced celery, peas, grated parmesan. Thicken, if preferred, with a cream/milk slurry.
Garnish with fresh flat parsley and homemade croutons.
Potato Soup Ingredients
My potato soup ingredients are what you can find at any grocery store or farmers market. Bacon, or pancetta, potatoes, onions, celery, parmesan cheese, cream/milk, flour, salt and pepper, parsley. Yep, that's it!
Nothings better than homemade croutons. Here are a couple that would work beautifully as garnish on this soup. My Bagel Croutons or Olive Oil Cilantro Croutons.