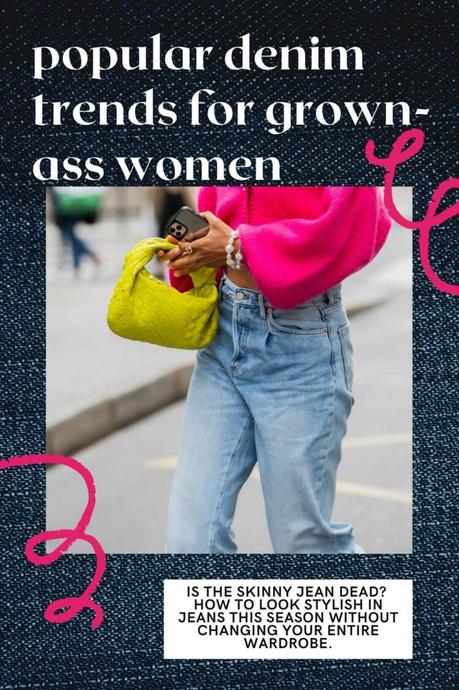 Considering we've spent the past year mostly in our homes wearing comfy knits, it's easy to not know that denim trends are changing. This is a pretty big change, as denim trends seem to stick around well beyond their welcome. What are the best 2021 denim trends and which ones will be sticking around more than one season (AKA worth actually checking out)?
Remember how straight legs switched to bootcut and we were so relieved to have a silhouette that worked better with a curvy frame and a chunky shoe? When skinny jeans came on the scene so many of us swore, we'd never cave into such a trend, we'd never abandon our beloved bootcuts.
I bet the majority of us in 2007 who said one couldn't catch us dead in a pair of skinny jeans now has at least one pair in our wardrobe. Skinny jeans now seem so... easy. They slip under cozy sweaters, button-front shirts, and blazers. They look good with knee-high boots, trendy sneakers, ankle booties, and flats. If they're too long you can cuff them without changing the silhouette, ill-fitting you can hike them up when you rise from the couch, and you can get them in any size, any color, at any pricepoint.
Just as we found straight legs and bootcuts and boyfriends to be essential work with everything jeans, we will be able to see life beyond the skinny jean. And while the skinny jean is still a wearable look, I encourage you to see beyond them and at least try a few different 2021 denim trends this season.
Think about when you were 25, what kind of jeans did 50-year-old women wear? There were those who had no f*cks left to give and wore what they liked. They wore well-worn Levi's or crisp Wranglers or a chambray pant with an elasticized waist that helped them achieve their life goals and with it, achieve badass personal style. There were also those who seemed to be stuck in a past decade, and often with those dated jeans wore dated shoes and a dated hairstyle.
I am not telling you that you need to embrace any of the 2021 denim trends. I am saying you, and me, us fellow grown-ass women, we are at a point in our style journey where we either need to say:
I have no f*cks left to give and am going to rock what I own with joy and confidence and that joy and confidence is going to make the jeans that I love wearing look perfect on me.
I am not yet at that no f*cks left to give stage, but I surely don't want to look like I don't give a sh*t so I may try something new to me (or a new version of something I tried a while ago). However, I am at the point where I know I don't have to embrace any trend that makes me uncomfortable or changes me, and I know I deserve clothing that works with, not against my body and my lifestyle.
What Are the Best Three 2021 Denim Trends To Try?
Below I share three of the 2021 denim trends that I predict will stick around beyond a season or two and become a stylish replacement for your skinny jeans. Use this as a guide, not gospel. I have filtered out the oh hell naw trends that should be reserved for GenZ and the True Fashionistas and left ones worth checking out.
Bootcut Jeans for 2021
Many denim trends have tried over the past decade to dethrone the skinny jean. Mom jeans, boyfriend jeans, girlfriend jeans, kick flares... they all have been worthy adversaries, but none have truly made a dent in the denim trends of the 21 st century. It took a leader from history to shake up this monarchy.
The bootcut is back, baby. It's here to soothe your calves, style your lug soles, and give you the confidence to consider tucking in tops again. With just a hint of a flare, the bootcut jean, made to fit over boots, as well as those shoes from the back of your closet that have now become a daily necessity since you don't want to wear heels with your mask to the grocery store.
That doesn't mean you can go into your attic and pull out your Citizen of Humanity or True Religion jeans from 2002 and be an instant fashion maven. Us grown-ass women have learned from experience that when trends come back, they're not exactly the same as they were the first go-round.
The 2021 bootcut is slim, higher in rise, and just a hint of kick out at the bottom. These are not flared jeans, and the best bootcut jeans for 2021 are a heavier weight denim so they are structured and not at all resembling jeggings or stretchy skinny jeans.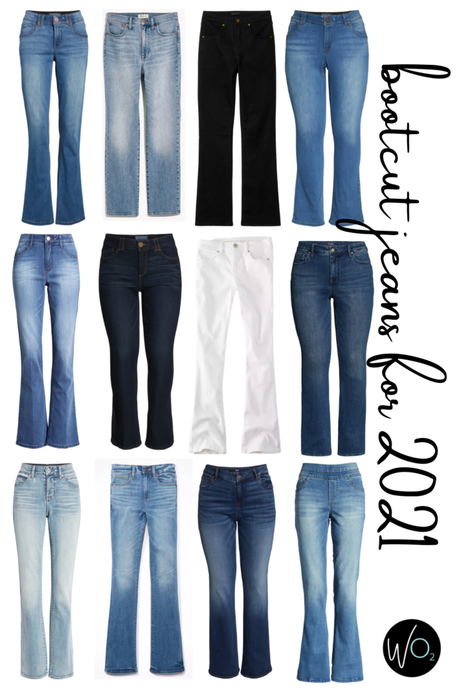 First row: Wit & Wisdom | Madewell | Talbots | Wit & Wisdom
Second row: Wit & Wisdom | Wit & Wisdom | AE | NYDJ
Third row: Jag Jeans | AE | Kut from the Kloth | Wit & Wisdom
How to Style Bootcut Jeans for 2021
The modern bootcut is by far the easiest to incorporate into your existing closet. You can wear them with your ankle booties, your lug-sole boots, your sneakers, and even a pair of pumps. The only thing that looks weird with bootcut jeans are flats, especially ballet style ones. They get lost under the flare; it's better to use a shoe with some volume and structure.
A bootcut jean, like an ankle jean, can be worn with tops tucked in or left out. I wouldn't wear a tunic with them because it may create a weird optical illusion, but otherwise bootcut are pretty easy to wear. I'd encourage you to try the tuck; I know it can feel scary but for inspiration, visit this blog post and read the comments. You may be pleasantly surprised with the result!
Straight Jeans for 2021
Remember your beloved stonewashed Levi's 501s? Well, they're back... sort of.
This is the denim trend for 2021 that is most possible to wear if you kept your old pairs of straight jeans in the attic. The look is a slim straight jean that hits the waist or even higher, can be a zip or button fly. This is a lengthening style, with a higher rise and a longer leg - no exposed ankles! These should fit well (you're not cuffing these) and are worth being tailored to the right length for your footwear and your shape.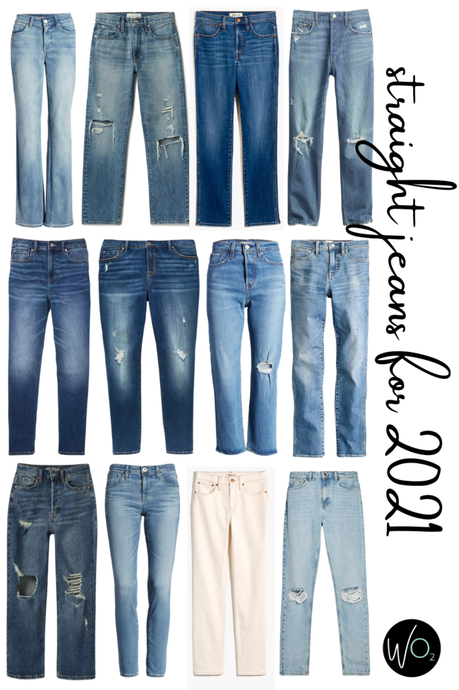 How to Style Straight Jeans for 2021
This is not an ankle jean, I know you may be used to having your ankle bones exposed and this is major change. I'm telling you, you're going to like it. First of all, warm ankles for the first time in a decade are going to feel delicious. Second, you're going to find that extra inch or two of length is going to modernize your wardrobe. A twinset with ankle jeans is twee, a twinset with straight jeans is cool. A Breton tee with ankle jeans and ballet flats may feel tired, but a Breton tee with straight jeans and a pair of Chucks or driving mocs will feel French Girl Chic.
The straight jean is a great time to do denim on denim. Forego the denim jacket for a denim shirt, worn buttoned and either tucked in or left out. If you leave it out, roll up the sleeves, add some shine at the neck with a cool link necklace (this is my go-to) or a silk scarf, and a polished-looking shoe (an ankle bootie or pointed-toe flat or loafer in brown leather or tan suede is a safe choice) so it feels purposeful, not sloppy.
Baggy Jeans for 2021
Call them relaxed, dad jeans, mom jeans, barrel jeans, or skater jeans but this year, jeans are comfy again and a bit exaggerated.
Unlike the last time we rocked baggy jeans with our belly rings and lower back tattoos on display but our hemlines dragging in puddles, baggy jeans in 2021 are deceptively well fit. With a higher rise than the last time we rocked this look and a length that covers the ankles but isn't long enough to have much of a "break" at the top of the foot, this is a jean that is loose, but can be styled with relaxed and loose tops without looking like you're swimming in your ensemble.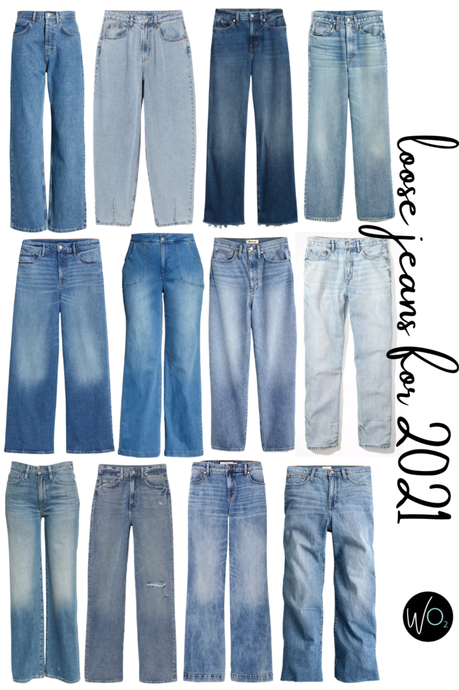 Again, choose faded denim to get the freshest effect, and don't be afraid of some distressing. Unlike the chewed hems of past seasons, the distressing this season is more with worn edges and the occasional kneehole. If you have to cuff, just make it a single fold-over.
How to Style Baggy Jeans for 2021
The baggy jean needs a top tucked in (unless you're down with a cropped top). Think your merino turtleneck, your cashmere crew, your favorite graphic tee, maybe a fitted tank with a relaxed crop cardigan. Unless your personal style is loose over loose, you likely will feel most confident with some balancing of the volume with a sleeker, or at least tucked in top.
As for shoes, this is the silhouette that begs for your most comfy footwear. Pull out those boots with the arch support, embrace the return of Doc Martens, rock your sneakers, and come warmer weather, wear your baggy jeans with your Birkenstocks. If you love to mix tough with soft, a baggy jean looks ultra chic with a heel and a silk blouse or camisole.
How to Make Denim Look Modern in 2021
Go High(er) Rise
The biggest change in denim in the past few years is the rise, which is the length from waistband to crotch. While there have been murmurs that low-rise jeans are making a return, don't feel you need to embrace this trend. Instead, I encourage you to try a slightly higher rise for a modern take on denim with an otherwise historic style.
Sure, there are jeans that will touch your bra band, but there are a lot of styles in between boob height and hip bone height. I recommend looking for something that is at or slightly above your belly button. If you haven't tried a jean that is higher than your belly button, at first it may seem uncomfortable. But try it more than one slip-on in front of your bedroom mirror. You may be pleased to find that a higher rise jean stops muffin tops, won't fold over if you're sitting all day, and won't slide down as easily when you bend over, or when you get up from sitting all day.
If you have no idea where to start with rises, many jean brands offer 9" and 10" rises. This height of rise is higher but not ribcage-skimming. If you are petite, I recommend looking for petite jeans so the rise is not quite as high, but it's also proportionally cut to work with the natural curves of a torso that is shorter.
Go Faded and Vintage
We have had quite a few years of rinse denim, of darker denim with "whiskering" and strategic fading on the thighs, and colored denim. 2021 is about the faded denim.
I know, after years of being told that darker colors are more polished, darker colors are more classic, darker colors are more slimming and leg lengthening, it's really hard to stomach a pair of faded jeans. It's possibly harder to stomach than trying a non-skinny jean. But I encourage you to try it because it is going to look the best with 2021 colors and silhouettes.
The thing is, faded jeans can look really dorky if they aren't a current silhouette. Faded flares will look like a costume, faded skinny jeans and ankle jeans can look really dated.
But the faded trend is really good for thrifters. A pair of old Levi's in a size or two larger than you usually wear, taken to the tailor to fit right at the waist and be the right length, can be way more stylish than that $350 pair at Shopbop.
One Perfect Pair versus Ten Okay Pairs
This season's jean is about fit, length, silhouette, and is of a thicker, more classic denim that better holds up. No, it's not as comfy, but think about your jeans not as a weekend workhorse but a style item. Use them to glam up t-shirts and sneakers, to add interest to your merino sweater and ankle boots, to modernize your blazer and turtleneck, to add a fresh touch to your wardrobe classics.
To have them be this great, it requires time and effort. They likely will need to be tailored to be the right length and fit. They should be line dried to keep their color and prevent any possible distressing to increase and make them unwearable. They will take multiple wears (unless vintage) to break in and have them perfect for your body.
This is why I say get one perfect pair versus buying a bunch of okay good enough pairs. Because let's be honest, if you don't need any jeans right now. Skinny jeans may not be the hot trend, but you don't need to get rid of what you have. And your denim trousers, high-rise wide legs, mom jeans, and straight legs you currently own will be just fine.
Do I Have to Get Rid of My Skinny Jeans?
Quick answer? No. I don't plan on donating mine. They're easy, they're comfy, and they've already been paid for. However, if there are any jeans in your closet that you don't love, use this as an excuse to finally let them go. We're living in a new time, and unless you need them for your job or hobby, you don't require several pairs of jeans.
There is no need to embrace any trend. Ever. The most stylish people in the world aren't trendy. They wear what they want and wear it proudly. If your personal style is dark rinse ankle jeans or purple skinny jeans or patchworked flares you go with your bad self, rock them because knowing your personal style is incredibly chic.
And if you aren't sure of your style but you are happy with the denim currently in your wardrobe, don't buy any. Remember how slowly bootcut jeans faded out? They faded so slowly, many readers over the years have asked me where to buy bootcut because only once their pairs bit the dust did they realize they were no longer at retailers. The same is going to happen with skinny jeans.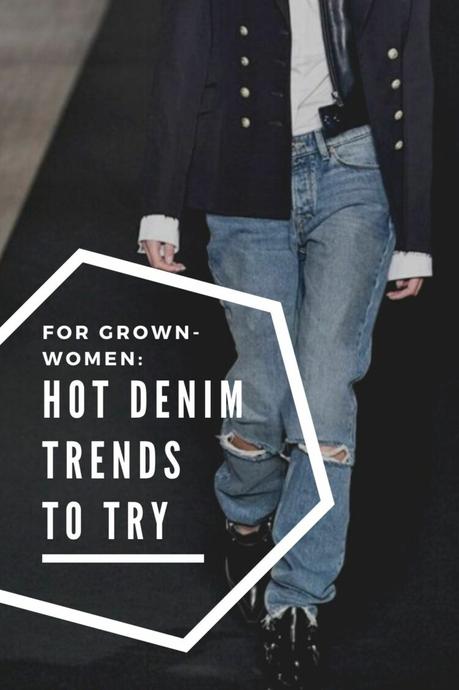 Will I Look Clueless in Skinny Jeans?
GenZ can tease so much about jean and hair styles, we did the same when we were their age. Remember the joke about mom jeans? Now what do you see in every store? The jeans we mocked moms wearing are now being worn by those moms' grandkids without an iota of irony. My point is, you do you, grown-ass woman, just like the badass women before you. The way to make it stylish, is to own it.
I hope this post either reinforces the fact that you are a badass person right now, with whatever denim is in your closet, or that it is never too late to have fun with fashion and try new trends. You have earned the right to wear whatever you damn well please. Just be sure that what you wear makes you happy.