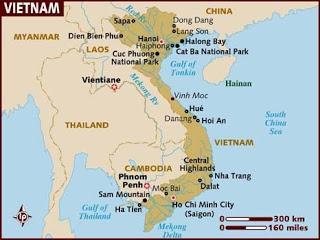 From lonelyplanet.com
Here's the information for

Vietnam

for

The B

est TEFL Jobs in the World.
If

you know of any other good ones, please let me know by emailing me at [email protected]
ACET: You'll get about $20-$28 an hour.

Apollo

British Council: About $4,000 usd a month, plus taxes, flights, accomodations, and 45 days paid vacations.

British University Vietnam

Eastern International University in Binh Duong: $1800-$2000 a month, subsidised accomodations, 30 days paid leave and severance pay. 
ELI Danang: Joint venture with the University of Queensland.
ILA Vietnam: You can see current vacancies at their site, Discover ELT Vietnam. Good salary, free Vietnamese lessons, relocation allowance, and one month paid vacation. 
New England School of English: $40-$42k usd per year. Advert at TEFL Jobs Board.
RMIT: Here are their listings for English Language Educators and Instructors. Pay is between $36-$48k usd a year and supposed to be one of the best jobs in VN. Here is a thread about the interviewing process. Focus on topics such as grammar, classroom management, and situational analysis. 
VAS (Vietnam Australia School): In theory they require licensed teachers. 
VUS (Vietnam USA Society).