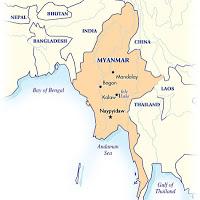 Here's the information for Myanmar

for

The B

est TEFL Jobs in the World.
I only know of one, so i

f you know of any other good ones, please let me know by emailing me at [email protected]
Teachurrr has a list of schools in Myanmar as well and mfinna has info about teaching in Myanmar.
Brainwork-Total: Located in the Taunggi Region. Teachers are needed to teach K-12. They're Cambridge registered. Shared housing with free maid and laundry service. They cover all visa renewal costs. Free lunch, work related transport, and Myanmar language classes. Salary is $1500-$1800.
International Language and Business Academy: BA plus TEFL cert and at least 3 years experience. Salary is about $2250 a month and accommodation or an allowance of kyats 600,000 per month will be given. Return airfare will be given when the teacher leaves ILBC for good. Visa fees and return airfare and hotel fees in Bangkok will be paid when the teacher's business visa needs to be renewed. 4 weeks paid vacation. 25 teaching hours per week. Students are aged 7-14.
Yangon Academy: Salary is about $2000 a month, plus flights, and a living allowance.