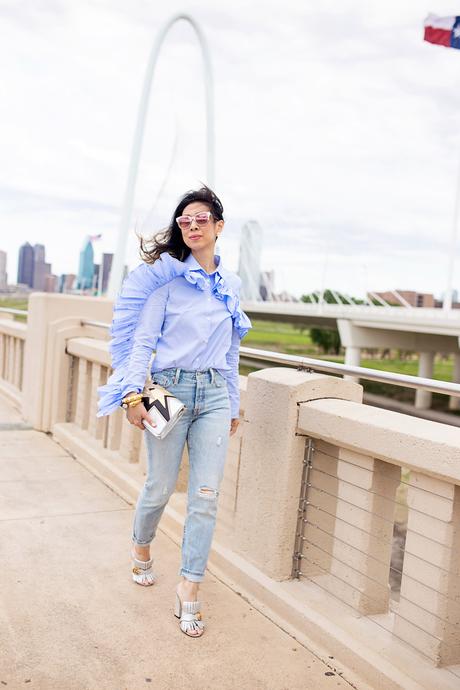 It's obvious. I have a thing for statement tops! When it's a twist on a classic, then I love it even more! Who can resist a button-up shirt with ruffles? (Um, not me!) And it makes it more interesting when it's set against a beautiful background like the Margaret Hunt Hill bridge in Dallas.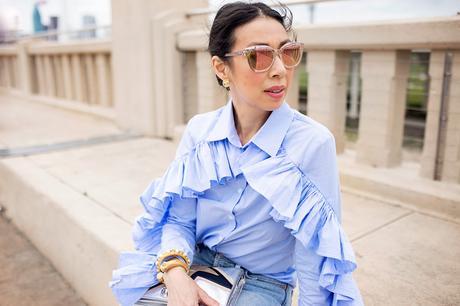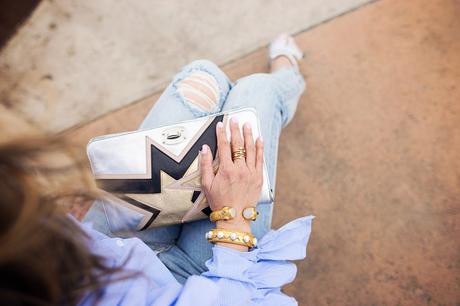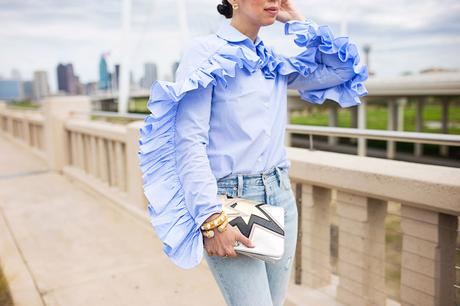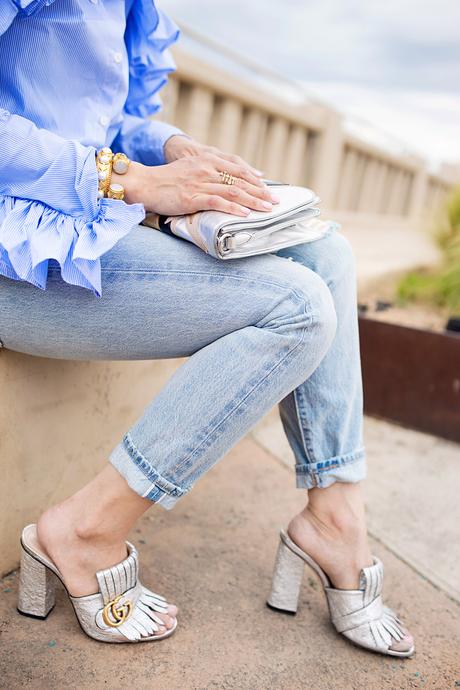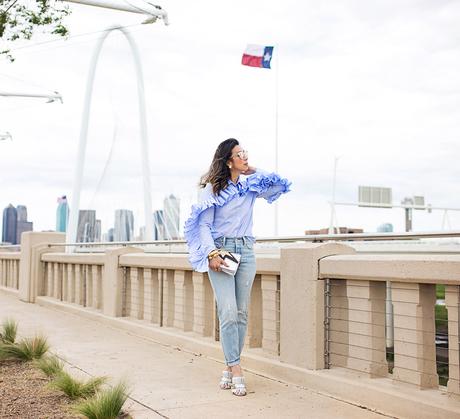 // Photography by Angie Garcia //
When LikeToKnow.it asked for a picture at one my favorite places in Dallas, I was torn. There are so many amazing spots! Angie and I came up with the Margaret Hunt Hill Bridge. We have a thing for bridges! ;) It's a marvelous structure designed by world renown architecture, Santiago Calatrava. It's nestled right by Trinity Groves (mentioned it here), and Mr. S and I have enjoyed moonlit walks on the bridge after a dinner date night. It's also beautiful during the day with the gorgeous views of the Dallas skyline, AND there is a padded playground so the littles enjoy hopping around, literally!
Anyhow, let's get back to this fabulous ruffle shirt, shall we?! This is such a fun take on a work shirt, and I LOVE how it can be worn casually! It would also be wonderful with a pencil skirt (more work), denim skirt (have fun), or denim shorts (relax)!
THE STYLE Rx: A statement top is your solution to date night, GNO, work, and / or play! They make any pair of jeans look like a million buck!
AND I found a new favorite pair of "Mom Jeans"! They are these distressed Levi's wedgie jeans! Yes, that's the name of them! LOL! I wanted a lighter wash pair for Spring / Summer. They give off an edgier vibe because of the distressing, and I LOVE them. These are the type of jeans that you can keep forever because they are 100% cotton! They will just get better with age! Remember the days when all jeans were 100% cotton!
Since I'm a 90s gal, all of the recent fashion is having me go bananas!! I feel like I need to stock up before it goes out of style again.
FIT DETAILS: Wearing size small in the top which is plenty of room for my broad shoulders. Wearing size 26 in jeans. Since they are high waisted, go for your true waist size. Additionally, There is no stretch because it's 100% cotton.
Are you a fan of statement shirts? Or are basics more your thing?
Happy Friday Friends!! Both kids slept through the night!! It was AMAZING!!! What do y'all have planned for the weekend?! I have a friend's baby shower on Saturday in Dallas. Must go shopping today!

// other statement tops //