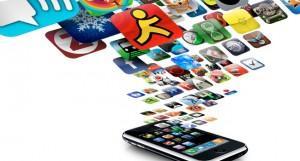 Mobile device use is on the rise, and in 2013 people conducted more business and commerce than ever before on their smartphones. Experts predict that in 2014 smartphones will help businesses go paperless, do more mobile marketing, and manage customer relationships. As smartphones play a bigger and bigger role in business, there are a growing number of apps out there to help business owners. Here are our top five picks of current smartphone apps for business:
1)   SalesForce Desk
This iPhone app takes customer queries and complaints from email, social media channels and live chat, and puts them all into one inbox for easy management.
Cost: Free
2)   Dropbox
Dropbox is compatible with Android, iOS, and Windows. It allows you to save documents, video, and photos in cloud storage. Once something is saved in Dropbox, it's automatically saved to all your devices and computers.
Cost: Free
3)   Scan2PDF Mobile
This app is compatible with Android, iOS, and Windows. Scan2PDF lets you use your phone's camera to scan documents like contracts and receipts as full-color PDF's and email them to your desktop.
Cost: $6.40 on Android, $6.99 on iPhone, free on Windows
4)   Evernote
While there are several note-taking and sharing apps out there, Evernote is compatible with Android, iOS and Windows, and syncs across devices. In Evernote you can take notes, capture photos, create to-do lists, and record voice reminders. You can also email notes and save Tweets to your account. The app makes your saved files completely searchable from devices or a desktop computer.
Cost: Free
5)   Square
Square is currently compatible with iPhone and Android only, although you're likely to see a number of petitions floating around to bring it to Windows devices. Square includes a card reader that plugs into your phone, allowing small businesses to accept credit cards from mobile devices. It's worth noting that Square takes 2.75 percent of each transaction.
Cost: Free