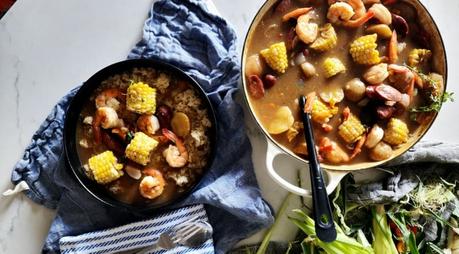 Shrimp boil soup can really be better than its big cousin the Lowcountry Shrimp Boil! A Cajun like roux and more. And, easy to make Whole30!
By using these two Kettle and Fire products with the Old Bay Seasoning and with the added ingredients (no corn for Whole30),, during the cooking process you get a thicker rich deep delicious Louisianna 'roux' like sauce. It's absolutely divine! Scroll on down for my discount code for the KF products!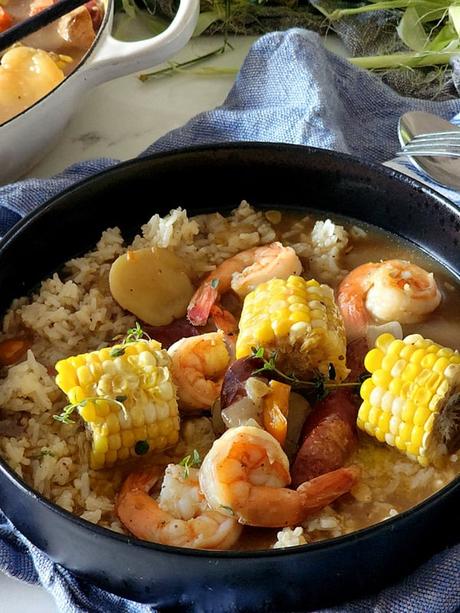 What is a Lowcountry Boil
If someone asks you 'what is a low country boil'? All you need to say is that it's one of the South's most beloved meals.
It's full of flavor, herbs, spices. It's one big ol' pot of the freshest seafood you've ever had and you have dinner for everyone in not time with little clean up!
Lowcountry Boil
From New England. The Chesapeake Bay, and Louisiana, to Georgia and South Carolina, one hugely traditional common thread joins us.
We love our seafood boils. And, having lived in South Carolina's Lowcountry for decades, we've done our share of boils and been to more than I can count.
And, this shrimp boil soup is like the little cousin of the original Lowcountry Shrimp boil!
Lowcountry Boil Pot
How to do a low country boil is simple. It's done outdoors. You have a big table, maybe a picnic table. It's lined with newspaper and in our case, cardboard boxes cut open.
And, you have plenty of paper towels, cocktail sauce, ketchup, maybe a salad, and paper plates. You do this low country boil very simple and basic. It's all about the people sharing and breaking bread over great food!
And, besides all these fixins' you could also throw in a big ol' pot of clam chowder! OMG, I do make the best! And, as with most all of my recipes, I make it easy peasy!
Old Bay Lowcountry Boil
Now the shrimp boil soup is so much more simple and easy. You don't need fancy equipment. You don't need to feed a crowd. You don't need to be outside! And, it's perfect for any type of meal, even a Sunday family dinner.
Yes, we're going to be using most of the iconic Lowcountry shrimp boil ingredients including Old Bay Seasoning, but we're taking some unique twists!
Frogmore Stew
Oh, the frogmore stew and low country boil are like siblings! They're from the same 'DNA' just from different locations. According to Trip Advisor, "Low Country Boil and Frogmore Stew is one and the same.
Frogmore is a little area in SC between Savannah and Charleston. Typically it will consist of potatoes, Sausage, corn, onions and shrimp boiled in a crab boil season. Some people will add crab legs and some other stuff to it depending on their likes and dislikes."
Seafood Boil Soup Recipe
We can make this shrimp boil soup Whole 30 compliant really easy. Or you can keep it in the traditional manner of the South with basically two ingredients, the corn on the cob and the steamed rice.
Honestly, I didn't see a huge difference between the two when I served them. And, believe me, I served to die-hard shrimp boil fans and they, too, agreed that the Whole30 version was just as good.
Lowcountry Boil Process
You know what sets this shrimp boil soup apart from others? Well, its the soup broth we're making. There're no substitutes for these two ingredients. Sorry, if you substitute I can't guarantee the same depths of flavor and deliciousness.
Those two ingredients? Kettle and Fire Chicken Bone Broth and Kettle and Fire Thai Curry Soup.
And, you'll get a 20% discount on your order if you use my discount code ALLYSKITCHEN at checkout. I suggest you order a few of these new soups they have because they're totally awesome, and I'll be creating more recipes from them to make them even more exciting!
Whole 30 Soups
It's so easy to make this recipe a Whole 30 soup!
What do you need to do? Omit the corn when cooking the shrimp soup. I actually have made this recipe several times and did serve with the corn on the side as an add on. And, don't serve with rice.
To make it Whole30 compliant, I served atop a mixture of cauliflower rice and peas! Talk about yummy. We didn't even miss the rice or corn!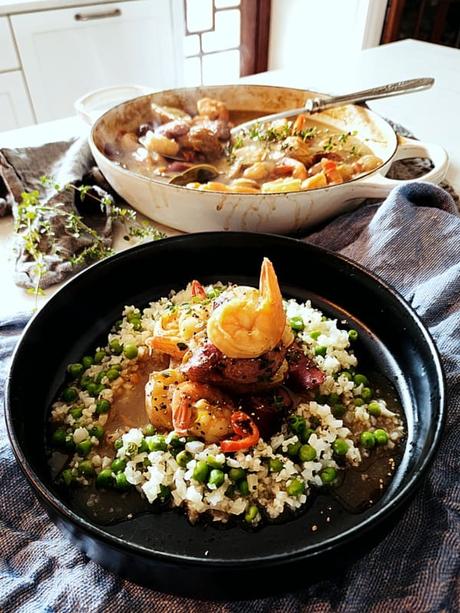 Whole30 Soup Recipes
While many of my soup recipes are labeled Whole30 soup recipes, you can sure take a look at them and with some simple easy substitutions and swaps, they're gonna be Whole 30 ok! Just click here for ideas!
My Meatless Cabbage Soup is off the charts deeelish! And, this Shrimp Kale Soup, well, winner winner! Probably one of my faves is this Collards and Potatoes Italian Soup (yes, skip the parmesan Reggiano!).