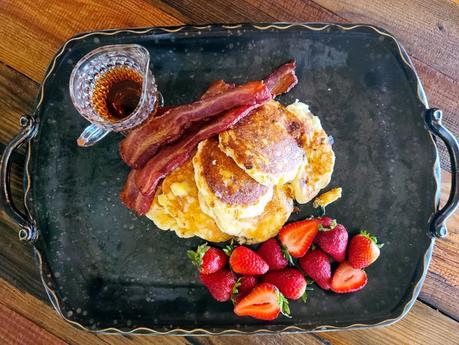 What'll you taste with the best Russian pancakes. Fluffy. These pancakes are airy. Moist. They're full of flavor. Eat like a slice of bread!
Russian Pancakes
Pancakes originating in Russia and other eastern countries of Europe are called syrniki.
The three letters 'syr' means cheese in both Russian as well as Ukranian.
Fluffy Cottage Cheese Pancakes
Similar to American pancakes, but more like fluffy little pillows of delight, Russian pancakes have a staple Eastern European ingredient. Cottage Cheese.
Now, I'm also using ricotta cheese in my recipe.
Recipe for Cottage Cheese Pancakes
This recipe for the best Russian pancakes is pretty darn simple. You have your wet and dry ingredients. Then you combine them. And, finally, you cook the pancakes. Done. Yes, it's that simple.
And, most of the ingredients, minus maybe the ricotta or farmers cheese, is probably a staple in your refrigerator or pantry.
Here's another great thing about this recipe. Don't limit it to breakfast or brunch. You could use the pancake base as a dessert starter! A scoop of ice cream and some warm berries and you're in business!
Syrniki Recipe
Usually made with 'farmers cheese', my addition of ricotta cheese along with the cottage cheese makes these pancakes like off the top of the pancake stack charts! And, if you want to order from Amazon, well, below are some choices that are perfect for the recipe.
But, I've also got some other pancake recipes that are chart stoppers like my S'mores Coconut Pancakes.
And, if you're looking to have Coconut Cream Pancakes, well, I gotcha covered!
Syrniki
So if you can't find farmers cheese to use, which I didn't, the go ahead and get your ricotta cheese. Being Croatian, Mom always added cottage cheese to our pancakes, too.
And, if you want to add fruit to these pancakes, go ahead. My choice of fruit are frozen dark sweet cherries like in this pancake recipe!
Ricotta Pancake Recipe
Ricotta cheese pancakes have a super delicious moistness to them. Plus, they're almost fluffy spongeeee, but not overly so. You'll find all kinds of recipes for syrniki or Russian pancakes, but most will be very similar and have some staple ingredients, farmers cheese, ricotta cheese and/or cottage cheese.
Cottage Cheese Breakfast
Now, I love a cottage cheese breakfast.
Give me cottage cheese with fresh pineapple tidbits or peaches and walnuts, and I'm super happy. Almost like a dessert to me.
Or let me dice up some Roman tomatoes, sweet onions, and cucumbers in cottage cheese, and I have a savory feast.
Russian Cottage Cheese Pancakes
Now my best taste testers on lots of recipes are always my grandchildren. I mean, if they like it, THEY LOVE IT!
And, I made these pancakes with my DIL and the 13 month-old twins. She wanted to get more protein and nutrition into their pancakes and what better way to do it.
I can unequivocally say that both the little ones and big ones, as in Ben my hubby and us other grown ups, devoured these pancakes!
And, here are a few recommendations for crepe pans that are great for making pancakes, too. Non-stick and large, so you can get three smaller pancakes or two larger ones in the pan simultaneously. My caution is not to crowd the pancakes when cooking!