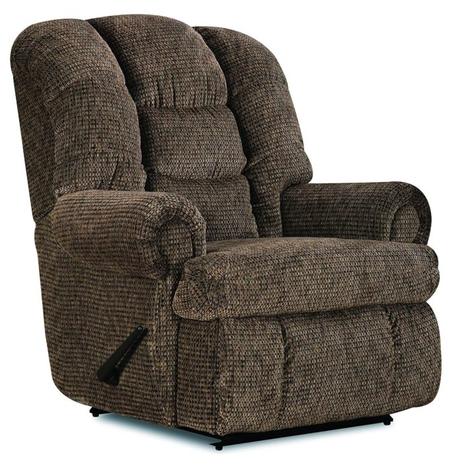 We have of late been receiving a lot of emails about recliners for heavy people from frustrated guys. Apparently, getting a good, leave alone the best big man recliner is becoming like a game of musical chairs... people don't seem to know even where to start;
First, what is a recliner chair?
Recliners are simply ordinary chairs which have been improved for comfort. They can be inclined to various sitting positions and angles to fully support your body and maximize comfort.
Modern recliners for heavy people are not only comfier but are also very attractive.
A recliner brings you many benefits:
For example, it helps relieve back and joints pain.
Then, given its comfort and reclining ability, it can make you relax after a hard job.
Not only this, it can be used as a bed whenever you want to take a quick nap.
In addition, your larger buddies/relatives with disabilities/limitations in movement will be more mobile with recliners thus enabling them to get back some of their independence
So, can you get a truly great heavy duty recliner?
Absolutely yes!
Recliners for heavy people come in all designs. Some are electric. Others very fashionable while yet others take pride in their ability to deliver a 100% head-to-toe comfort.
Well, I don't want to confuse you...
So this is what you do:
Go through our review of the best heavy duty recliners for heavy people.
Then, peruse our buying guide so that you can know what really matters.
You will be amazed at how everything looks easy afterward..
Before you Buy a Heavy Duty Recliner
When it comes to buying a plus size recliner, you should double check these three things before you buy...
Check the recliner's weight and sitting area capacity. A good recliner should be able to comfortably accommodate your big body and weight. If you have a big body, go for an oversized recliner.
Not all recliners will perfectly accommodate a tall person. If you are taller than the average person, consider a big and tall recliner. A perfect example is the Stallion Comfort King Chaise Wallsaver Recliner, which is 48" tall. I have seen it support guys who are , 6′ 5″, 6′ 6″ and 6′ 8″.
Will the recliner fit in your allotted space? Make sure the dimensions are not too big or small. Also ask yourself this: is my space far enough from the wall to recline? Most people forget that it takes about 6-8 inches behind the recliner to allow it to recline
If you can confirm these three things and have found a recliner that fits your budget than you're sure to have a good experience!
Here is our selection;
[table "1" not found /]

The following are 5 of the best recliners that can give a plus size person the comfort they need - a recliner that will comfortably hold your weight and body size. Enjoy
If you have someone suffering from any form of back pain, a heavy duty recliner can help relieve some of their discomforts.
Remember back pains disrupt your sleep patterns and severely limit movement.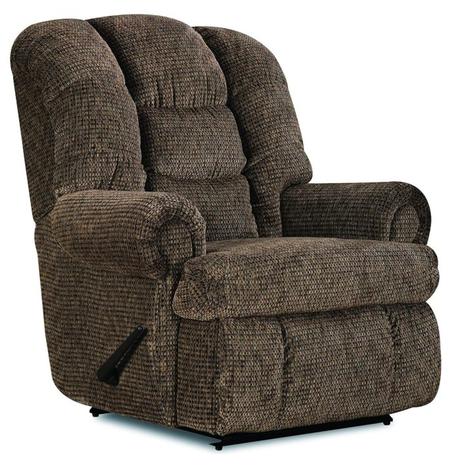 Click to Check Amazon for Latest Price
One of the famed heavy duty recliners for large people is the lane stallion recliner, praline. With a capacity to hold up to 500lbs, I liked its extra-tall back and reinforced construction.
What's makes this unique?
It is comfortable for taller people (The seat is around 22-inches tall) and doesn't take up too much space in your house
Here is a summary of what you get;
Pros
It's designed for bigger individuals- as you can see, it's not only sufficiently tall but is also ok with top weights of up to 500lbs.
This is one of the few recliners for large man which seems to be space conscious. The wall saver design is such that it reclines intelligently without taking in even an extra inch of space
The engineers haven't forgotten that heavy duty recliners worth their salt should be comfortable. Indeed, the seat is not only more padded but it comes with a footrest to ensure you remain comfortable through and through.
You can sleep in it thanks to its solid construction and strengthened cushioning. In fact, you just feel as if you are in your king-size bed.
Remember the choice of color says much about you. You will love this seat's fabric and the color.
Cons
Just like many of the great recliners, this is heavy. If you want to keep moving it about in your sitting room, you may need some help.
You Might Also Like: Best Heavy Duty Dining Chairs
People go for heavy duty recliners for big men for different reasons. But one which you keep hearing is their ability to offer extra support.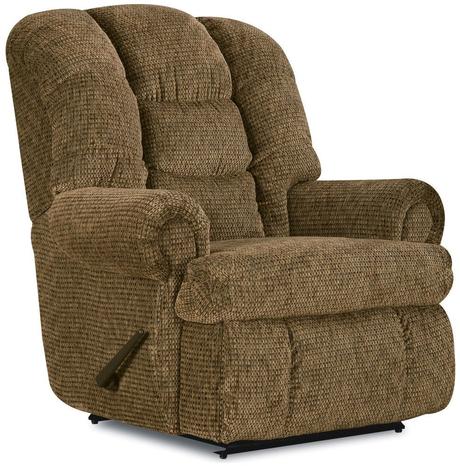 Click to Check Amazon for Latest Price
The most popular recliners for big men can be easily and automatically adjusted to your optimal position for extra comfort and stability.
The stallion comfort king wallsaver recliner is one of the best recliners for heavy weight men. It has a full-body recline and is extremely cozy.
What makes this one of the best?
The wall saver design saves on your space. Then again, the hardwood construction enhances its strength and also makes sure that this is best big man recliner if you are looking at something that you can use for many years.
You also get the following;
Pros
It packs the style to make you feel more comfortable as you welcome your big friends for another evening of merry-making.
The overall engineering is purposed at making it one of the most comfortable big man recliners. There is in addition to the full recline added seat plus back cushions, rolled arms and some intensive padding on the entire seating area.
It's made to be durable as evidenced by the use of kiln-dried hardwood, drop in coil springs and strengthened frame.
This is again created for our larger guys. The recliner has the capability to hold 500 lbs without breaking a sweat beside having a tall back and a wider seat.
Similar to many of its peers from stallion furniture, this has a wall saver design. This means that you get a greater floor space to help you make sure that you can still be okay using it in a studio or in your loft size apartments.
Cons
The assembly seems to take more time as you need to join the many parts together.
Recliners have come a long way. Are you aware that the first attempt at creating a reclining chair was done by the French around 1850?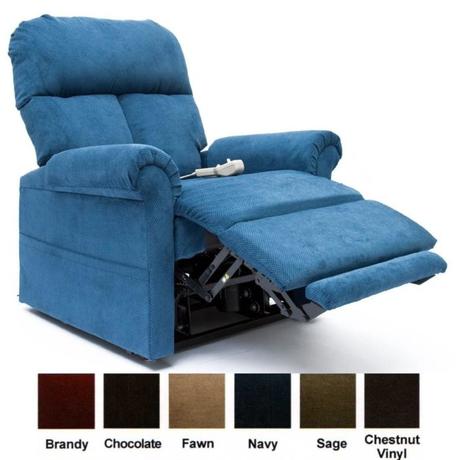 Click to Check Amazon for Latest Price
From then, a lot has happened:
Today, recliners often have an adjusting headrest, some lumbar support and a separate footstool that moves with your weight and the angle of your legs to optimize comfort.
The LC-100 is one of the more trendy recliners for heavy people and beats most of its competitors hands down.
This is why it's a world-beater:
It is an excellent all-electric lift cum recline chair with the backrest and footrest operating independently so that you can adjust to your most comfortable position.
More to this, you will realize that:
Pros
Its twin motors also allow this recliner chair to lie flat. This way, you can enjoy sleeping when you decide it's time to take a nap.
Again, if you or your loved ones need help when attempting to stand or even sit down, the recliner button comes in handy. Everything is done by a single touch of the button. So, they continue to enjoy some sense of independence in spite of everything else.
It is multi-purpose. Use it whenever you want to enjoy a movie in front of your big screen, for sleeping, when reading, or simply whenever you want to sit back and relax.
This versatile chair features greatly padded roll arms, some split T-style back, plus a cushioned chaise seat. This delivers total head to toe luxury.
You get some useful extra store! The LC-100 has a spacious side pocket where you can store magazines, your newspapers, or even the remote control.
In addition, the LC-100 comes equipped with a toughened steel-lift mechanism to enable it to hold top weights(it has a 325 lbs weight-rating) as well as make you feel stable when sleeping.
This heavy duty furniture has the beauty to go with your favorite interior décor.
Cons
The only issue perhaps is that its footrest doesn't go too high but generally, it is able to rise to a position where most of my guests seem comfortable.
One of the most overlooked advantages of mobility tools like recliners is that they make some remarkable difference in the life anyone using them.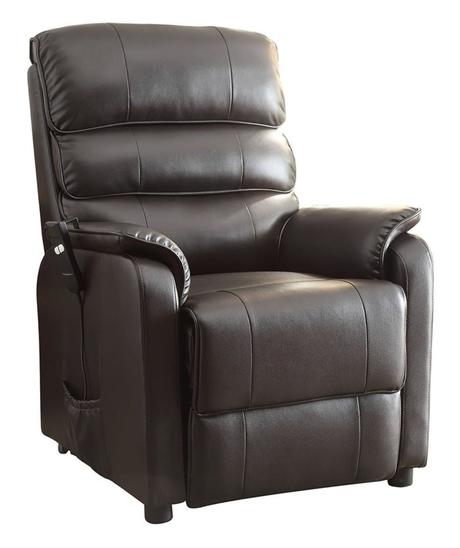 Click to Check Amazon for Latest Price
Not only do they have great health benefits but are also perfect to sit on or relax in.
The Kellen Powerlift bonded recliner is a superb mobility platform created for guys who value freedom and want to be more mobile.
Here is why this recliner big man is superb:
It features a power-lift mechanism which moves you from being fully reclined standing in seconds.
But there is more:
Pros
It is a fully functional option for bigger guys and one of the most supportive heavy duty recliner chairs, thanks to the power-lift
The recliner seat flaunts a transitional styling which means it compatible with almost all home decors. Never again will you have to modify your decoration just because you have bought a recliner.
As a top-rated candidate in the best recliners for big men contest, it is supremely comfortable. The padded arms. ergonomic design and the impressive channel tufted backseat will make you forget about all your worries as you enjoy its warmth.
This has admirable sturdiness. When you see that it the power-lift is based on steel, you feel reassured that as it promises, your whole 300lbs will be very well supported.
You don't have to go combing the neighborhood for an engineer. This is very easy to assemble thanks to its screw-free construct
Cons
The movement mechanism isn't that fast, especially after some prolonged use.
You Might Also Like: Best Gaming Chair For Big Guys
Electric recliners for heavyweight are marvelous whenever you need a helping hand.
While it is true that most large man recliners out there have some degree of assistance, all-electric recliners are considered to be more advanced. No wonder, experienced guys prefer them.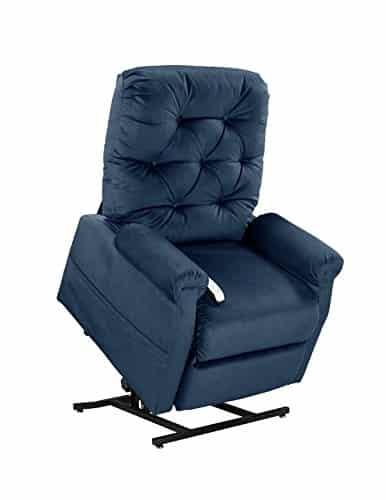 Click to Check Amazon for Latest Price
If you have decided to go for reliability, these recliners for fat people will make you feel at home.
The mega motion power lift recliner is one such chair that clearly outshines many of the other heavy duty recliners for big man.
What makes this to shine?
It is very easy to operate and one of the few electric recliners for big people that come with an integrated backup- just in case power fails.
This is a round-up of this awesome recliner;
Pros
It features a superb remote-controlled recliner mechanism which moves smoothly through the motions when being adjusted to get to your most comfortable position.
The fabric upholstery has some cool color options to add taste to your indoors. The seat is available in fawn, brandy, navy, chocolate, and sage. Simply choose the color that best describes you.
This furniture piece comes with an easy-to-clean micro-suede chaise padding making this one of the easier to clean recliners for large people
The frame is hardwood and the lift mechanism steel. This makes it more than able at handling weights. It can indeed support weights of up to 325 lbs.
The emergency battery backup ensures that you can continue enjoying the seat even when off grid. So, your friends who have movement limitations or are disabled won't fear to venture out.
Cons
The only blip is that the armrest doesn't feel firm enough to support you when you wish to get up. Otherwise, it will work fine if you don't go too hard on it.
Even though recliners come with many benefits, they are not helpful for people who sit too much.
According to doctors, spending hours a day in a recliner (in front of our TV with a remote) is not good for your health.
This is not the recliners fault...
For the question - can recliners cause back pain? - the answer is yes and no.
Yes if your recliner leaves a gap between your lower back and the chair. Your body slouches into this gap to fill it when you put your feet up. Over time, the slouching puts a strain on muscles and ligaments of your lower back. This will ultimately hurt your back.
No, if your recliner is designed to have your lower back and the seat to move together eliminating a gap. When the lower back is supported, your back doesn't get hurt.
You can solve the gap problem by rolling up a towel and stuffing it behind you.
Yes, a recliner can cause leg problems but only if you remain seated for long. Prolonged sitting down might cause swelling of the legs due to poor circulation of blood. Since the muscles are inactive, it becomes difficult for blood to circulate properly.
Different types of work using different mechanisms. Electric/power recliners use a different mechanism from manual recliners.
For manual recliners, all you need to do is push the recliner backward using your body while pulling a lever.
Power recliners work by pressing a touch button below the armrest. Instead of a lever, the recliner has springs that do the magic.
There are great recliner brands out there but nothing comes close to the Lane furniture if you're looking for a heavy duty recliner. It supports up to 500lbs.
This will depend on your needs. If you're a big person and want a recliner that will comfortably accommodate you, then the Lane Furniture Stallion Recliner, Praline is the best.
I am a big fan of online shopping. From my experience, online prices are relatively lower than those in offline stores are. Therefore, if you want to buy a cheap recliner, head to Amazon and thank me later.
You Might Also Like: Best Leather Couches for Big and Tall Guys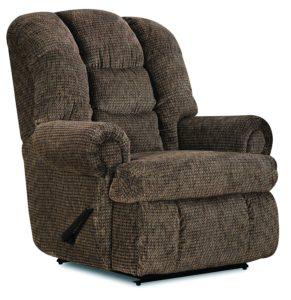 I am sure that our top 5 recliners for heavy people have given you a good idea of what to expect out there.
But there are some important features that you need to pay attention to successfully identify the best from our collection of recliners for large people
Here is a brief overview of what matters;
Maximum weight supported
How many lbs. can it carry? The maximum load capacity is a good indicator of the recliners ability to support larger guys.
Style & Fashion
Though not a deal-breaker, I would pick a stylish heavy duty recliner, so long as it meets all my other requirements
Versatility
The best big man recliner should be flexible enough to be used as a seat, a bed or as even as a lounge.
Durability
There are some pretty durable recliners for large man on our list. unless you don't mind the inconveniences of going back to the shop after a few months, you should always go for longer lasting recliners heavy people
Comfort
The chair should be padded and have a footrest plus an armrest. On top, it should have a 100% recline. Combined, this makes your recliner very comfortable (oversized rocker recliner are big enough for added comfort).
Extras
Some of the recliners for heavy people have some cool value-adding features. For example, the LC-100 has a useful side pocket for storage. At the same time, the mega motion power lift recliner has a backup power- perfect during blackouts.