The festive period is officially the most popular time of year to propose – that's according to a 2018 survey of over 100,000 respondents. That means that Christmas Day, Christmas Eve and New Year's Eve are all popular times to get engaged. If you're planning to ask the all-important question this year, you'll want to do it in a place that really sets the romantic Christmas scene. Bespoke jewellers Angelic Diamonds have put together their top picks for an unforgettable 2019 Christmas proposal.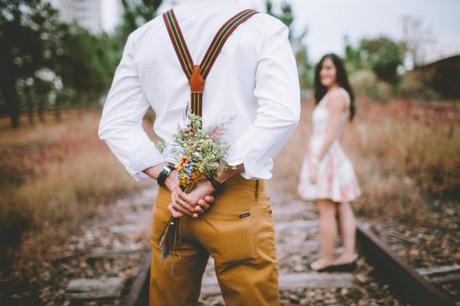 A Christmas themed event or market
Your local Christmas tree farm could be the perfect place to pop the question this year. This is an excellent way to catch them off guard whilst in the midst of a festive activity. It's worth getting in contact with your local Christmas tree farm and asking if there's a secluded area where you can decorate, and maybe even hire a photographer to hide and snap pics of the unforgettable, private moment. You could even take the Christmas tree you got engaged next to home!
For a more traditional proposal, you could take your partner to a Christmas carol service. If they're a fan of taking part in traditional Christmas songs, you could check out local events and surprise them during one of their favorite carols.
Proposing at a Christmas Market will feel really festive and romantic. To make this engagement extra special, you could plant small, thoughtful gifts at different stalls, commemorating your relationship together — these could be inside jokes, things you know they love. Make your way around the stalls until you get to a Christmas tree where you can drop to one knee and ask those special words, 'will you marry me?'
There are many Christmas markets available all throughout the UK this year, or if you don't like to travel too far, you could check out your local one. If you want to go for a trip somewhere, why not check out the best Christmas markets for 2019.
Take a countryside winter break
As the most popular 'staycation' destination in the UK, The Lake District is stunning all year round, but it really stands out in the winter months. If you and your partner love the outdoors, there are plenty of scenic winter walks to embark on together, during which you could pop the question against a backdrop of magnificent mountains and frost-coated trees. Afterwards, nothing beats relaxing in a cosy cottage with a roaring fire to keep you warm and toasty.
Throughout December, there are plenty of Christmas events available in The Lake District. From Carlisle Christmas market, to the Keswick Proms. For a more luxurious proposal experience, Lake District Country Hotels are offering a three-night Christmas package, where you can enjoy mulled wine and gourmet food.
Ice Skating at the museum
Taking your partner ice skating before you pop the question could really make for a picture perfect proposal. With a Christmas tree in the centre, the Natural History Museum's ice rink is enveloped in trees illuminated by hundreds of fairy lights. A romantic atmosphere is set with the 12th century gothic Natural History Museum as the backdrop to your question. Day or night, your partner is bound to be in awe of the location.
Ice rinks provide many ways to tailor the proposal if you're looking to add a few personal touches. Hiring professional flashmob ice skaters is a fun way to surprise the person you're proposing to, turning fellow ice skaters from strangers on the rink to a unique event dedicated to him or her. And chances are, they won't be expecting it at all.